Financial website wealthbriefingasia.com published an article on October 28 outlining the views of several UK-based asset management figures regarding future investment prospects in Vietnam.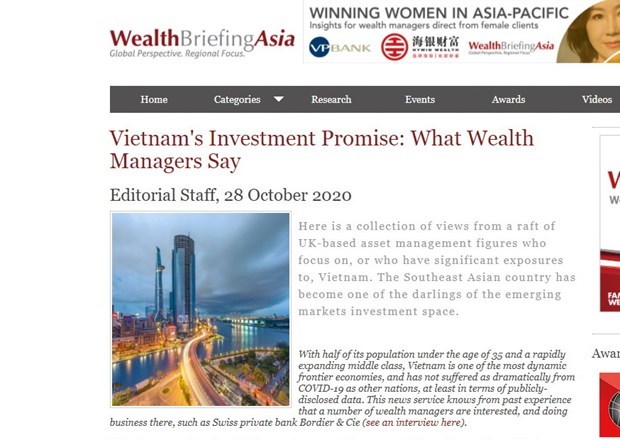 Financial website wealthbriefingasia.com outlines the views of several UK-based asset management figures regarding future investment prospects in Vietnam
According to the article, the Southeast Asian country has become one of the leading emerging markets to invest in recently.
With half of its population under the age of 35, coupled with a rapidly expanding middle class, Vietnam is one of the most dynamic frontier economies, and has not suffered as dramatically from COVID-19 as other nations. Several wealth managers are interested, and doing business in Vietnam, including Swiss private bank Bordier & Cie.
The article quoted Khanh Vu, co-manager of VinaCapital Vietnam Opportunity Fund, as saying that the main attraction of investing in Vietnam is that country is following in the footsteps of other "Asian Tigers" that came before it, such as Japan, the Republic of Korea, and Taiwan (China).
So the future trajectory of Vietnam's per capita income, consumer spending, and of the general wealth of its citizens is fairly clear. Furthermore, Vietnam is essentially the only Asian Tiger country left to invest in – given how far economic development of other Asian Tigers has already progressed.
Emily Fletcher, portfolio manager of BlackRock Frontiers, stated that Vietnam has been a poster child for frontier markets, having experienced strong economic and social development over the previous two decades. The country has also seen the benefits of more than 149 billion USD in foreign direct investment inflows over the past 20 years. This has driven huge increases in manufacturing production, such that exports have grown at a compound annual growth rate of 15.8 percent over this period. Domestically, demographics are in favour of sustainable growth.
Craig Martin, manager of Vietnam Holding, said that Vietnamese GDP per capita is expected to reach 5,000 USD by 2025, and by 2035 there could be a further 35 million middle-income consumers nationwide. Vietnam is a very open economy from a trade perspective, with more than 200 per cent of its GDP in exports and imports. Over the last three decades it has transformed from an exporter of raw materials, to a producer of finished and semi-finished goods, as well as exporting services – such as information technology.
With regard to the handling of COVID-19, Ewan Markson-Brown, manager of Pacific Horizon, described the country as one of the more successful in dealing with the threat of the pandemic. It has registered just over 1,000 cases and 35 deaths.
Craig Martin, manager of Vietnam Holding, emphasised that Vietnam's handling of COVID-19 has rightly won praise and admiration from many other nations. It is too early to attribute any one factor as the key success factor, but certainly the cohesiveness of society and the single-mindedness of the people in taking on a threat has been a key part of the resilient response.
According to Martin, Vietnam, an early victim of SARS in 2003, regularly faces disease risk from avian flu and swine flu, so it has arguably developed better responses, protocols and communications to deal with emerging infections, and pandemics./.
VNA