In addition to promoting infrastructure construction, drastically improving the investment climate and creating favorable conditions for enterprises, Binh Duong has always spent a lot of resources on building a system of industrial parks (IPs). Currently, Binh Duong is focusing on well preparing conditions, satisfying the needs of investors in order to strengthen cooperation and exploit opportunities to be proactive to welcome new FDI inflows.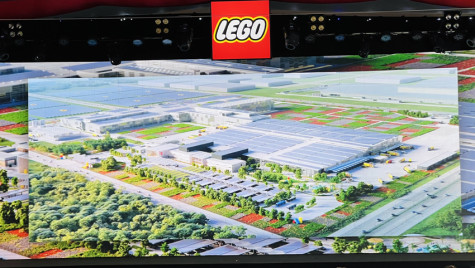 Lego factory is built in VSIP III at the standards of green and clean environment protection and safety in accordance with Binh Duong's investment attraction orientation
Increasing competitiveness
Compared to the whole country, Binh Duong currently accounts for 9% in number of IPs and 13% in area of IPs. Up to now, the total number of IPs planned in the province is 33 with a total area of ​​15,790 hectares. The province has established 29 IPs, with a total area of ​​more than 12,662 hectares, including 27 in operation with a total area of ​​more than 10,962 hectares. Along with that, the province will re-plan existing IPs to increase land use efficiency.
Binh Duong has aimed at developing sustainable IPs under the "3-in-1" model of industrial parks-urban areas-service areas. Province-based IPs with a synchronous and modern infrastructure system, convenient locations, connected to important traffic axes with Ho Chi Minh city and surrounding areas, have attracted many large enterprises and multinational corporations. In 2022, although there were still many difficulties, FDI inflows continued strongly pouring into the province. The province's industrial index continued reaching a good growth momentum. With many active support solutions of the province, efforts by enterprises in overcoming difficulties, production and business activities in the local IPs remained stable. The local IPs were estimated to attract more than US$ 2.57 billion, an increase of 58% compared to the same period in 2021, reaching 214% of the year's plan.
Thanks to grasping and quickly adapting to the continuous development of science and technology and in order to establish a solid foundation for the sustainable development of IPs in the coming time, the province will further innovate and perfect policies and adjust goals and orientations to adapt to the new context. Recently, the province has signed a memorandum of understanding with THACO to build an auxiliary mechanical industrial park, with estimated investment of about VND 26trillion. This is an IP specialized in auxiliary industries to attract more FDI inflows into the province.
According to Nguyen Trung Tin, Head of provincial IPs' Management Board, Binh Duong's outstanding advantage is transport infrastructure, IPs'infrastructure with inter-regional connectivity at production and business requirements of domestic and foreign enterprises. Provincial IPs' Management Board is focusing on implementing land procedures, planning, building infrastructure of VSIP III and procedures for expanding South Tan Uyen, Rach Bap and Cay Truong IPs under the regulations. Currently, province-based IPs are aiming at attracting investment in depth and sustainable development.
New industrial ecosystem
Being one of the earliest foreign investors in Binh Duong since 1996, VSIP Joint Venture Co. Ltd., a joint venture between Sembcorp Group (Singapore) and Becamex IDC, has so far developed into VSIP Group with 12 projects across the country with a total area of ​​more than 10,000 hectares, attracting US$17 billion in investment capital and 860 investors from 30 countries and territories, creating jobs for 300,000 workers.
Nguyen Phu Thinh, General Director of VSIP Joint Venture Co. Ltd.said that VSIP Group will continue expanding new IPs to welcome more "eagles" towards sustainable standards, raising the development level of the group from a simple IP model to a green, smart and sustainable IP model. VSIP III is a typical example which was started construction in 2022 in Binh Duong.
With experience in implementing IPs infrastructure construction, currently, Binh Duong is making provincial planning for the period of 2021-2030, with a vision to 2050. The province is expected to further build new IPs and expand the old ones with higher standards in science and technology, environmental protection, with focus on attracting industries that bring high added value and meet increasingly strict standards of international investors. The birth of VSIP III shows the province's determination in building up a new industrial ecosystem. Currently, province-based IPs are also aiming at attracting investment in depth, intelligence and sustainable development.
Speaking at the groundbreaking ceremony of VSIP III, Prime Minister Pham Minh Chinh emphasized that Binh Duong is a locality with the most VSIPs in Vietnam and each project marks a new development step, especially the VSIP III project is deployed in the greener, smarter, more sustainable, more inclusive direction, from width to depth, from quantity to quality, in line with the trend of the world and Vietnam.
At a recent meeting with provincial leaders, Kelvin Teo, CEO of Sembcorp Development Group said that the model of VSIP has been successfully evaluated in Binh Duong and many other localities ​​in Vietnam. VSIPs are considered as a highly effective cooperation between Binh Duong province and Sembcorp Group. He stated that the group is committed to further developing projects in Binh Duong, especially developing VSIP III into the group's first green, smart and zero-waste IP.
Binh Duong's IPs infrastructure system is invested and built in the direction of upholding resources of all economic sectors, in which the State-run economic sector is main. Among the established IPs, there are 2 IPs invested by wholly foreign-owned enterprise with total registered investment capital of more than VND 6.81 trillion; 3 joint venture IPs with investment capital of more than VND 11,58 trillion. The remaining IPs are invested by domestic economic organizations with total investment capital of more than VND 14.40 trillion. The province is building a science and technology IP, VSIP III, Cay Truong IP, an auxiliary mechanical industrial park... to meet the development requirements of the new stage; mobilizing resources to invest in social housing and housing projects for workers.
Reported by Ngoc Thanh-Translated by Kim Tin