In the last two years, thanks to the mobilization movement of the government at all levels and mass mobilization agencies, fronts, local unions, Phu Giao District has become an example in the movement of donating land for rural road construction with a total area of more than 5,000m2, worth about VND10 billion.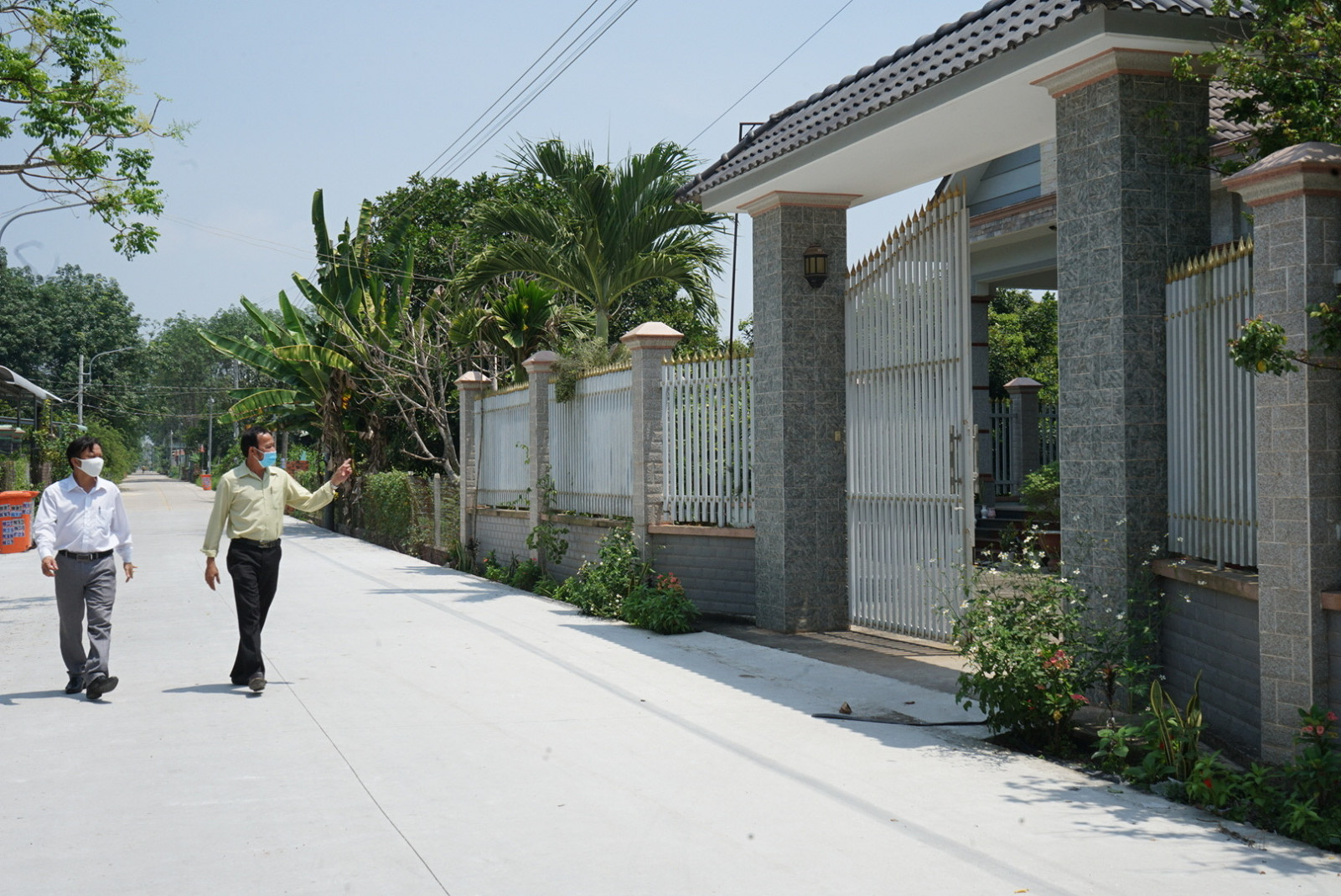 Most rural roads in Phu Giao District are expanded and upgraded by the people. In photo: Local people contribute their lands to built Cay Sung road in Hamlet 2 of Tan Long commune.
A policy agreed by the people
Rural roads in Tan Long commune of Phu Giao District now are very airy and clean. The uninterrupted and connected roads of the district have made the business and travel of local people more convenient. Responding to the movement of constructing rural roads, some examples emerged in Tan Long commune.
For instance, household of Pham Hoang Dung in Hamlet 2, Tan Long commune has donated lands two times, with a total area of about 200m2 to built roads. Dung said that when the call for land donation to built roads was issued, his family actively participated in, mobilized more people to join hands to make roads and alleys more spacious and cleaner. "Since the roads were upgraded, the countryside has flourished. The people are satisfied with this policy, hence all joined hands to donate lands for road construction, the appearance of rural areas changed a lot, the distance between the city and the remote areas are shortened", said Dung.
Phu Giao District has brought this policy to rural communes and towns; then local Party committees, authorities and unions actively mobilized people to contribute lands for the development of rural road system. This policy has gained a high consensus among the people in the area. Most people see the benefits of rural road projects. The roads built are clean and beautiful, serve not only any individual but all the people. Besides, when roads were expanded, it is more favorable and convenient for the transportation of goods, at the same time the value of residential lands of local people also increases.
Nguyen Thi Bach Mai, a resident of Hamlet 2 in Tan Long commune, said that previously red dirt roads were full of dust in dry seasons and muddy in rainy seasons, making it very difficult for people to travel. "Since the new Cay Sung road in Hamlet 2 was completed, people have been very happy, the road is spacious, cleaner and more beautiful. In addition, many new houses are built on both sides of the road, making the countryside more and more prosperous and bustling", Mai expressed.
Investment in road development
Pham Nguyen Linh Giang, Deputy Head of Phu Giao District Urban Management Office, said that for the implementation of the District Party and People's Committee's Resolutions, in addition to the State budget investment for transport infrastructure and urban renovation works, the district has developed a movement, mobilized people to join hands to donate land for rural road building, especially in rural areas, to complete the new advanced rural development program.
Specifically, in the period from 2020 to 2025, Phu Giao District will invest in and expand 698 rural roads and 40 urban roads. Phu Giao District planned for advanced new rural development, 5/10 communes in the area approved the planning. The district is focusing on investment in communes, currently 25 to 30% of roads are concreted, 50% of inter-district roads have been upgraded with lighting systems. The results have positively changed the infrastructure of remote areas, helping people to travel smoothly in their daily life, stimulating socio-economic development in the district.
"After two years, many localities have become bright spots of land contribution for road construction, especially in remote areas. As a result of this movement, people donated more than 5,000m2 land, worth about VND10 billion, to build roads. Notably, in remote areas, roads were built mostly by donated lands of the people, at no cost for land clearing and compensation, contributing to budget savings. Moreover, there are many households who actively applied for land contributions to make roads longer," said Giang.
It can be affirmed that this is a right policy, is implemented effectively and agreed by the people. This is a favorable condition for Phu Giao District to continue building improved new rural areas as well as stimulating socio-economic development, improving the quality of people's lives. This good way of the district is being maintained, expanded.
Reported by Minh Duy, Ly Huy – Translated by Ngoc Huynh