On May 11, Ministry of Education and Training and the Central Ho Chi Minh Communist Youth's League held an online conference to summarize the 5 years of implementation of Prime Minister's Decision No. 1501 on "Enhancing the revolutionary ideal education, ethics and lifestyles for youth, adolescents and children in 2015-2020". In Binh Duong, attending the conference were leaders of the Department of Education and Training, Binh Duong provincial Youth's League, Education and Training Department, the units and schools directly under the Department.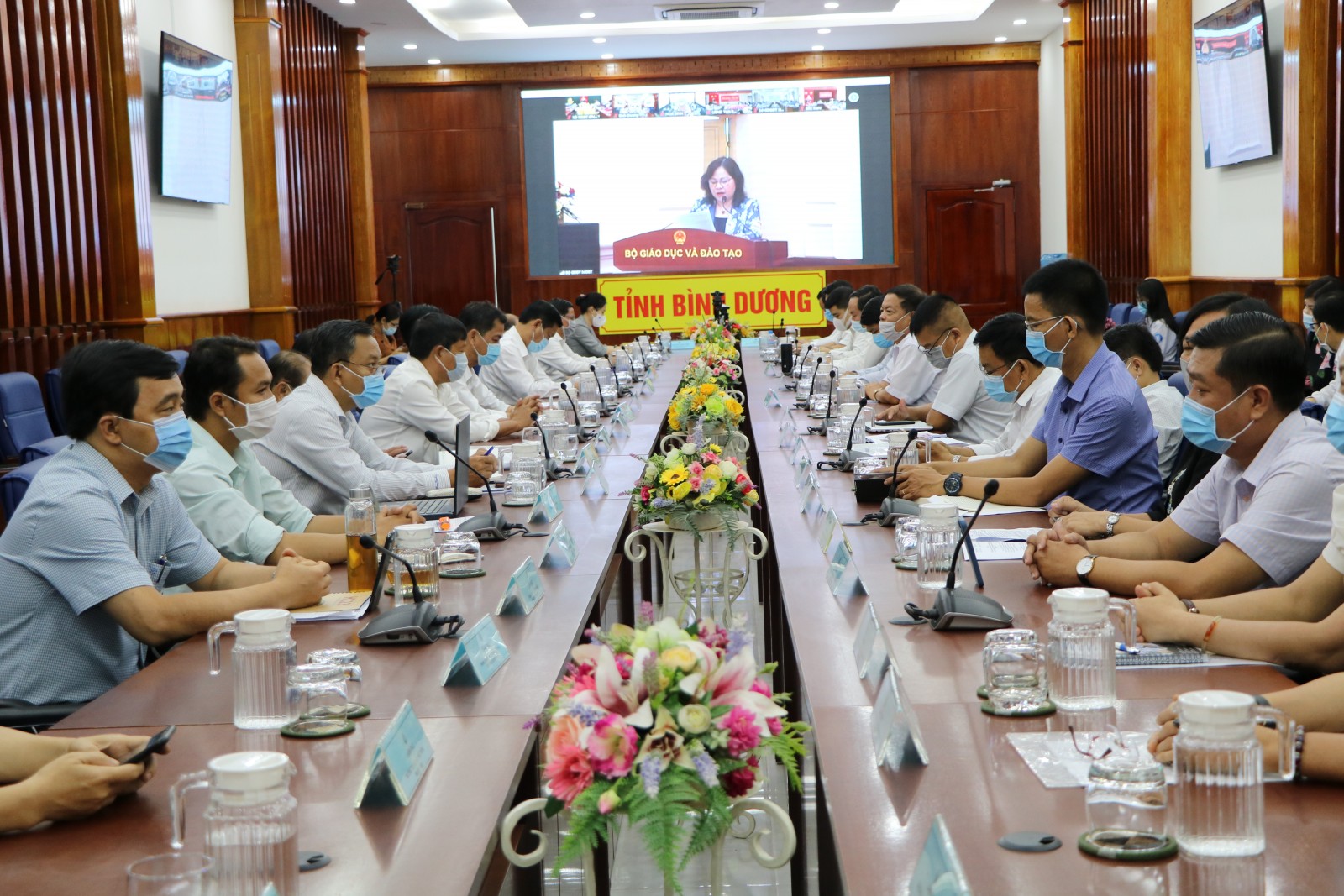 Overview of the online conference from Binh Duong
In 5 years of implementing Decision 1501 nationwide, many outstanding results have been achieved. The revolutionary, ethical, and lifestyle education for teenagers and students has been done through activities, seminars, contests, competitions, and commendations to replicate the models. In the past, the content of education has been adjusted according to the orientation of developing students' competencies and qualities in diversified forms of education.
As for education department, the method of teaching ethics, civic education, and political theory education has been renewed in the direction of developing the capacity and quality of learners while enhancing creative experiences in educating ethics, lifestyles and life skills that are suitable to each educational level and training level. Ministries, sectors, localities and educational institutions have focused on promoting digital platforms to capture the ideology of children and students through the mass media, emulation movements, and activities of honoring, rewarding and honoring examples of good people and good deeds to make a strong impact on the youth and children.
According to the evaluation of Ministry of Education and Training, the awareness of young people and students about the good traditional cultural values ​​of the nation and sense of responsibility to their families, for learning and training among adolescents , many changes have been made, exampled by active participation in collective activities, gratitude activities, volunteering for the community, activities, emulation movements, and campaigns launched by the education sector, ministries, branches and central delegations. Thereby, many examples of young people and poor students overcoming difficulties for studying well and active participation in activities for the community are in place.
Reported by Hong Thai – Translated by Vi Bao