On August 14, Thai Binh Investment Joint Stock Company (TBS Group) held a ceremony to award study promotion scholarship for the academic year 2021-2022 to 6,955 students, who are children of public officials of company had excellent academic performance in 2021-2022 school year.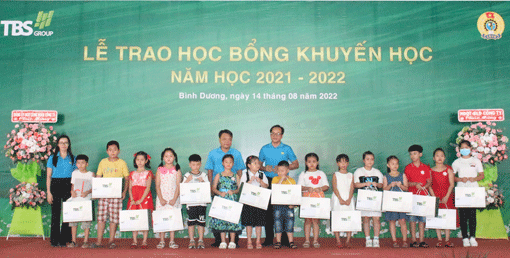 Representative of TBS Group award scholarships to students.
Accordingly, TBS Group awarded 3,073 scholarships to primary school students worth 600,000 VND each, 2,194 scholarships to junior high school students worth 700,000 VND each, 973 scholarships to high school students each worth 1 million VND, 42 scholarships for excellent students at the city and provincial levels each worth 2 million VND, 81 scholarships for students of junior colleges and colleges each worth 1.5 million VND, 592 scholarships for university students each worth 2 million VND. Total funding for these scholarships was more than 6 billion VND.
This is a practical activity of TBS Group to encourage students to make efforts in learning; at the same time share a part of expenses of employees before the new school year.
Reported by Hong Phuong - Translated by Ngoc Huynh