Piggy bank village gets into the busiest days preparing for Tet. In recent years, the increasing demand for piggy bank helped the products sustain its position in the market comparing to other types of wood or plastic. The sales of piggy bank have penetrated neighboring provinces, cities and nations like Laos, Cambodia, and Thailand.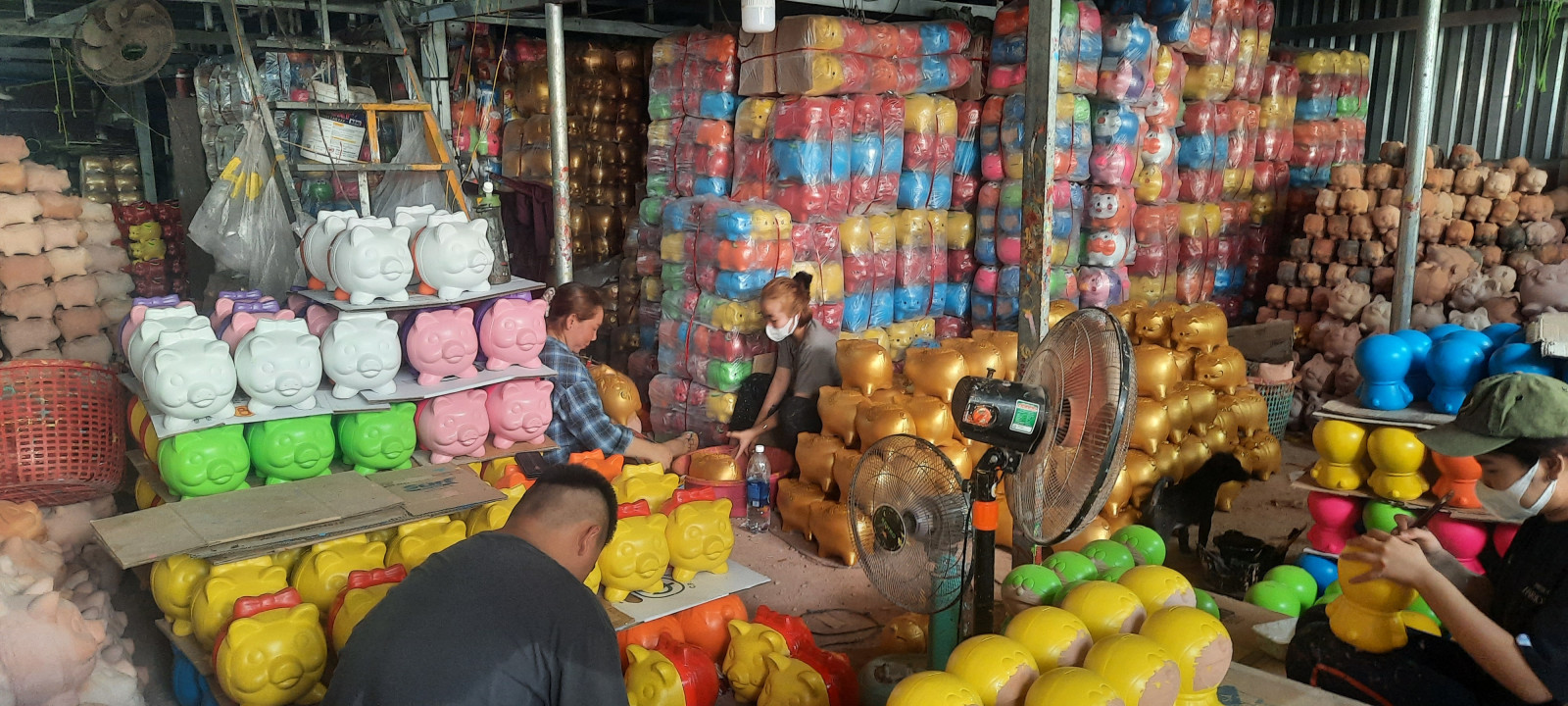 The craft village of Lai Thieu specializing in producing piggy banks is now busy for Tet supply
Lai Thieu piggy bank village is known at home and abroad as locals have been attached to the job for more than 40 years. Many families started making piggy banks in the 1970s, and so far they have still preserved and developed their career with all their hearts and mind with pride. Today, before modern technology, many products are churned out by new materials; however, Lai Thieu piggy bank is still popular from clay with many people. Particularly in recent years, the demand for piggy banks has increased while the products of the village are made into various types and in eye-catching designs to increasingly gain a foothold in the market competing with items made of plastic or wood. The piggy bank products have been exported to neighboring provinces and cities and many countries like Laos, Cambodia, and Thailand.
Nguyen Van Tuan of Nguyen Trai neighborhood said: "My father and grandfathers used to work in pottery, then switched to making piggy banks. That working as a piggy bank maker is hard while the income is not high requires meticulousness, so many young people have changed jobs to make ends meet. I love the job; if I ever have to give up, I would miss the smell of clay, and the shapes of pretty animals that I create, embellish, and 'enchant' life to them.
"The piggy banks are made from clay by my family, which is poured into molds and baked under heat. After baking, the piggy bank is brought out into the sun and is finally painted and decorated. Currently, on average, I sell 6,000 - 8,000 products a month in the nation and export to Cambodia and Laos. On average, each product after deducting costs, I make a profit of VND 3,000 - 4,000 a piggy bank. In addition to the piggy bank, my family makes many shapes of animals and fruits, especially the mascot of each year. This year, the piggy bank in the shape of a cat is made the most by the family, now we have to work all night to meet the demand for the Lunar New Year," said Nguyen Van Tuan.
Le Thi Thu Suong, owner of the Thu Suong piggy bank of Long Thoi neighborhood, said that her family has been making piggy banks for many generations, so the stages of making piggy banks seem to have been soaked in the bloodline since childhood. "I am nearly 60 years old though, I still like to work to preserve my father's profession. Currently, there are only 19 households in Lai Thieu, but people still call it "Lai Thieu piggy bank village". On every occasion near Tet, the neighborhood is bustling again. Everyone wants to sell a lot of goods and have a warm and happy New Year," said Le Thi Thu Suong.
Reported by Phuong Le – Duong Huyen – Translated by Vi Bao