To contribute to taking care of families having housing difficulties, the Red Cross Society at all levels in the province have proved their role in mobilizing resources to support these families in order for them to soon have warm houses to settle down. This is one of the meaningful humanitarian activities that bring joy and motivation to disadvantaged families to continue their efforts and rise up.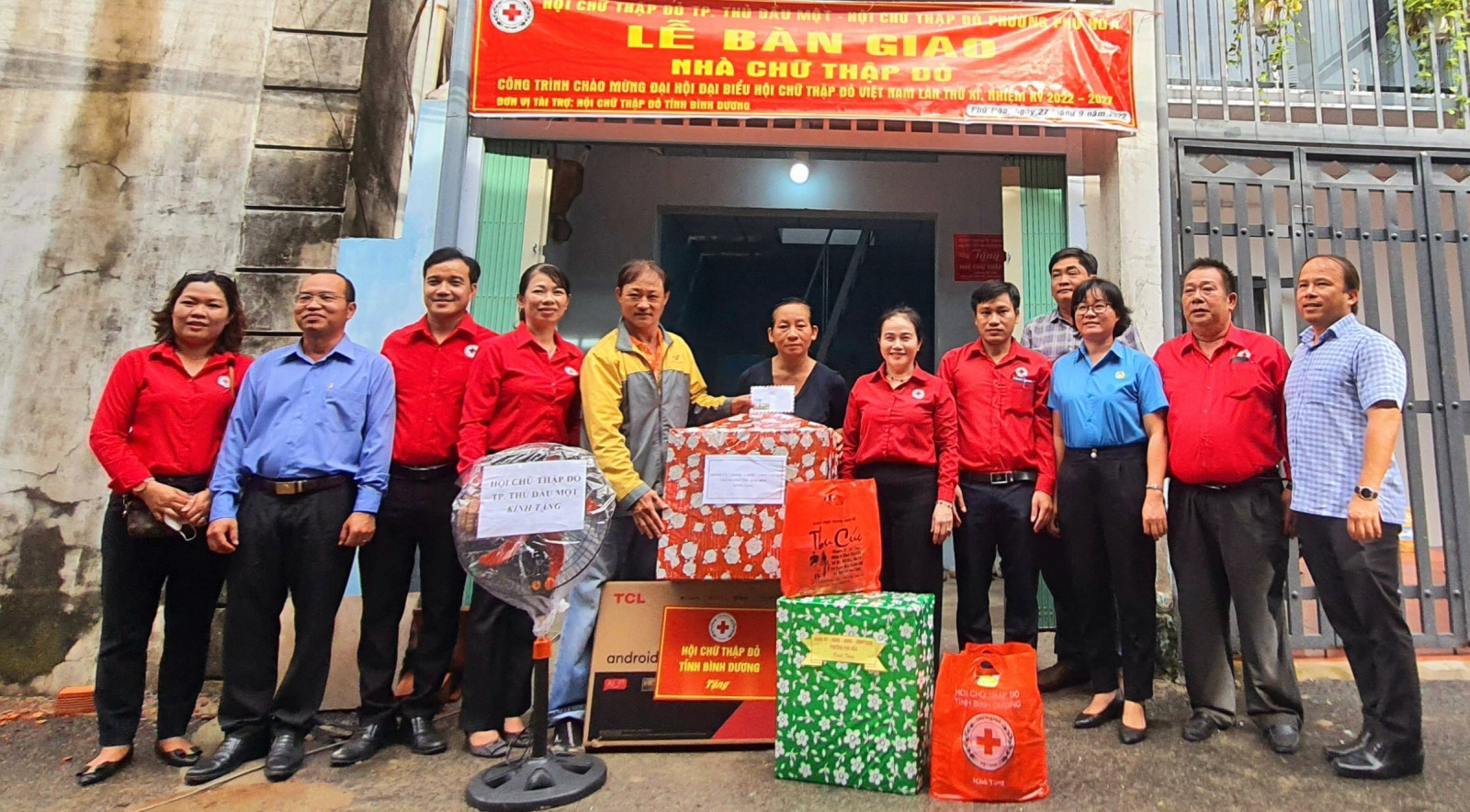 Luong Manh Ha (sixth from left) in Phu Hoa ward (Thu Dau Mot city) is delighted to be supported and have a Red-Cross house.
Heart-warming houses
These rainy and windy days, Luong Manh Ha and his family in Quarter 6, Phu Hoa Ward (Thu Dau Mot City) have felt warmer. Since the end of September, his family has no longer had to arrange buckets to collect rainwater when the rain came like before, because they have now a spacious and solid house to live in. The new house of Ha's family has an area of 45m2, with total construction cost of 90 million VND. That is a joint effort from many people, of which the Provincial Red Cross Society supported VND70 million, the rest was financed by local administration and savings of the family.
Ha is currently working as a postman, his salary is just enough to live on. His wife has a ligament injury, now sells bread at home to earn some income to take care of the family. In his family, there is a mother-in-law who has hemiplegia, 2 children are going to school (one is second-year student at university, the other is 12th-grade student). Therefore, despite his enormous effort, for many years, his family could not afford to repair or build a new house. On the day of receiving the new house, Ha said that his whole family has lived in the dilapidated house for a long time, now thanks to the attention of the Red Cross Society at all levels, his family has a solid house, hence they felt very so touched.
Kieu Thi Phuong Thao and her family living in Cay Dau hamlet, Hieu Liem commune (North Tan Uyen district) also received a new Red-Cross house this time. Knowing Thao's circumstance, the Provincial Red Cross persuaded the Provincial National Assembly Delegation to fund the house repair, helping Thao's family soon settle down. The house handed over to the family has an area of nearly 47m2, with total construction cost of VND105 million, of which the Provincial National Assembly Delegation donated VND70 million.
Thao's family situation is very tough, has 1 child in 7th grade, both husband and wife work as hired laborers, hence they just live at subsistance level. Therefore, as receiving the new house, Nguyen Tan Son - Thao's husband, was not able to hide his tears and feelings. From now on, his family has a solid, warm house for the whole family to live together. Son said: "We got support to repair our house, then my family has a chance to settle down, do not have to worry anymore and try best to improve our lives".
To aid disadvantaged families settle down
The program of building Red-Cross houses for the poor and disadvantaged families has been effectively applied and implemented by Red Cross branches at all levels in the province. This is a humanitarian activity having profound meaning, drawing the attention of numerous officials, members, volunteers, businesses, and benefactors. Doan Thi Thu Hong, Chairwoman of Thu Dau Mot City Red Cross, said that to carry out the work program 2022, the city Red Cross was assigned a target of three Red-Cross houses. All Red Cross branches in the city have mobilized resources to build and hand over 9 new houses, of which the Provincial Red Cross supported the construction of 3 houses, the rest were funded by the city Red Cross and Red Cross branches of local wards.
Hong said: "The mobilization of resources for building and repairing houses to help disadvantaged families stabilize their lives has a very practical meaning, showing the spirit of "mutual affection", earning trust, providing motivation for families to rise up and settle down soon. Therefore, this activity is always supported and actively implemented by the Red Cross Society in the city. Currently, Hiep An and Phu Loi wards are also mobilizing donations to repair houses for disadvantaged households in the localities.
Along with humanitarian programs and activities carried out by Red Cross Society at all levels, the construction and repair of Red-Cross houses to help poor families settle down in recent years has brought effective results and considered to be very practical and meaningful.
Nguyen Thi Le Trinh, Chairwoman of the Provincial Red Cross, said that Red-Cross houses are not only a material support creating favorable conditions for the poor to settle down and have a good life, but also show the concern and sharing of the whole community to people living in hardship. Each house built and handed over to poor family is a great source of encouragement for them to overcome difficulties and better their lives.
As a bridge and coordinator in humanitarian work in the province, the Provincial Red Cross has promoted activities and social security programs for sustainable development, bringing joy, happiness and a better new beginning for disadvantaged households, helping them to have a chance to improve their lives. Red-Cross houses built from the community's efforts have been helping disadvantaged families to settle down.
Reported by Hong Thuan - Translated by Ngoc Huynh