Although his work is hard, his salary is lower than in previous years, he always tries his best, be dedicated to the job, his chosen career. That has helped Le Nguyen Kim Chung, a worker of Minh Hoa Rubber Farm of Dau Tieng Rubber Company, not only successfully completed his tasks but also achieved high result in the competitions "golden hand" of rubber latex tapping both at the farm level and the company level.
Constantly learning
Le Nguyen Kim Chung has been a latex tapping worker at Minh Tan Rubber Farm (now under Minh Hoa Rubber Farm) since June 2011. At the first time of being a rubber latex tapping worker, he encountered many unexpected difficulties. However, he encouraged himself to improve his skills, accepted challenges to pursue this job.
Then he was given an opportunity to participate in a rubber latex tapping class organized by the company, so gradually he grasped the technique. Besides, he learned a lot from devoted senior workers of the company, who taught him everything even from the smallest thing. He himself constantly tried his best every day to work and draw experience at the same time in the process of rubber tree care and exploitation.
After only a short time, Chung knew how to exploit the farm correctly, maintained the stability throughout a harvesting season. He reached and exceeded the assigned rubber latex targets. It is really a process, in which he tried his best for self-study, self-training to improve skills. Chung said that since he became a rubber tapping worker, he has worked hard and determined: "I strive to train what I have not achieved, from theory to practice, and especially learn experience of senior colleagues..."
A worker with a "golden hand"
Working with the rubber tree for more than 10 years, Chung said that to take good care of rubber trees, we must first understand characteristics of this tree. Every stage needs to be done thoroughly and carefully, if we do not understand its characteristics, it will be very difficult to care for and exploit rubber trees. Love this profession, love rubber trees, therefore even though this work is hard, the income is not as good as in previous years, Chung always works with his dedication, wholeheartedness, thus gains high efficiency in his work.
It is from hard work and eagerness to learn the new that his skills are improving. More than 10 years as a latex tapping worker, almost every year he participates in the farm-level competition and won many awards, three times took part in the company-level competition. Although his achievements in the company-level competitions were not the highest, but it was an experience and a great encouragement for him to continue taking part in higher-level competitions.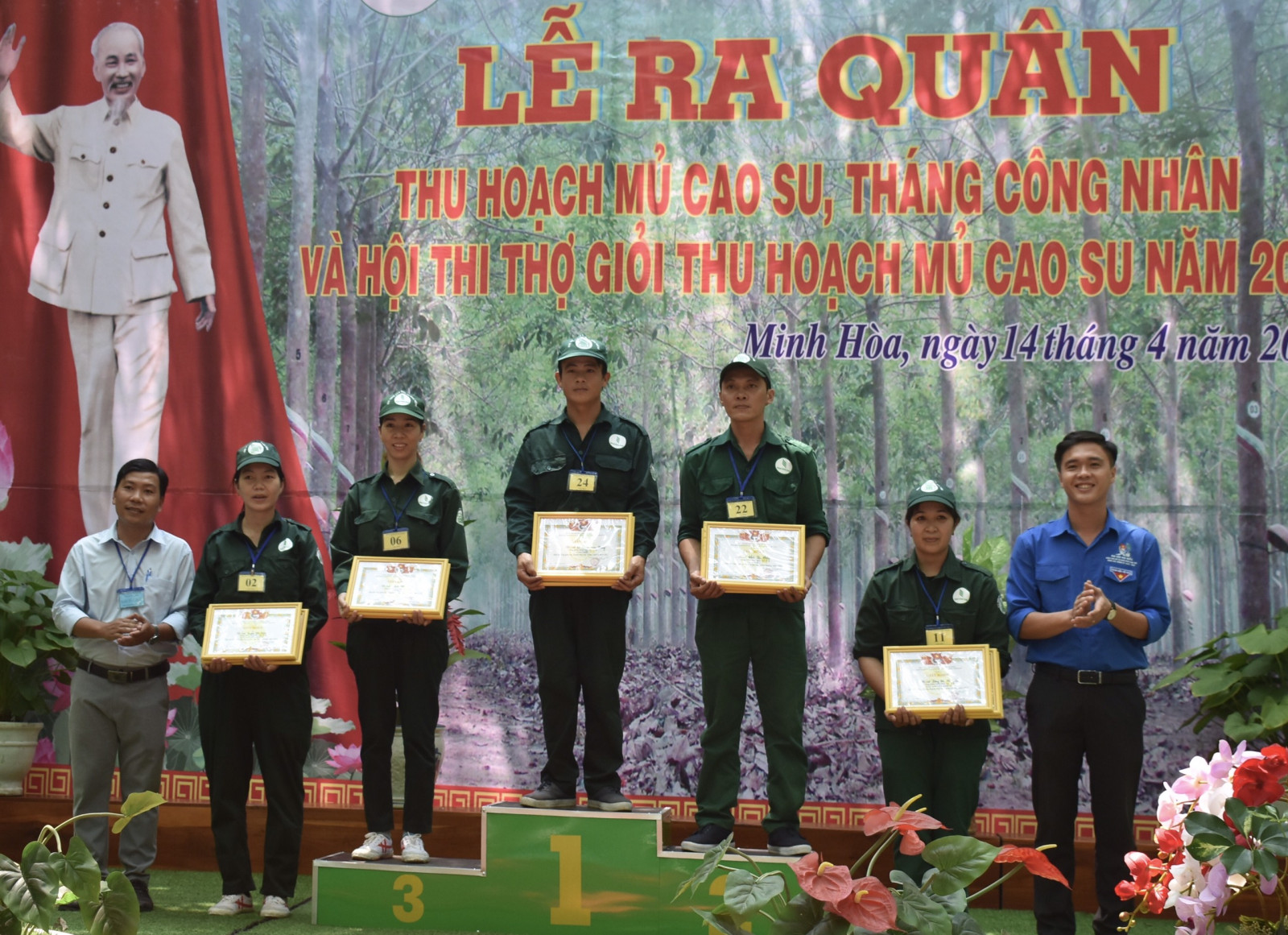 Le Nguyen Kim Chung receives a first prize at company-level contest "Golden Hand Harvesting Rubber Latex".
At the contest "Golden hand harvesting latex" in 2022 held by Minh Hoa Farm, Le Nguyen Kim Chung surpassed 30 candidates and won the first prize with a total of 100 points and a time of 15 minutes. He gained absolute scores in all tests from theory, tools, speed, to tapping techniques. Moreover, at the company-level "Golden Hand harvesting latex" contest, he excellently earned a total score of 100 and real tapping time of 15 minutes 11 seconds, surpassed 40 contestants and won the first prize of the contest.
Le Nguyen Kim Chung said that as joining the company-level contest, he himself as well as other contestants were supported by leaders of the farm; agricultural technical division of the farm also provided thoughtful advices, instructions, and encouragement for them. Chung gained high prize, but he modestly said that, in addition to solid theory and proficient practical skills, he himself felt a little lucky because other contestants were all experienced and excellent workers of the company.
He told himself that it was an honor to win the top prize of the company-level competition, but it was a real challenge to enter the industry-level competitions, because the contestants of these competitions were excellent workers who won high prizes at company-level competitions at home and abroad. This was a real pressure and required high determination to have high results at these contests. "This year's good worker competition of the rubber industry is held at Dau Tieng Rubber Company, so I feel comfortable and am determined to try my best to complete the task, bring the best result in order to be worthy of the trust of colleagues as well as leaders of farm and company...", Chung expressed his determination.
From a rookie who had not much experience in this profession, went through a striving and maturing process, now Le Nguyen Kim Chung is not only a skilled, dedicated worker but also the hope of the whole company in golden hand contests at the industry level in the coming time. With his experience, determination and encouragement from his colleagues, Le Nguyen Kim Chung will win high prize of the contest.
Reported by T.Dung, T.Nguyen – Translated by Ngoc Huynh