Early February 2, representatives of the Chinese community, the Executive Board of Thien Hau Lady temple in Thu Dau Mot (TDM) city visited and congratulated leaders of the city on the occasion of the Thien Hau Lady temple festival 2023. Nguyen Van Dong, member of provincial Party Standing Committee, Secretary of TDM city's Party Committee received the delegation.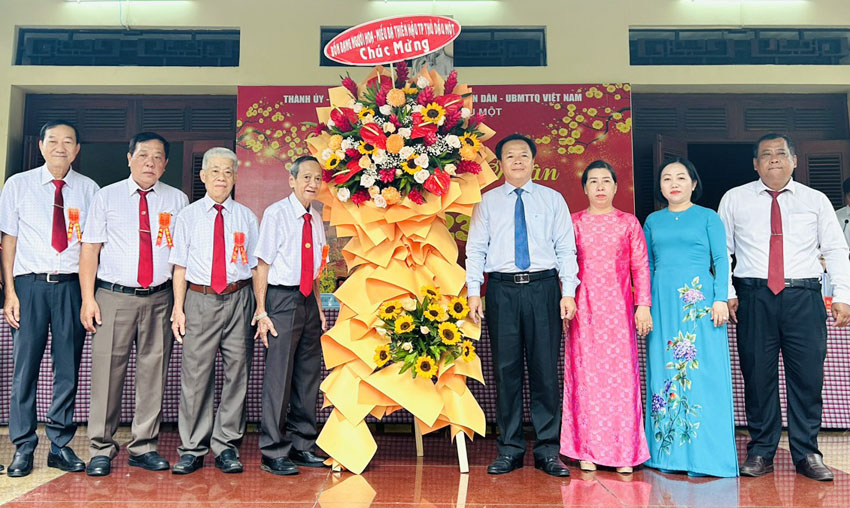 Representatives of the Chinese community give flowers for leaders of TDM city on the occasion of the Thien Hau Lady Temple Festival 2023
At the reception, Tran Vinh An, Permanent Deputy Head of the Executive Board of Ba Thien Hau Lady Temple, representative of the Chinese community said that over the past time, the Chinese community has always received the attention of Party committees and authorities at all levels of TDM city, Binh Duong province, so the lives and activities of the Chinese people have been improved and got better. The Chinese community has always united, supported and developed together while paying more attention to activities on mutual aid, study promotion, talent promotion..., creating a high consensus in the community.
On behalf of the city's leaders, Vo Thi Bach Yen, Permanent Vice-Secretary of the city's Party Committee, Chairwoman of the city's People's Council acknowledged and thanked fine wishes and contributions by the Chinese community in the process of the local construction and development in recent years. He said that in 2022, the city completed and exceeded all the set targets. This result was also contributed by the Chinese community.
Leaders of the city hope that in 2023, the city's people in general and the Chinese community in particular will strive harder for the practical benefits of the community and the city, well implement the Party's guidelines, the State's policies and laws, make emulation in work, actively participate in patriotic emulation movements, contributing to the successful implementation of the city's goals on socio-economic development, joining hands to build up a civilized, rich, beautiful, modern and affectionate Thu Dau Mot city.
Reported by Hong Thuan-Translated by Kim Tin