On the afternoon of October 26, provincial Steering Committee for Covid-19 Prevention and Control met and said farewell to 4 support delegations from Phu Tho, Lao Cai, Gia Lai, Ninh Thuan at provincial Convention and Exhibition Center. The event was attended Nguyen Van Loc, member of provincial Party Standing Committee, Head of provincial Party Committee's Mass Mobilization Commission, Chairman of provincial Fatherland Front Committee and leaders of a number of departments and sectors in the province.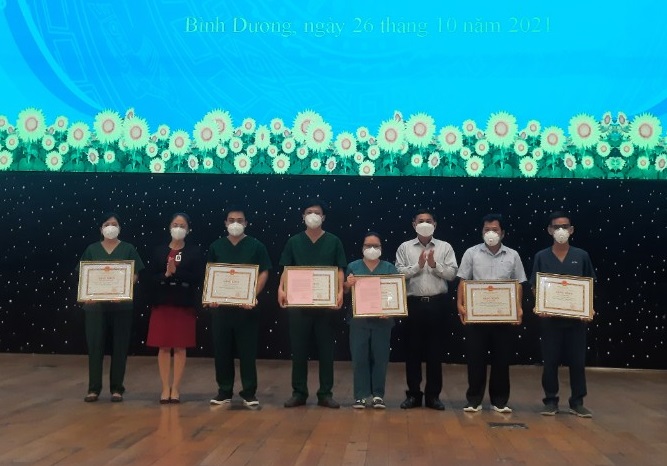 These delegations with 140 members, including 52 from Phu Tho, 50 from Lao Cai, 20 from and 18 from Gia Lai supported Binh Duong in the local Covid-19 prevention and control over the past 2 months. They supported Covid-19 treatment and vaccination, contributing to helping the local health sector control and win against the pandemic.
On behalf of provincial Steering Committee for Covid-19 Prevention and Control, Mr. Loc sent his deep thanks to members of these 4 delegations. Their support contributed to helping Binh Duong prevent, repel and win against Covid-19 pandemic. On this occasion, provincial People's Committee awarded nearly 20 certificates of merit to outstanding collectives and individuals of these delegations in the process of supporting the local fight against Covid-19 pandemic, and gave gratitude gifts to all members of these delegations (photo).
Reported by Ho Van-Translated by Kim Tin