On the afternoon of September 17, provincial Steering Committee for Covid-19 Prevention and Control held an online ceremony to receive medical equipment for Covid-19 prevention and control from Singapore's Sembcorp Group at provincial Exhibition and Convention Center.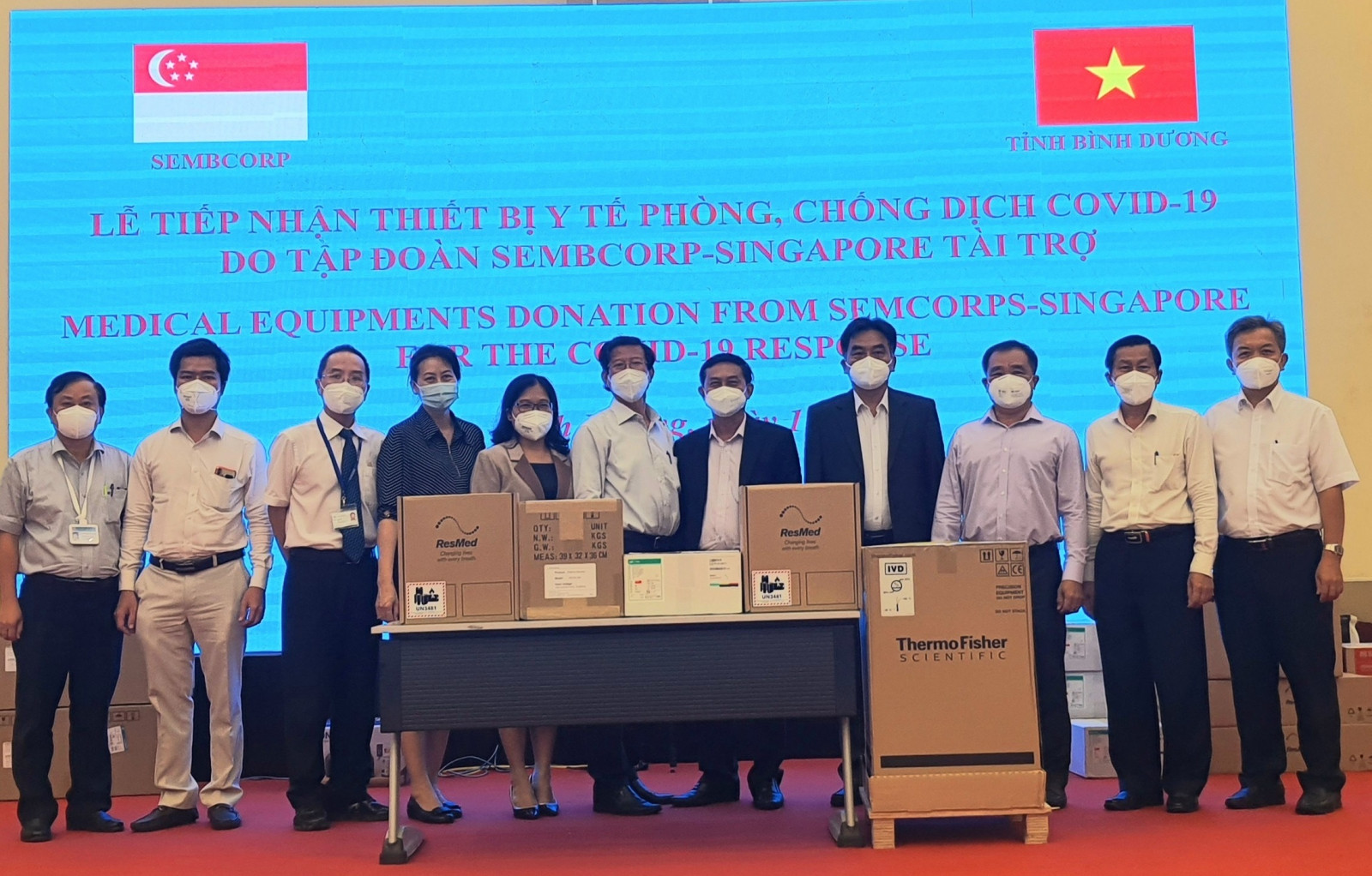 Provincial leaders and representatives of departments, sectors and medical units in the province receive medical equipment from Sembcorp Group
The event was attended by Mai Phuoc Dung, Vietnamese Ambassador to Singapore; Jaya Ratman, Singaporean Ambassador to Vietnam; Kelvin Teo, Director of Sembcorp Group's Urban Development Department; Koh Chiap Khiong, Director of Sembcorp Industries'Energy Market Department in Singapore and Southeast Asia.
In Binh Duong, there were Nguyen Van Loc, member of provincial Party Standing Committee, Head of provincial Party Committee's Mass Mobilization Commission, Chairman of provincial Fatherland Front Committee; Nguyen Loc Ha, member of provincial Party Standing Committee, Vice-Chairman of provincial People's Committee; Nguyen Truong Nhat Phuong, Vice-Chairwoman of provincial People's Council.
Over the past 20 years, Sembcorp Group has accompanied the socio-economic development of Vietnam in general and Binh Duong province in particular through the Vietnam-Singapore Industrial Park (VSIP) Joint Venture with Becamex IDC. During the Covid-19 pandemic, the Management Board of the VSIP has made contributions to the province's Covid-19 prevention and control.
On this occasion, Sembcorp Group continued supporting Binh Duong, helping improve the capacity of the local 3rd floor treatment facilities in order to opportunely cure many critical patients. Specifically, the group donated 12 ventilators and testing machines to provincial General Hospital for treatment of Covid-19 patients; supported 65 monitoring devices for Becamex International Hospital, helping strengthen its capacity of treatment for Covid-19 patients. The total value of these medical equipment is about VND6.8 billion.
On behalf of provincial leaders, Mr.Ha thanked Sembcorp Group, VSIP Joint Venture Company for their contributions to the province during the past time. He also wanted that the group will continue supporting and accompanying the province in Covid-19 prevention and control, stabilizing production, business, investment and promoting cooperation for development in the coming time.
Reported by Hong Thuan-Translated by Kim Tin