The Delta variant of coronavirus SARS-CoV-2, which was first detected in India, has continued to spread in Southeast Asian nations, with Indonesia recording the highest rate of infection.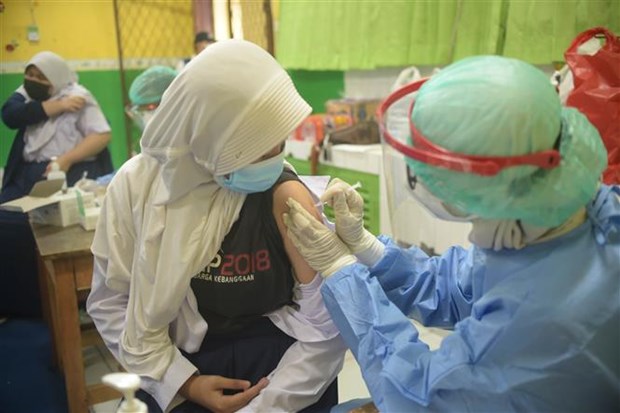 A person receives a COVID-19 vaccine shot in Jakarta
As many as 41,168 COVID-19 cases were reported in Indonesia in the past 24 hours, raising the national count to 3,372,374, with a death toll of 92,311, announced the Ministry of Health on July 30.
Data from worldometer.info showed that the country logged the second highest number of new cases in the world, with 297,867, in the past seven days, just behind the US, with 502,465 infections.
However, the figure dropped by 3 percent from the previous week.
The Indonesian government has imposed emergency restrictions in the community in an attempt to reduce the daily case number.
At least 20.14 million people in Indonesia were vaccinated with two full shots.
In Malaysia, 16,840 new infections were confirmed on July 30, bringing the total to over 1,095,486. Most of the new cases (16,823), were found in the community.
The number of fatalities in Malaysia has reached 8,859.
Meanwhile, the Philippine Department of Health announced that the country has recorded 1,580,824 cases since COVID-19 broke out, with 27,722 deaths, after 8,562 new infections and 145 fatalities were detected in the past 24 hours.
A strict lockdown will be imposed on Metro Manila from August 6 to 20 in an effort to curb the spread of the pandemic./.
VNA