Cambodia's Ministry of Health said on July 26 that the country recorded 303 new domestic COVID-19 cases, a remarkable drop from its peak of 991 cases on June 30.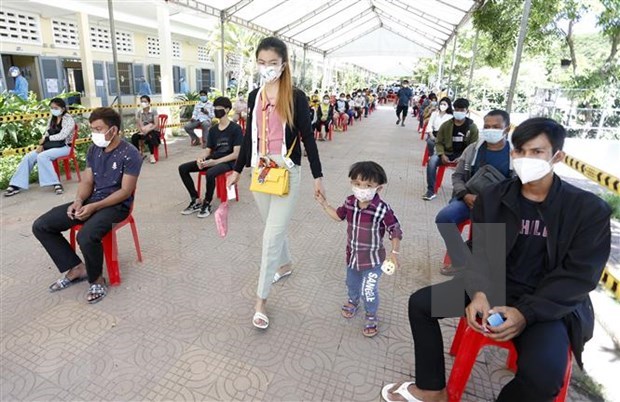 People waiting in line to get vaccinated against COVID-19 in Phnom Penh, Cambodia.
However, the Southeast Asian nation had seen a significant surge in imported cases, the ministry said, adding that Cambodia found 475 imported cases on July 26.
Authorities attributed the increase in imported cases to the entry of migrant workers returning from neighbouring Thailand. This has caused strain in the medical infrastructure and raised concern on the increase of community transmission of the Delta variant due to illegal entry.
In a released statement by the US Embassy in Cambodia, the US will provide the Southeast Asian country with 1 million doses of Johnson & Johnson vaccine through the COVAX Facility and UNICEF in the coming time. The country is accelerating its inoculation drive from 10 million to 13 million people.
On the same day, the Philippine Department of Health said that the country recorded an additional 6,664 new infections, bringing the national tally to 1,555,396 cases. In the past 24 hours, the country also reported 23 more fatalities, raising the total number of deaths to 27,247.
Health officials believe that the number of new infections continues to increase in the Philippines as the country discovers new cases of highly infectious variants, including Delta variant./.
VNA