Binh Duong provincial Supporting Center for Youth Workers is a non-business unit under the Provincial Youth Union; was established by Provincial People's Committee in 2010. Currently, in the whole country, only Binh Duong and Ho Chi Minh City have been selected by the Central Youth Union as two pilot units of this model for the purpose of taking care of and supporting young workers. After 12 years of operation, the center has become a place of solidarity to gather, care for, support, help, and protect the legitimate interests of young workers...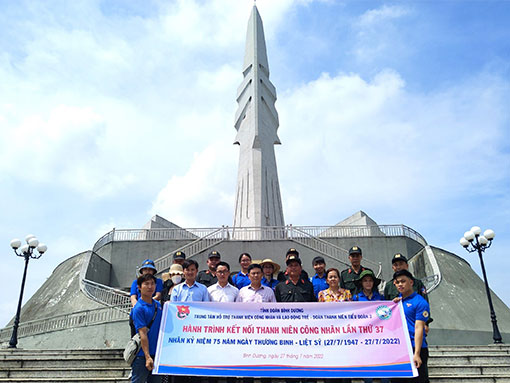 The Provincial Supporting Center for Youth Workers holds the 37th "Journey to connect young workers" on the 75th anniversary of Invalids and Martyrs' Day (July 27, 1947 - July 27, 2022).
Connecting young workers
Since its establishment, the Provincial Supporting Center for Youth Workers has always focused on renewing forms of young worker unification and gathering by many effective models and initiatives; organized many meaningful and practical activities to take care of the material and spiritual life of young people. Thereby, creating a healthy environment, a useful playground, and building a core force for youth activities.
In particular, the introduction of the Young Worker Connecting Club has received consensus and support of business leaders and attracted the participation of numerous young workers. This is also a favorable condition for the collaboration with businesses to allocate resources to caring for, supporting young workers, and developing youth organizations in non-State-owned businesses.
As of June 2022, the center has established 35 Young Worker Connecting Clubs and 2 Volunteer Clubs in industrial parks of the province with more than 1,000 members; in which 50% of clubs were established at non-State-owned businesses with the number of workers from 5,000 people or more. The Young Worker Connecting Clubs have been appreciated and asked to expand by Standing Committee of the Provincial Youth Union and Central Youth Union.
Do Van Phung, Director of the Provincial Supporting Center for Youth Workers, said that the establishment of youth organizations and the development of union members at non-State-owned businesses plays a very important role. This helps the organization of practical playgrounds for young people, meaningful programs serving spiritual and cultural life, thereby creating favorable conditions for grasping the youth's thoughts and aspirations to make timely orientations; to step up the production and business movement, generating practical benefits for businesses as well as workers.
This is one of the significant and viable activities under the project "Unification, gathering of young people and workers in Binh Duong province, period 2021-2025" and a vital task in the development of Youth Union's organizations. Practical and useful activities are also a connector to protect the legitimate rights and interests of workers and contribute more actively to the socio-economic growth of the province.
To care and support young workers
Binh Duong Provincial Youth Union and Provincial Supporting Center for Youth Workers have constantly made efforts to hold many practical models and activities based on the actual needs of workers. The Center has carried out many programs and activities, creating effective, useful and practical propagation and communication among young workers.
Namely, these were cultural and artistic activities, giving gifts to young workers; commodity selling booths with original prices, 0VND booths for young workers; free wedding parties to practice thrift; coordinate with other departments and businesses to provide vocational trainings, IT and foreign language courses for young workers; free legal advice provision, propagation on drug prevention; free medical examination, free medicine distribution, health consultation; weekend playgrounds, contests, sports festivals, giving gifts to people having difficult circumstances...
A highlight of the center's activities is the construction of Little Star Kindergarten. Since the school was put into use, it has taken care of and provided education for workers' children in My Phuoc Industrial Park, helping workers do not feel anxious at workplace. The school also applies tuition fee exemption and reduction for children having extremely difficult circumstances; gives gifts to children on big holidays and Tet.
In addition to taking care of young workers, the center also did propagation and education activities for workers. That's why, "Journey to connect young workers" was born. Up to now, the center has organized nearly 40 journeys for young people to visit "red addresses", historical relics in the province. Thereby, helping the traditional and historical education for young workers to be effective and spreading.
In addition, the Provincial Supporting Center for Youth Workers also launched a start-up coffee named "English Coffee House". This is a place for young workers to meet, learn, improve foreign language skills, and inspire start-up ideas, or have a relaxing space every evening. Besides, there is an activity of compassionate kitchen to orient young people to volunteer works, share difficulties and help unfortunate lives. Accordingly, this model has supported more than 10,000 free meals for workers, young workers living in hardship, and orphaned children.
In 2022, the center cooperated with Becamex IDC to implement the model of "Street playground" in Binh Duong New City, held periodically at 6pm every Saturday at Central Park Binh Duong New City. The program is free for all people and children. It is expected that the program will be soon replicated in Ben Cat town and surrounding areas.
Reported by Ngoc Nhu - Translated by Ngoc Huynh