On telling us about her cause of helping students living in hardship, Ms. Luong Thi Ut, born in 1944 and residing at Nguyen Trai quarter of Lai Thieu ward in Thuan An city, expressed her inner peace of mind and joy to see students of poverty and harsh circumstances going to school. As the matter of fact, despite her elderly, she have made all-out efforts to help more and more such students.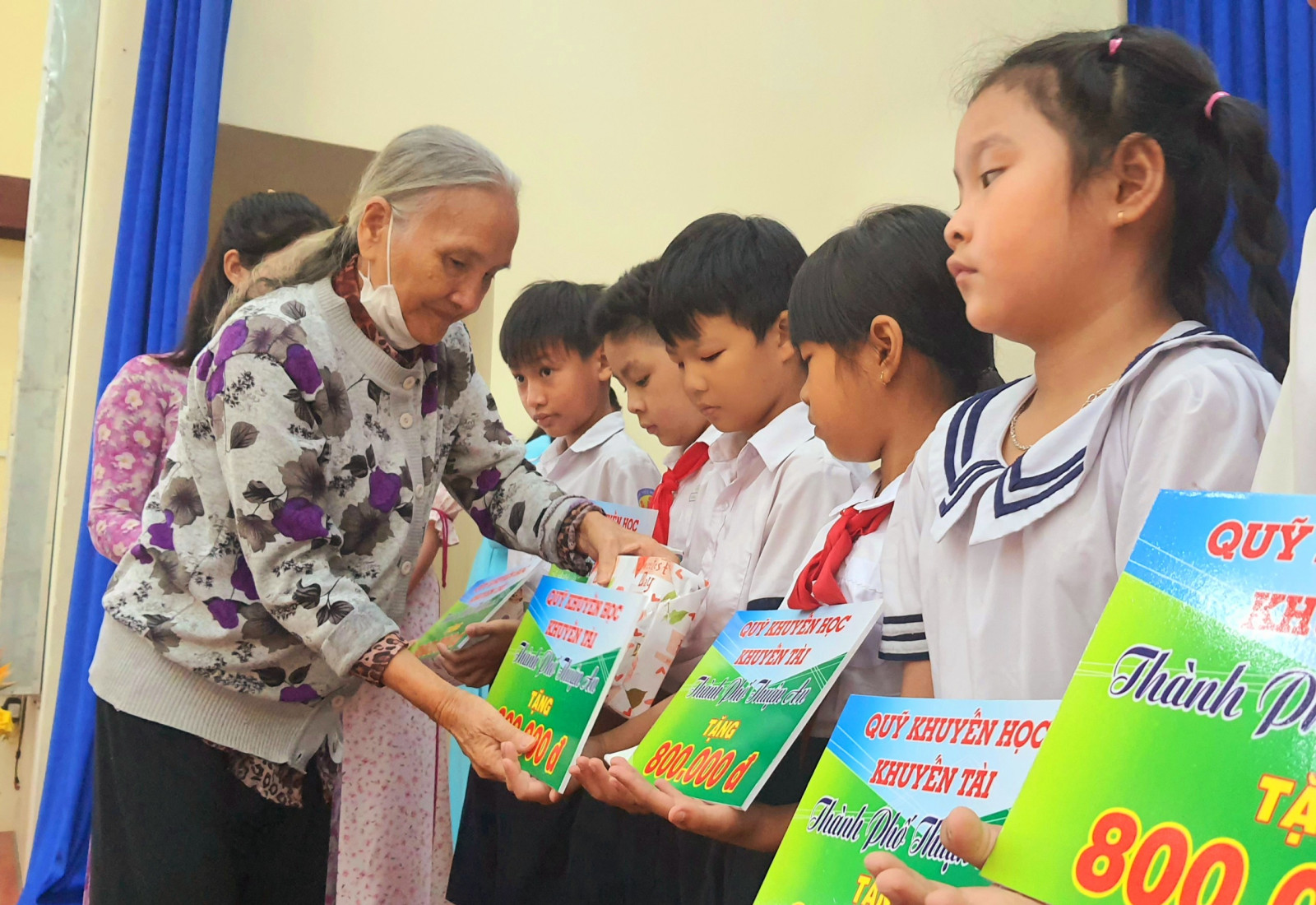 Ms. Luong Thi Ut gives away money to help local students get through their hard time in the school year of 2022-2023
Active charitable actions
Her intact simple and friendly way of life is so impressive to us every time we meet. Retired in 2000, Ut refused to rest but to be extremely active in local charitable actions. As a honorable member of Lai Thieu ward Association of Women, Ut volunteers to call upon movements of poverty eradication locally. She accepted to be god-mother of a poor student to follow her schooling from Grade 6 to 12 at VND 750,000 a month which covers his tuition and necessities for learning at school.
In 2004, Ut was elected the Deputy Secretary of CPV cell committee of Nguyen Trai quarter. By 2010, she was entrusted to hold the position of a secretary. For years as the head of Thuan An city Retiree Club, Ut was always the most active in helping locals to get away from poverty by the motto of peer donation which she was always the first to donate kind-heartedly like monthly allowances to alone elderly people, bicycles given away to students of hardship, loans to women of poverty and hardship in the ward to trade for better lives.
The humane heart of charitable actions of Ut was also note for her adoption of 4 orphans who are offered schooling and her example of making effort to rise up. Up to date, her adopted children had grown up to their private families. She and her two adopted children extend their hands to help whoever they find to be in harsh situations with the fishing rods.
In previous years, she also took the donation to people in Ca Mau province, helping them build charitable houses, giving poor students bicycles and scholarship. Currently, her elderly age made her unable to get anywhere far, so she is paying attention to help local poor students of Thuan An city. And, those who are in great hardship are always helped.
Helping students go to schools
At nearly 80, Ut is known for her charitable actions contributing to the help of people in poverty, especially students of harh background to excell at schools. In recent charitable drives for students in Thuan An city, we often see her as a representative of Mai Buu Dan Fund (by her deceased husband name).
Growing up from the hard days, Ut set her own family in stable life. She said: "My family is okay that way. I have my pension and am backed by my two children with daily expenses. I am a senior now, so I do not need much spending which I keep to help the students of hardship. Every time I give them money and gifts, not only am I happy but their parents are too. We give whatever we think fit as long as we are in free heart and mind."
To help poor students in Thuan An city go to school, in the first days of the 2022-2023 school year, the Mai Buu Dan Fund has given money to 40 students at VND 3 million each. Talking about the active support of Ut, Mrs. Nguyen Thi Tuyet Mai, Chairwoman of Thuan An city Learning Encouragement Society informed that Mai Buu Dan Fund brought joy to many families by helping the students keep their schooling on track.
In recent years, Ut has preserved special shares to help students go to school for better tomorrow as she becomes peace at mind. Talking to us about such feelings, Ut said: "President Ho Chi Minh taught us that we should be for the sake of education and children are the future of the nation. Thus, I help them with all that I have for brighter future. Later on, when growing up, they would help to construct the nation; and, they would even help others like I did, which is my most yearning wish for such activities."
Reported by Hong Thuan – Translated by Vi Bao