Born and grown up in Hoa Binh, but when she fell in love with cycling, cyclist Dinh Thi Nhu Quynh wore Biwase Binh Duong suite. Ever since, the most experienced racer in the cross-country mountain bike race has continuously achieved success in domestic and international tournaments.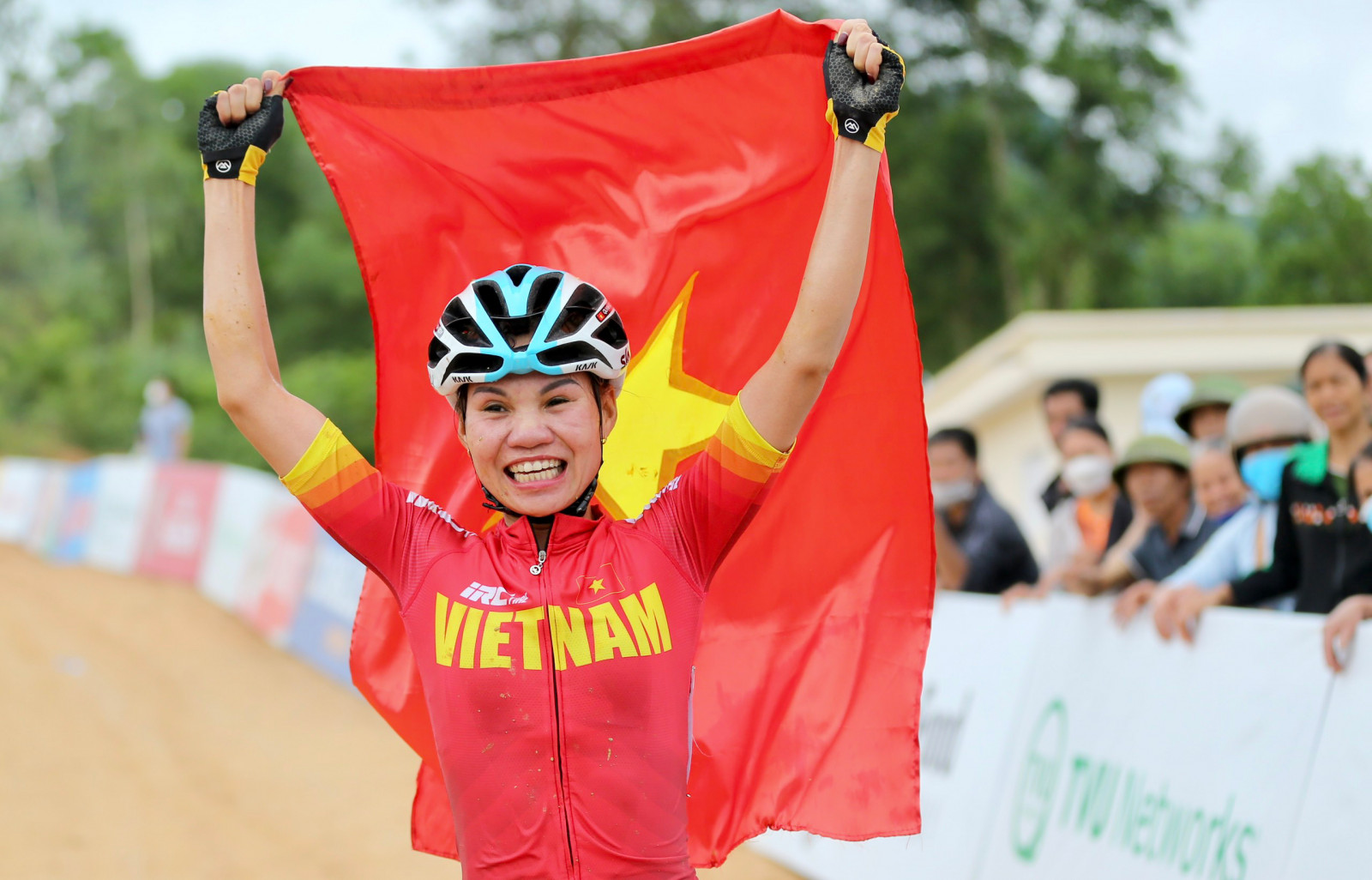 Cyclist Dinh Thi Nhu Quynh is happy with the gold medal won in her hometown of Hoa Binh. Photo: Du Hai
Looking back at the 30th SEA Games in the Philippines 3 years ago when all the attention about the first gold medal for the Vietnamese sports team focused on athletics and swimming, Binh Duong's cyclist suddenly got gold goods for Vietnam. The excellence of the Hoa Binh girl has opened up the successful days of the Vietnamese sports delegation in SEA Games 30. Since that time, Nhu Quynh has affirmed her brand when continuously achieving success in many prestigious domestic and foreign tournaments.
After more than 3 years of returning to the SEA Games, cyclist Dinh Thi Nhu Quynh continues to be the golden hope of the Vietnamese cycling in the cross-country mountain bike category. For the girl born in 1992, the 31st SEA Games became even more meaningful when the cycling event was held right in Hoa Binh where she was born, grew up and had many beautiful memories. Excellence in the first place when creating a distance of 3 minutes compared to competitors, the Muong ethnic girl brought home the first gold medal for Vietnamese cycling at the 31st SEA Games also the first gold medal of the Vietnamese sports delegation on the match day of May 16.
Born and raised in a pure farming Muong ethnic family, if she had not become a professional cyclist, Dinh Thi Nhu Quynh would have gone to the fields every day to work and grow sugar cane like many of her peers. At times, she and her family members even had to dine on sugarcane against hunger. However, after consecutive successes and along with the remuneration worth of efforts, the cycling sport helped her escape poverty in the true sense of the word. Sometimes, looking back, to her, was like a dream in the middle of the day.
"I am very happy and proud. Today, I am determined to defend my gold medal. I dedicate the victory to my family and fans. It rained today, the road was slippery, affecting the competition, but I tried to finish the race well," said Dinh Thi Nhu Quynh after winning the home honor.
Reported by Thai Hai – Translated by Vi Bao