The annual mid-autumn festival is considered as a Tet holiday with the meaning of reunion and warmth for all Vietnamese families, and is also a festive night for children. This year's mid-autumn festival, due to the complicated developments of the pandemic, many families and children have faced difficulties and cannot welcome a peaceful mid-autumn festival together. In the face of the situation, many individuals, mass organizations and businesses have brought a warm mid-autumn festival to children…
Welcoming mid-autumn festival in isolation area
Near the full moon day of August, we went to the isolation area of ​​Dau Tieng district's high school to offer mid-autumn gifts to children here. Huynh Nguyen Quan, the manager of the isolation area said that during this 4th outbreak of the pandemic, Dau Tieng district's high school has received 600 cases for concentrated isolation. So far, 441 cases have been returned home while the remaining 159 cases, including 30 children, are still positive for Covid-19.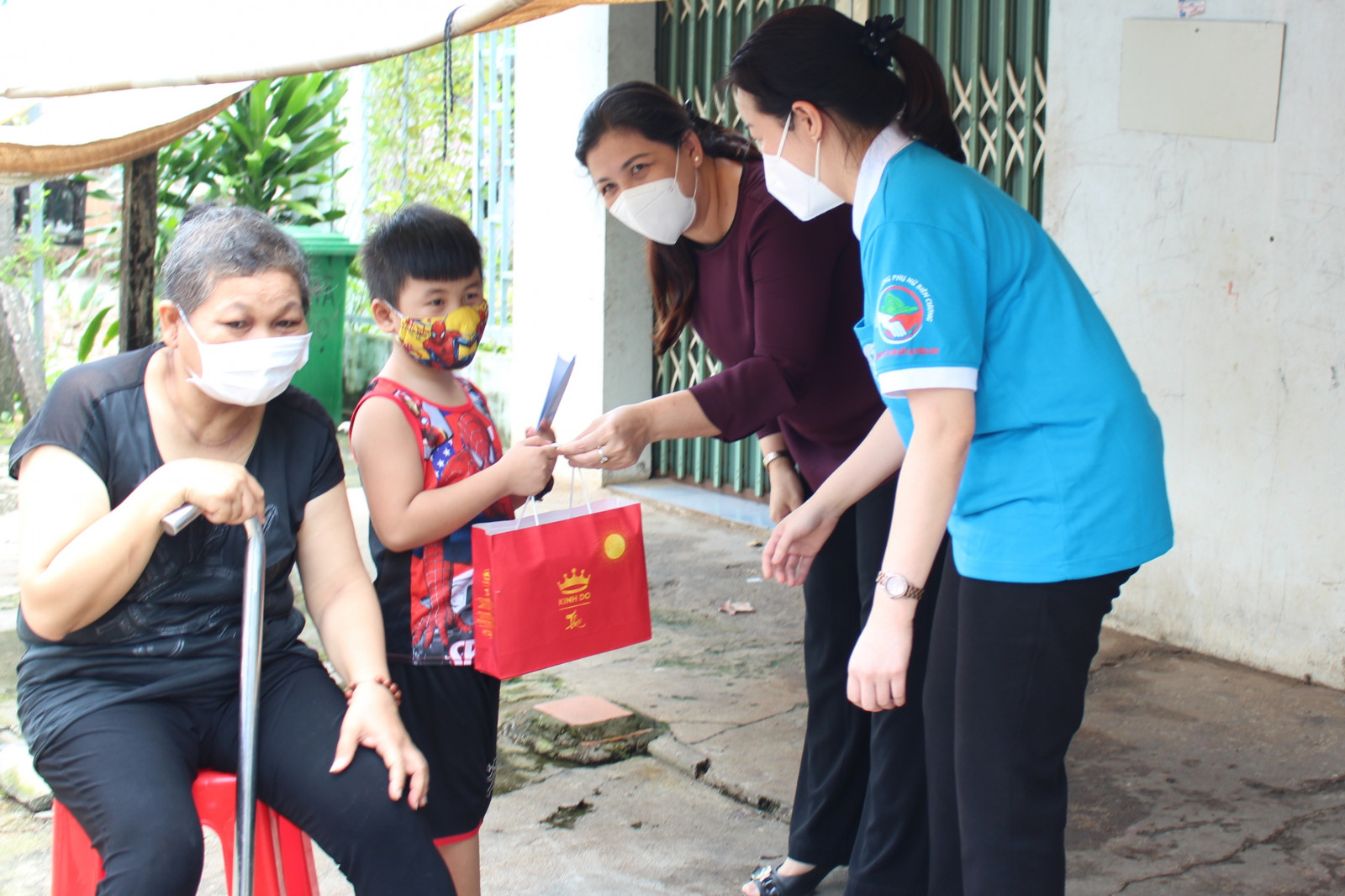 Le Dang Khoa gets happy to receive a mid-autumn gift at his lodging room
This year's mid-autumn festival, provincial Women's Union has joined hands with provincial Association for Women Entrepreneurs and a number of organizations and units to implement a program of giving 1,000 mid-autumn gifts worth more than VND182million, including moon cakes, milk and masks to poor children. After directly handing over the above gifts, many businesses have offered additional hundreds of boxes of moon cakes to children with difficult circumstances. This is the heart of donors towards poor children during this difficult time.
In the past few days, localities also organized many activities towards the organization of the mid-autumn festival for children. Each locality gave hundreds of gifts, including lanterns, cakes, and milk, for children to enjoy the mid-autumn festival. Truong Thanh Nga, Chairwoman of provincial Women's Union said that in addition to gifts distributed from support sources, provincial Women's Unions at all levels actively organized the mid-autumn festival for children with such significant activities as making lanterns, offering gifts and cakes, organizing full moon festive nights... All have focused on isolation areas, field hospitals so that children there can be comforted and encouraged during the days of implementing medical isolation measures for Covid-19 treatment.
Fun for children at lodging facilities
Le Dang Khoa, a 6th grader, currently staying at Kim Nga lodging facility in Dau Tieng district's Dau Tieng town was delighted when receiving a mid-autumn gift from cadres of the local mass organizations. The unexpected gift made him very happy. Khoa is living with his grandmother. Khoa's grandmother worked as a lottery ticket seller, but now has to stay at home, due to the pandemic. The oldie had a stroke with difficulty in walking, so she and her grandson have to depend on each other to live. Seeing him cherish the mid-autumn gift, we were all touched.
At Nguyen Van Tron's lodging facility in Thuan An city's Thuan Giao ward, there were 33 lodgers taken to concentrated isolation areas after having positive results from Covid-19 rapid antigen tests. So far, all the 33 lodgers have returned to their lodging rooms, including many children. Nguyen Thi Thao, who is the last lodger to return to the lodging facility from the concentrated isolation area at Trinh Hoai Duc high school said: "All people at the lodging facility were isolated and we must continue making home isolation with 14 days after returning from concentrated quanrantine areas. Therefore, we were unable to prepare moon cakes and lanterns for our children. When hearing the news that local leaders will visit and give mid-autumn gifts, children here are very happy and ask that when they will receive the gifts. This will be a warm memory for them."
Mrs. Thao added that when being still isolated at the school or returned to the lodging room, she has received regular attention and support from everyone, so there is no shortage of food and foodstuffs. She only hopes that the pandemic is under control so she can come back to work in order to take care of her family.
Nguyen Van Loc, member of provincial Party Standing Committee, Head of provincial Party Committee's Mass Mobilization Commission, Chairman of provincial Fatherland Front Committee, went to each room at Nguyen Van Tron's lodging facility to visit and give gifts to children there. According to Mr. Loc, 2021 is a very special year, and is very difficult for children. They had to attend the online school year opening ceremonies at home. They were not also allowed to gather for the annual mid-autumn festival, due to the implementation of the Ministry of Health's "5K" massage for Covid-19 prevention and control. Many children have very difficult circumstances, so it is very significant when they are visited and given mid-autumn gifts from individuals, organizations, mass organizations and enterprises.
On the evening of September 19, provincial People's Committee in collaboration with Becamex IDC offered mid-autumn gifts to children being treated at Thoi Hoa Covid-19 treatment area and Binh Duong No. 1 field hospital. More than 1,200 gifts were presented to these children. Speaking at this event, Nguyen Loc Ha, member of provincial Party Standing Committee, Vice-Chairman of provincial People's Committee, Deputy Head of provincial Steering Committee for Covid-19 Prevention and Control thanked Becamex IDC for its efforts in taking care of children here and wanted that these children would welcome a very special mid-autumn festival with joy and self-confidence so that they have to try harder, be more positive, rising up to surmount the pandemic. Mr. Ha suggested that doctors, nurses and volunteers at Thoi Hoa Covid-19 Treatment Area to continue doing their best to work, joining hands with all-level authorities and businesses to push back the pandemic so that the local children always have happy, warm, joyful mid-autumn festivals.
Previously, on September 18, provincial Police Agency's Youth Union gave thousands of mid-autumn gifts for workers' children with difficult circumstances at lodging facilities in Binh Hoa ward. Accordingly, Youth Union members from the local units presented 333 mid-autumn gifts to children. On the same day, 1,300 gifts were offered to all children isolated in 33 concentrated isolation areas in Thuan An city. These gifts were supported by the city's Young Entrepreneurs Association, provincial Police Agency's Youth Union, and Vinamilk Joint Stock Company.
Reported by D.Trong-T.Trang-Translated by Kim Tin