Workers' Month 2022 is the highlight, an opportunity for each organization and individual to do more practical actions and activities for employees, especially workers having difficult circumstances, suffering labor accidents, occupational diseases, in order for them to feel assured and work better.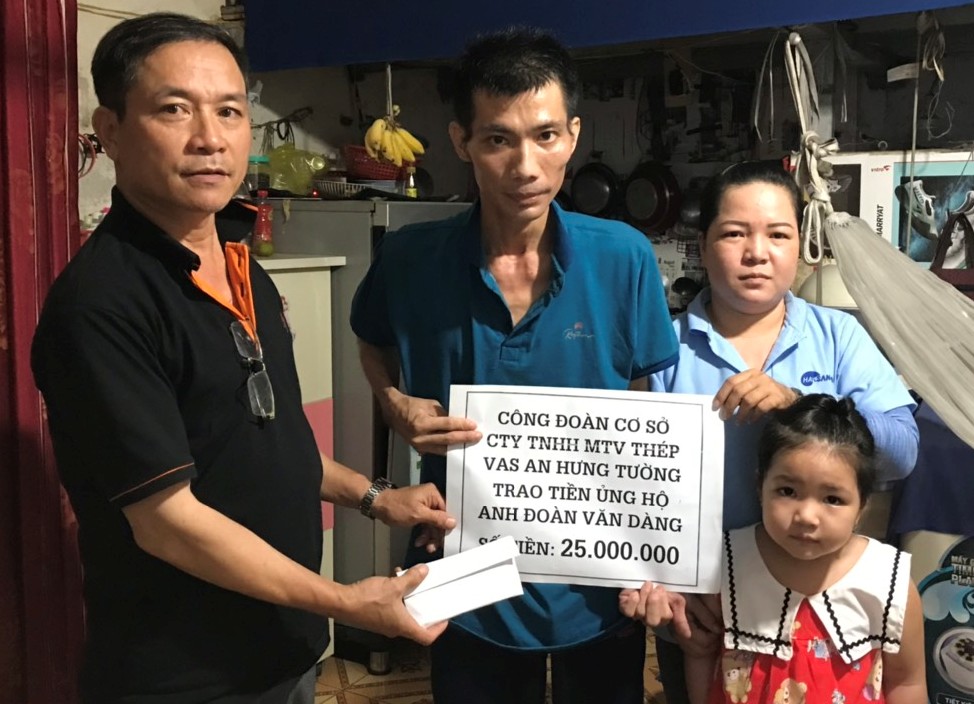 Trade Union of VAS An Hung Tuong Steel Company offer a support to Doan Van Hien.
To share difficulties in a timely manner
Recently, Tran Thi Ngoc Mai, a worker at GHP Vietnam Company (An Dien commune), and 23 workers from grassroots trade unions in Ben Cat Town were very happy, because they received gifts from Ben Cat Town Labor Confederation at the launching ceremony of Workers' Month 2022. Mai said that in 2016, while working at the company, she was unfortunately shot in the left eye by an air gun; after being treated, her left eye now suffers a 44% vision loss. "Since this labor accident, I have received a lot of attention and many supports from GHP Company as well as the Town Labor Confederation. Every year I am visited by the company and the Town Labor Confederation, and receive encouragement gifts. That's why I don't feel a complex, and am motivated to do my job well."
Similarly, Doan Van Dang is a worker of VAS An Hung Tuong Steel Company (Tan Dinh ward), he suffers chronic tuberculosis, has received a support of VND 25 million presented by the company for him to treat the disease. Dang said: "Salary of a worker is only enough to cover daily life. Hence when the disease started to affect me, I did not have money for treatment. Now I feel very lucky as be supported by trade union and the whole company. I want to thank trade union for giving me a chance to treat my illness."
These are just two of the many workers suffering from serious diseases and labor accidents that have been taken care of by trade unions and Ben Cat Town Labor Confederation. Tran Trung Hanh, Vice Chairman of Ben Cat Labor Confederation, said: "Trade unions in the town not only have done a good job of caring for and protecting union members and workers, but also stand side by side with workers at the most difficult times, especially those who are far from home, unfortunately sick, have labor accidents. These caring activities are not only material help but also timely spiritual encouragement, demonstrate the companionship, the support of trade union levels for workers and businesses. Hopefully, this is the motivation for disadvantaged workers to overcome difficulties, recover their health to continue their work and most importantly, workers feel that they are not left behind when they are in difficulty."
Variety of activities
Workers' Month 2022 has the theme "Vietnamese Workers: Pioneering, creativity, responsibility, safety, adaptation", trade union levels in Ben Cat Town have carried out practical peak activities to take care of material and spiritual life for trade unionists and workers, such as: to hold workers' singing contest; youth elegance and beauty contest; men's volleyball tournament for workers; to collaborate with branches and sectors to offer sales discounts for workers; free legal advice for workers; visit and give gifts to workers having difficult circumstances, serious diseases, occupational accidents. The town's Labor Confederation also launched a movement that each grassroots trade union has at least one activity to care for workers; "1 million initiatives - efforts to overcome difficulties, creativity, determination to win the Covid-19 pandemic"... In addition, trade unions regularly follow, timely report and make recommendations to administration levels and branches to protect the legitimate rights and interests of workers.
In addition to some annual activities, such as taking care of the lives of union members and workers; visiting, giving gifts and allowances to workers having special difficulties, Ben Cat Labor Confederation also pays special attention to emulation activities to improve labor productivity; actively supervises the implementation of regulations on occupational safety and hygiene of employers and employees; gathers resources to support workers having difficulties due to the impact of covid-19...
In addition, Ben Cat Labor Confederation asked grassroots trade unions to organize activities in the Workers Month to be oriented towards the grassroots and workers, have solutions to support businesses and workers affected by the pandemic, such as: to regularly grasp the thoughts, aspirations, timely solve difficulties of workers, supervise the implementation of legal policies to guarantee and protect the rights of union members and workers. Additionally, trade unions will increase legal advice provision for workers, especially issues related to workers' rights, such as employment, wages, unemployment insurance benefit and government support policies for workers...
Reported by Tue Nhi, Huu Tan – Translated by Ngoc Huynh