Getting back to Quarter 4B of Dau Tieng town in Dau Tieng district, Nguyen Thi An, who people refer to with respect and admiration, has been widely known for her charity activities.
Everywhere presence
Few people can imagine a petite woman with gray hair like An is currently in charge of the tasks of women, the Fatherland Front, the elderly in the neighborhood. For many years participating in social work, she is a typical example for making many active contributions to patriotic emulations in the locality.
With her inherent enthusiasm and responsibility, she was trusted on her retirement by the people in the neighborhood and be elected to many positions. Every year, An together with the executive board of the neighborhood mobilize people to register as cultural families and cultural quarters, and for the commitment of safe family in terms of security and order. As a result, 97% or more households in the neighborhood are considered cultural for many years.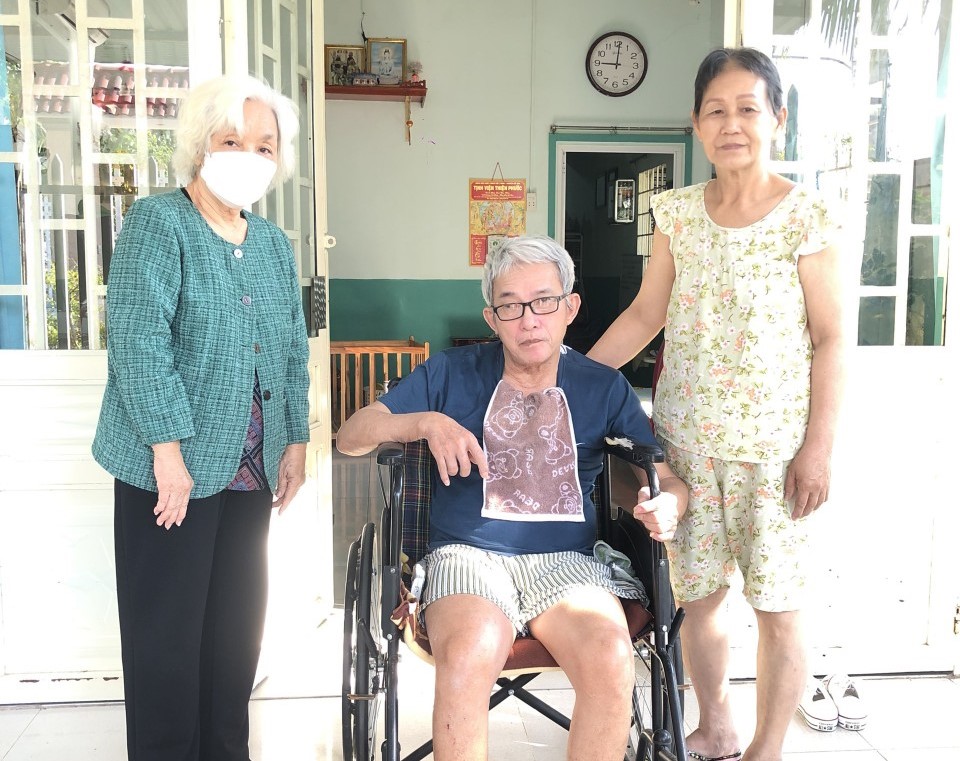 Nguyen Thi An (far left) makes a visit and gives gifts to people in harsh circumstances
The eyes are still sharp, her figure is strong and her voice is gentle and warm despite her seventies. Knowing her stories, we can see her deep affection for the dear land of Dau Tieng. At 70, she also has a lot of experience, enough for people in the neighborhood to trust to vote her in the grassroots reconciliation team. Thereon, she and the members of the team promptly resolved minor conflicts and disputes in the residential community; no complaints have been reverted to higher level, coordinated in mobilizing people to trade without encroaching on sidewalk corridors, mobilized people to actively participate in environmental sanitation not to litter indiscriminately and to pay for garbage disposal and to dispose of garbage in the right place.
An said: "Reconciliation requires patience and enthusiasm. It is rare for a case to be successful when conciliating only once, but we have to go back and forth many times, choose questions, and share. Sometimes talking is to this person, sometimes confiding is with the other person so that the sides of the disputes can listen, understand, and gradually resolve the conflict. No matter how hard it is or if it takes a lot of time and effort, it is the joy after each conflict between people is reconciled as the trust and love of relatives."
Doing charity affection
An said that she would walk around every afternoon to the neighborhood football field to meet someone and would ask questions and chat, so she knew almost everything around. Sometimes, taking advantage of the time going to the market and doing exercise, she does the mass mobilization work in silence. Over the past time, An and members of the Fatherland Front Committee have mobilized 721 gifts to give to the poor and nearly-poor households, and those with adverse circumstances in the neighborhood. In 2021, in the face of the complicated situation of the COVID-19 epidemic, she lobbied to establish a model of love rice cookers to distribute food to patients at local hospitals - the kitchen is still maintained now. In particular, since the end of 2022, she has consulted with members of the Front's Working Committee to establish the model of caring for the elderly, lonely and disabled poor. Every month, from her meager pension, An deducts VND 600,000 to give to 2 disabled elderly people living alone in the neighborhood.
An said: "Working on the fronts is very fun and exciting because every match is present from reconciliation at the grassroots to mobilizing people to implement conventions in residential areas, to mobilize people to participate in rural road construction, take care of socially privileged families and poor households. But I'm also happy because I'm campaigning and taking care of people in need and unfortunate lives to share with them. The value of the gifts is not much, but on seeing them receive the gifts, everyone is touched. What they appreciate is the sharing heart and the sincerity when supporting each other in times of difficulty and tribulation."
Reported by Huynh Thuy – Translated by Vi Bao