Impressive numbers
In the past year, provincial Department of Labor, War Invalids and Social Affairs continues to perform well in labor and employment. Thereby, the department and its subordinate units consulted and introduced jobs for 87,721 employees. The number of people who were introduced to jobs was 60,446, the number of people who received jobs was 36,012.
Especially, in the last months of the year, when many businesses faced difficulties in production due to lack of orders, workers lost their jobs and their incomes decreased, the department promptly coordinated with Provincial Labor Confederation to direct their offices at districts to review the number of businesses that were in labor shortage to allocate human resources, and find stable jobs for tens of thousands of workers.
On the other hand, the department boosted propagation and thoroughly settled 22 labor disputes occurring at 22 enterprises in the area; well settled unemployment insurance policy for 78,338 people, with a total unemployment benefit payment amount of more than 1,752 billion VND; provided vocational training support for 2,689 people with total payment of more than 13.6 billion VND...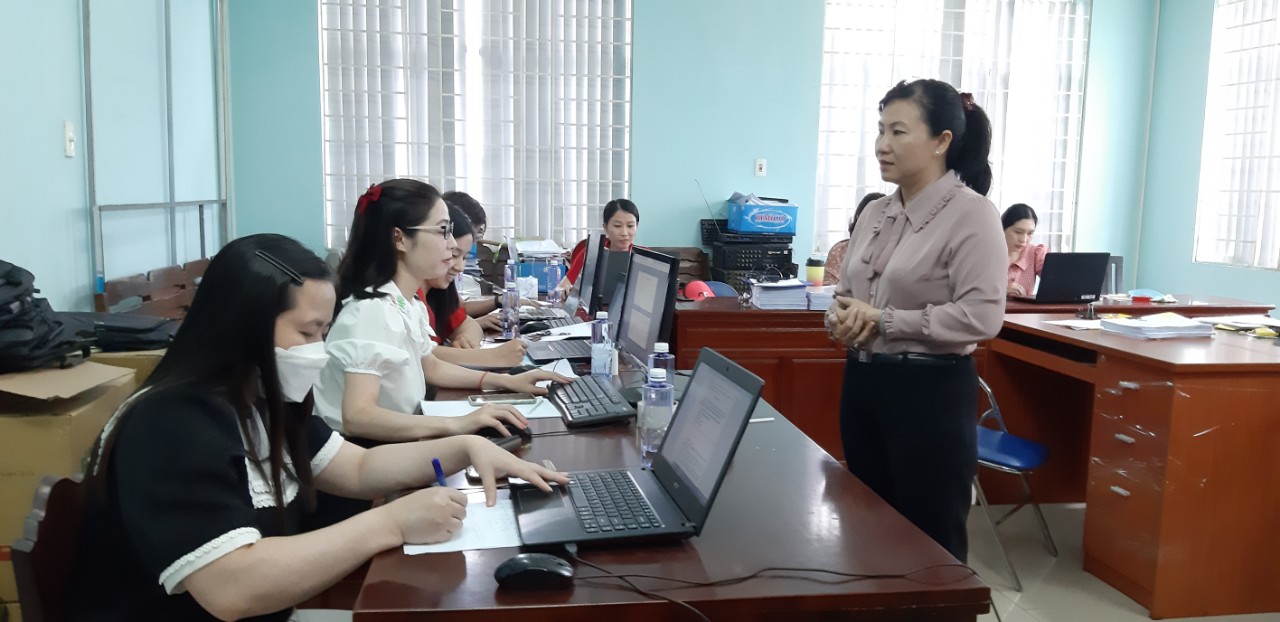 Labor, War Invalids and Social Affairs Office of Thuan An City processes housing rent support documents for workers according to the Prime Minister's Decision No. 08/2022/QD-TTg.
Another commendable thing of the Labor, War Invalids and Social Affairs, in 2022, is after the Covid-19 pandemic, workers' lives faced numerous difficulties, district-level offices reviewed and satisfactorily settled the pandemic support policies of the Central and the province for employees. The highlight that is appreciated by all levels and sectors is that this branch strived to completely carried out the rent support payment for employees in a short time.
To accomplish this task, Labor, War Invalids and Social Affairs branch of districts, towns and cities mobilized human resources, worked day and night, checked and processed each application. Thereby, the whole province appraised and approved 12,883 turns of enterprises for 1,573,726 turns of labor with a total approved budget of more than VND973 billion. This helped solving housing difficulties of disadvantaged workers, and at the same time contributed to the recovery of the provincial labor market.
Meanwhile, for people with meritorious services to the revolution, the department has taken good care of this group, handled regimes and policies, supported and visited policy families and people with meritorious services to the revolution throughout the province, especially on big national holidays. During the year, the department disbursed a total of more than 6.5 billion VND for the construction and repair of 97 houses for revolution contributors.
The department performed well in tasks of reviewing, supporting, and granting loans to help poor households, so that many households were able to escape poverty. The work of taking care of poor children and social protection beneficiaries was carefully performed.
Take good care of disadvantaged groups on Tet holidays
In the last days of the year, provincial Labor, War Invalids and Social Affairs branch continued to check the number of poor, near-poor households, revolution contributor's households, and other disadvantaged groups to make a list and make plans to submit to Provincial People's Committee for Tet financial support, ensuring all families have a happy Tet.
Out of a total of 25 disadvantaged groups entitled to Tet support, there were many groups received Provincial People's Committee's financial support doubled or even more. This has brought joy to many people because they are well taken care of, especially workers living in hardship...
Namely, the support level for heroic Vietnamese mothers increased from 4 million to 10 million VND/person; Heroes of the Armed forces increased from 3 million to 7 million VND/person; families that have two or more martyrs increased from 2.5 million to 3 million VND/family... Support level for workers having harsh circumstances increased from 500,000 VND to 1 million VND/person.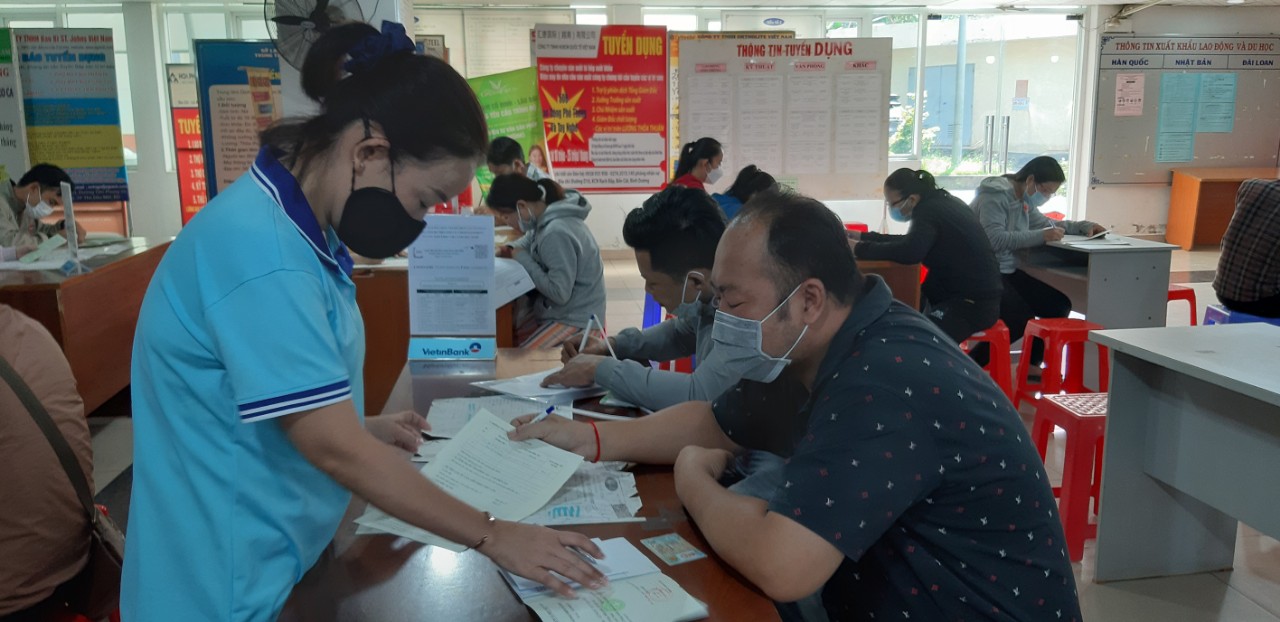 In the last months of 2022, when workers lost their jobs due to many businesses encountering difficulties, Department of Labour, Invalids and Social Affairs helps finding job for workers.
Department of Labor, War Invalids and Social Affairs also arranged staff to coordinate with districts, towns and cities to visit, extend wishes and give gifts to Vietnamese heroic mothers, families of people with meritorious services to the revolution, poor households and workers across the province.
With this thoughtful caring support policy, in recent days, thousands of workers in the province have felt secure, heart-warmed, and continue to stay with their chosen jobs. Quach Thi Lich, a worker of Thong Dung Footwear Company (Thuan An City), said: "In addition to provincial Tet support, Provincial Labor Confederation and local government also present gifts to disadvantaged workers. We feel heart-warmed when Tet comes. This year, many businesses face common difficulties, income of workers reduced, but in return, employees having difficult circumstances are supported more carefully than ever. It is a great encouragement for us and continue to stay with our job."
Trinh Duc Tai, Director of Department of Labor, War Invalids and Social Affairs, said: "In 2022, the department has cooperated well with the authorities in districts, towns and cities to well perform the assigned tasks, contributing to ensuring social security throughout the province. However, the year 2023 is forecasted to continue having numerous difficulties and challenges, hence the department continues to coordinate well with localities to implement the tasks set out right from the first months."
"In the context of the prolonged Covid-19 pandemic, which has had a direct impact on the production business activities of enterprises, the Labor, War Invalids and Social Affairs branch promptly implement aiding solutions to help the affected people, thereby helping employees to overcome difficulties and stabilize their lives soon. Namely, the province successfully completed the disbursement of support packages according to Resolution No. 68/NQ-CP of the Government and Decision No. 08/2022/QD-TTg of the Prime Minister. The payment of support has ensured timely, right person, right object".
(Nguyen Loc Ha, Member of Provincial Party Standing Committee, Vice Chairman of Provincial People's Committee)
Reported by Quang Tam - Translated by Ngoc Huynh