In 2022, although not being affected much by the pandemic, provincial Trade Unions at all levels had to make efforts in taking care of workers' lives, especially disadvantaged households and orphans amid economic impacts. Provincial labor union thoughtfully implemented programs on job creation, mobilized businesses to well implement Tet bonus and salary policies, give free medical examination vouchers for laborers...
Accompanying employees
The year 2022 marked the recovery of the economy after 2 years of being heavily impacted by the Covid-19 pandemic. Provincial Trade Unions at all levels were proactive to coordinate with employers and authorities to organize practical care activities for employees; propagandized and mobilized employees to share and accompany enterprises to overcome difficulties, continue production-business with jobs and income ensured. They also coordinated with sectors to well handle salary, bonus regimes and support packages of the Government, the General Confederation of Labor, provincial People's Committee.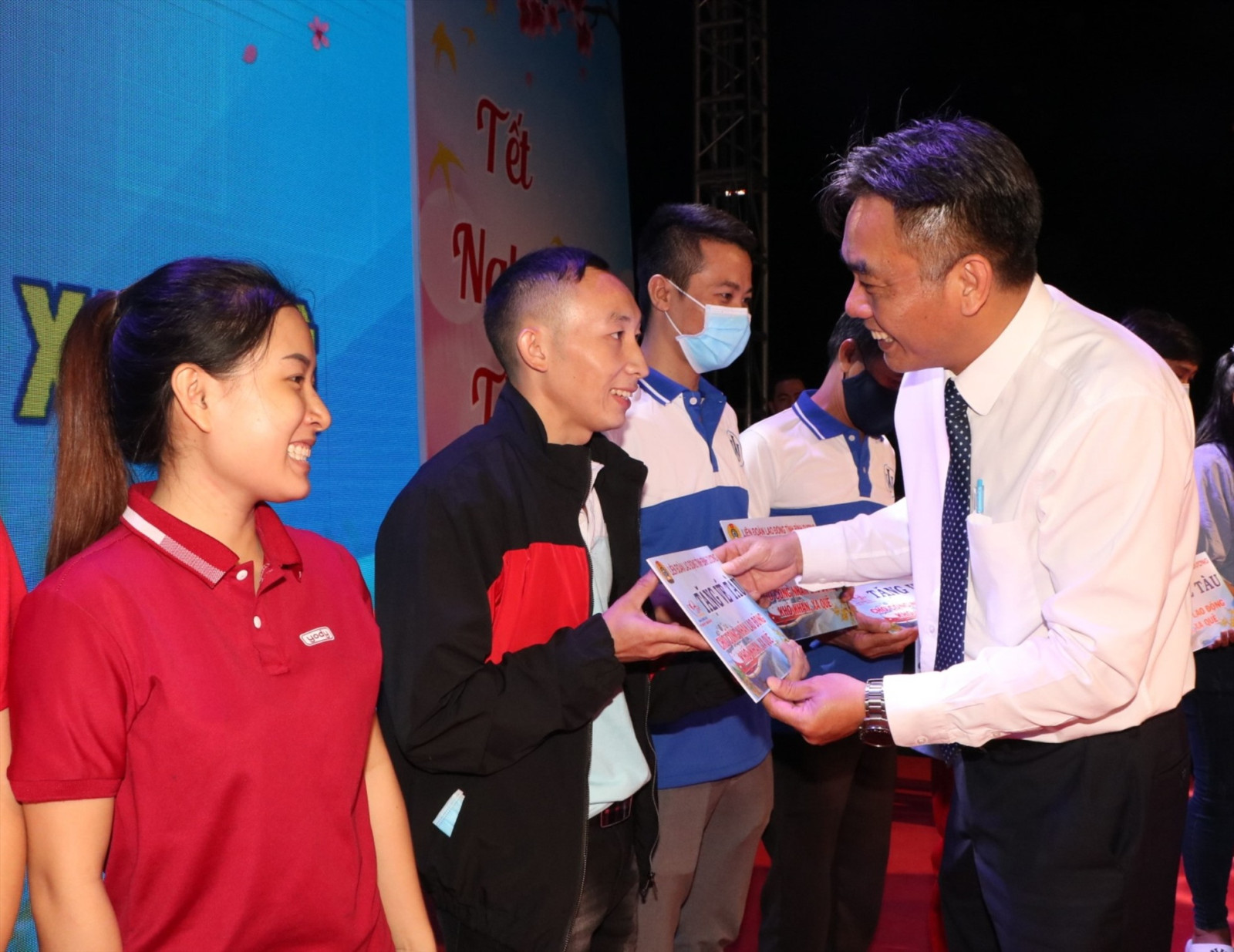 Nguyen Loc Ha, member of provincial Party Standing Committee, Vice-Chairman of provincial People's Committee offers Tet gifts to disadvantaged workers in Tan Uyen town
Nguyen Kim Loan, Chairwoman of provincial Labor Union said: "Due to the influence of the world's economic situation, in the last months of 2022, enterprises in the wood, garment-textile and electronic industries reduced orders or had no orders. According to statistics from provincial Department of Labor, War Invalids and Social Affairs, since early this year, the whole province has had nearly 30,000 employees with labor contracts suspended, unpaid leave and over 250,000 employees with working hours reduced and losing their jobs. Thereby, provincial Labor Union participated in coordinating with the labor management agency to exchange plans for labor rearrangement while directing Trade Unions at all levels to grasp the situation and make a list of enterprises having the demand for labor recruitment in order to support workers to find jobs, overcome difficulties and stabilize their lives in the last months of the year".
In order to promptly take care of, support and share difficult with needy cases, provincial Labor Union's "Support Fund for Employees with Extremely Difficult Circumstances has spent nearly VND 2 billion on supporting 198 trade unionists members and employees suffering from fatal illnesses or hit by workplace accidents...Since its establishment, the fund has given support for 714 cases with a total amount of more than VND 6.6 billion. Currently, provincial Labor Union is still calling and mobilizing organizations, individuals and businesses to support the fund so that there are more and more workers with extremely difficult circumstances receiving support.
Over the past year, provincial Labor Union also gave 74 "Trade Union saving books" for 74 children of trade unionists who died of Covid-19 pandemic with a total amount of VND 740 million. Thus, there were 139 children receiving savings books with a total amount of VND 1.4 billion. The unit also supported orphans, due to the Covid-19 pandemic with a total amount of VND 410 million; organized meetings, encouraged and awarded scholarships to 270 children with difficult circumstances and orphans, due to the Covid-19 pandemic from socialization sources. In addition, provincial Trade Unions at all levels awarded 40,170 "Giving strength to school" scholarships to disadvantaged children on the occasion of the new school year with a total amount of VND 19.3billion, awarded nearly 6,000 gifts to children on the occasion of the Mid-Autumn Festival with a total amount of more than 1 billion VND.
A warm, loving spring
On the last days of the year, employees still face many difficulties. However, before the initiative of the Trade Union at all levels in taking care of employees during Tet, it can be said that the warmth of spring has spread to each household. Understanding the wishes of workers living away from home after the pandemic, this year, provincial Labor Union has implemented a rather special program when giving away tens of thousands of round-trip train tickets, bringing workers in the province to celebrate Tet with their families throughout the provinces and cities. Provincial Trade Unions at all levels are more attentive in visiting, giving gifts and encouraging workers staying here for Tet.
Over the past few days, hundreds of thousands of Tet gifts were given for workers in each boarding house by all-level Trade Unions. The love of union trade officials made many workers move to tears for emotion. Nguyen Thi Dam, from Hau Giang province, working for Sofa Furniture Co., Ltd. in Thu Dau Mot city shared: "The company has worked perfunctorily, due to the lack of orders. Therefore, workers' incomes are only about VND5 million per person per month. Knowing the difficult situation of my family, provincial leaders and Labor Union visited and gave Tet gifts. I would like to thank and hope that difficulties will pass soon and stable jobs will come back next year."
Programs to celebrate the spring and New Year for employees are being organized by provincial Labor Union in many localities. Recently, the "Tet reunion" program 2023 has just been held in Tan Uyen town, attracting thousands of employees in Phu Giao, Tan Uyen, and North Tan Uyen districts. The Organizing Board of the program opened 27 booths to sell necessities with 10% - 50% discounts for laborers. The program gave vouchers for 1,000 difficult workers at the "Trade Union Tet market-day". The program also gave away train, bus tickets for workers living away from home, organized entertainment programs...
This year, provincial trade unions at all levels are expected to spend about VND 300 billion on taking care of employees on Tet together many other support programs from all-level authorities. Many programs to celebrate Tet for workers across the province have been implemented by all- level authorities, ensuring that every family has a warm and meaningful Tet.
In 2022, provincial Trade Union Legal Advisory Center conducted 6,869 consultations on issues related to labor rules at enterprises, salary increase, maternity, social insurance and support policies of the Government and Trade Unions for trade unionists and employees facing difficulties, due to the Covid-19 pandemic, policies to support rental charges for employees.
Reported by Quang Tam-Translated by Kim Tin