An urban space is civilized truly only by the civilized treatment of its residents who know how to protect and take care of the living environment with willing to sacrifice for the community benefits.
The actions of civilized people
In the last days of the year, the golden sunshine has been less brilliant, giving way to the drizzling rain, the gentle emotions just flowed by. Leaving behind the worries of everyday life, let's listen to the bustling sound of the last days of the year with the idyllic beauties around us.
Taking his son on a walk along Bach Dang pedestrian street, the baby over 3 years old just finished drinking the milk and then conveniently threw it on the street. The 30-year-old mother quickly said: "No, my son, we have to put the trash in the trash." As soon as she finished speaking, she made her son pick up the trash right away, approach the nearby trash can and put it in. The mother that we witnessed was Ms. Nguyen Thi Loi, a resident at Quarter 5 of Phu Tho ward in Thu Dau Mot city.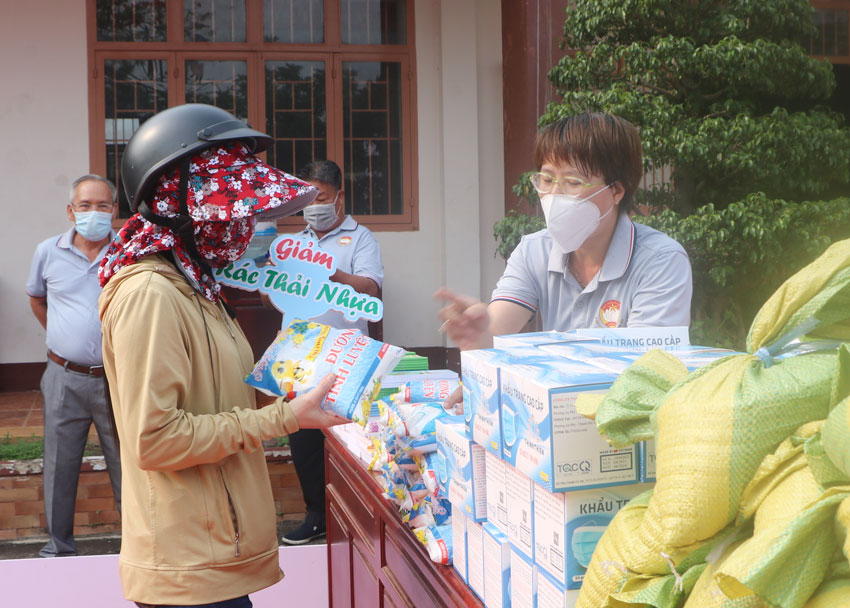 The model of "exchanging garbage for gifts" of the Vietnam Fatherland Front Committee of Tuong Binh Hiep ward in Thu Dau Mot city has contributed to the effective implementation of the campaign to build a cultural and civilized urban lifestyle.
Talking to us, Ms. Loi said: "I want to teach my children the habit of throwing trash in the right place from a young age. The everyday actions that children see have a huge impact on their perception. They are easy to imitate to form awareness and habits. Garbage is always a burning problem of the whole society. Therefore, from a young age, I want to help my child become aware of this."
Also from trivial actions on building a cultural and civilized lifestyle, Ms. Tran Thi Chung of Quarter 4 at Tuong Binh Hiep ward in Thu Dau Mot city always keeps her clean habits from inside to outside. Although she is busy working for a restaurant, early in the morning, she still keeps the habit of getting up at 5 am to clean the road in front of the house and surrounding areas. Waste is classified and disposed of in the right place. The cans and plastic bottles are collected separately by her. For Ms. Chung, building a civilized lifestyle starts with such humble things.
Mr. Duong Phuoc Tra - Party Secretary, and Head of the Front Committee Activity Board of Quarter 4 at Tuong Binh Hiep ward, said: "One thing that is easy to see is that the local people have formed a sense of self-discipline and positive attitude to actively participate in building a civilized lifestyle by doing specific things such as polite and civilized communication and behavior in the family and public places; caring, sharing and helping each other and actively keeping the house and the alley clean."
And the models
Towards the goal of building a civilized, modern, and loving city, the Fatherland Front at all levels in the province have also implemented many specific activities. Thereon, the face of urban areas has changed in many places, becoming more and more spacious, many points have been renovated and built into amusement parks and sports fields. Many green, clean, and civilized alley works were also carried out; gravel roads were concreted with lighting systems throughout the districts, towns and cities.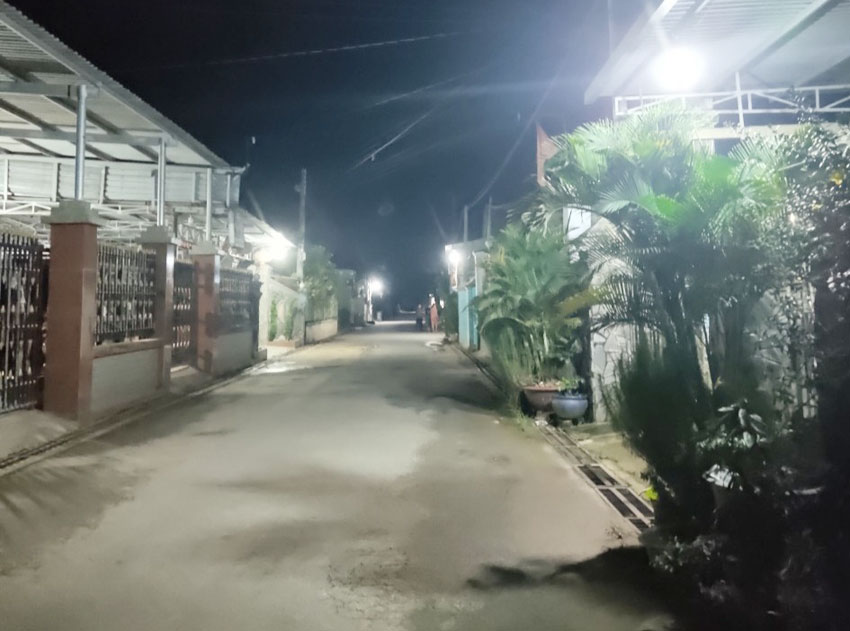 From the "light, green, clean, and beautiful" model, people in Tan Binh town of Bac Tan Uyen district have voluntarily contributed to equipping the lighting system.
Mr. Tran Ta of Quarter 8 at Hiep An ward in Thu Dau Mot city, a member of the motorbike taxi group model "For a civilized city" of the Vietnamese Fatherland Front Committee of Thu Dau Mot city, said: "We are moving towards the goal of building a civilized city, which requires building civilized residents and people." From that point of view, even though he is only a motorbike taxi driver, Mr. Tran Ta always has nice actions and civilized behavior in order to build an exemplary citizen image.
Mr. Ta confided: "As someone who has had many years of transporting passengers, including prisoners who have been released from prison and returned to their homes, I have known many stories of mistakes made by young people due to impulsiveness. On daily motorbike taxi rides, I often confide and recount such stories to any young customers that I meet. Surely stories like this will help them draw lessons for themselves. Getting around and talking on the bus is the way I want to send them such messages."
As a pioneer in the movement of donating land for road construction, Mr. Nguyen Huynh Thanh at Vuon Uom hamlet of Tan Dinh commune in Bac Tan Uyen district) is often called Mr. Tam Thanh by local people. When the State had a policy to build and expand rural roads, Mr. Tam Thanh did not hesitate to spend VND 400 million to build a road with a length of 6km. In 2015 and 2018, he continued to spend more than VND 500 million to repair and dredge inter-hamlet roads.
Mr. Thanh said: "In addition to spending money to build roads, my family donated more than 1.3 hectares of garden land to build rural roads to serve people. Voluntarily contributing money and land is also a way to work with the local government to take care of the people. Together with the people to build a cultural and civilized lifestyle in this countryside."
It can be said that these typical jobs and individuals show that creating and building a cultural and civilized lifestyle is not too difficult if you know how to make everyone understand that a beautiful life and civilization must be built from habits, from the right actions of each individual and community in the residential areas. A civilized, modern, green, clean and beautiful city gradually takes shape when a civilized lifestyle becomes a permanent consciousness in each person, or becoming a regular job, even the smallest.
This also proves that the activities of the Fatherland Front at all levels in the province and its member organizations have made many positive changes, demonstrating the pivotal role of gathering the great national unity bloc, arousing resources in the region, and mobilizing people's energy to change the face of a new countryside, and an increasingly civilized city.
Reported by Huynh Thuy – Translated by Vi Bao