The Covid-19 situation has been under control in the province, "green area" is expanding. To carry out educational tasks in the safe, flexible adaptation and effective control of the Covid-19, schools at all levels have gradually reopened. According to the plan of provincial Department of Education and Training, after the 2022 Lunar New Year holiday, all students at all levels in the province will return to school.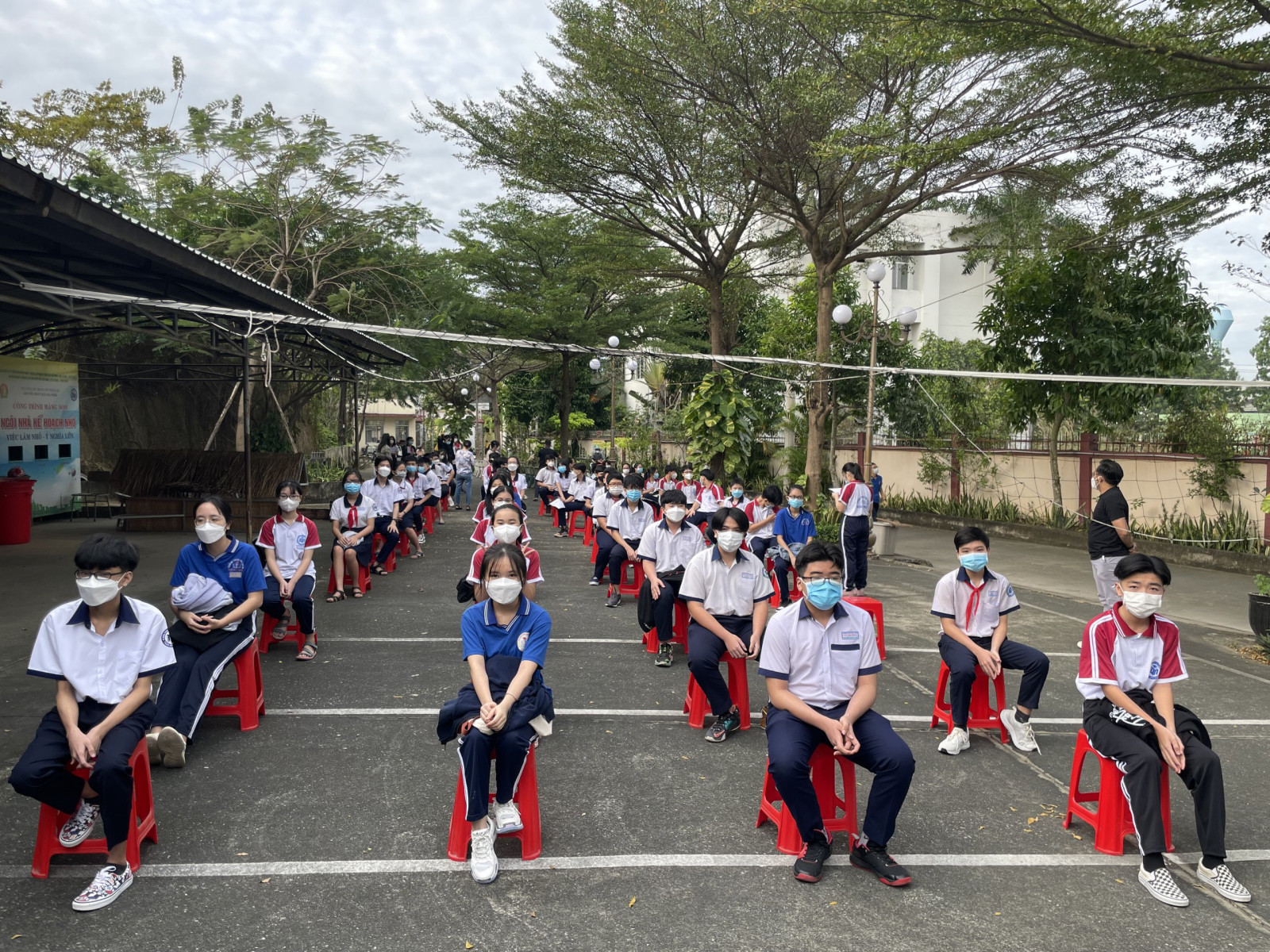 Junior high school students in Thuan An city are periodically tested for Covid-19 when they return to face-to-face classes.
Students gradually back to school
According to information from provincial Department of Education and Training, currently 6/9 Education and Training Offices have implemented face-to-face teaching at the preschool level for 5,532 children in some communes, wards and townships corresponding to each level of the Covid-19 according to regulations. At the primary level, Education and Training Offices of Thuan An City, Ben Cat Town, Tan Uyen Town, North Tan Uyen District, Phu Giao District have implemented direct teaching at 81 schools for 280,853 students.
At the junior high school level, all 9th graders have returned to school; there are 7/9 districts, towns and cities that organize direct teaching for 7th and 8th grades; only 6th grades in Thuan An city learn face-to-face. For high school level, 100% students have come back to school.
The policy advocating direct teaching after a long time of online learning has been agreed by parents and students. Le My Phuong, from Thuan An city, acknowledged that the disease in the province has been under control, the number of new infections is small, and the number of cured patients is increasing. The province also has effective disease prevention control solutions; Vaccination coverage rate is high, students of 7th grades and above have been vaccinated, and students of 6th grades will also be vaccinated in the future. Every week, schools conduct Covid-19 quick tests for teachers and students. Students have also complied with the "5K" regulation of Ministry of Health when returning to school, hence parents agree with the policy of sending their children back to school.
Based on the department's guidance on direct teaching, Education and Training Offices advised People's Committees of districts, towns and cities to issue direct teaching plans. Le Phu Hai, Head of Education and Training Office of Ben Cat Town, said that Ben Cat Town schools had received students back to school in stages. Currently, 9/9 preschools, all primary schools and grades 7, 8, 9 in Ben Cat town have returned to school. After two weeks, the disease prevention control in schools ensured safety and stability. After the Lunar New Year holiday, if the coronavirus situation is under control, education sector will organize direct learning for all primary and preschool children.
All students will go back to school
Based on the actual situation of direct learning, to meet the demand of people in the province, and perform educational tasks in conditions of safe, flexible adaptation and effective control of the Covid-19, Department of Education and Training has a plan for preschool and primary schools students to go back to school. Dr. Nguyen Thi Nhat Hang, Director of provincial Department of Education and Training, said that in phase 1 from January 17 to February 25, preschool and primary schools will provide direct teaching based on parents' consents.
Students who do not go to school will study online according to the school's plan. Phase 2 from February 28, at the preschool level, Di An city, Dau Tieng district, Bau Bang district will organize direct teaching activities; The remaining six municipalities will continue to expand their face-to-face teaching activities after being checked and assessed by Education and Training Offices to meet the absolute safety conditions for children and according to the disease assessment regulations of the health authority.
For primary schools, each educational institution shall coordinate with the health authority to assess the local disease situation. If there is an area where the coronavirus risk is from level 1 to level 2, 100% direct learning will be done. The education training sector also recommends that schools that have not yet organized direct teaching can advise the health authority and local Covid-19 Steering Committee about direct tests and exams in each grade at school.
Students going back to school, the safety and disease prevention control is the top priority of the education and training sector. The sector has repeatedly directed and issued instructions to ensure that the whole sector strictly implement disease prevention control solutions. Each unit and school shall develop action plans and programs to prevent and control the Covid-19; synchronously and effectively deploying plans and scenarios for adaptive, safe and flexible teaching and learning to control the Covid-19 in the "new normal" state, in which preparing necessary conditions for direct learning.
Reported by Hong Thai - Translated by Ngoc Huynh