* 5,000 samples taken for Covid-19 screening by fast tests in Binh Duong
* One Covid-19 patient recovers from treatment and discharged
That was the direction of the Ministry of Health at the National Online Conference on Covid-19 epidemic prevention and control in the morning of February 19. Attending at Binh Duong point was Nguyen Loc Ha, Member of the Standing Committee of the Provincial Party Committee, Deputy Chairman of the Provincial People's Committee and members of the Steering Committee for Covid-19 Prevention and Control.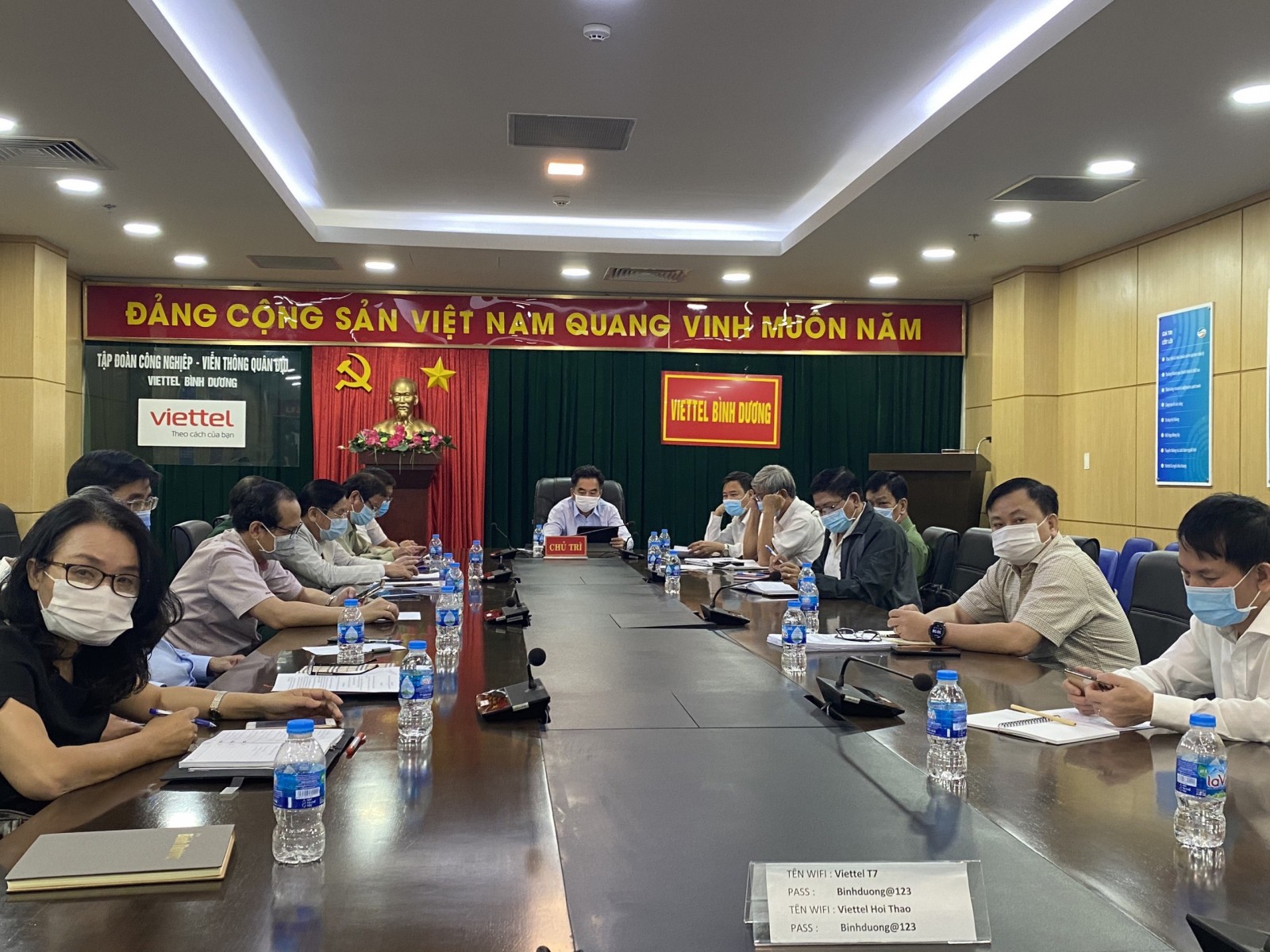 The delegations attend the online conference at Binh Duong connection point
According to the Ministry of Health, major epidemic zones of Hanoi, Ho Chi Minh City and Quang Ninh are basically under control. In many provinces including Binh Duong, new infection cases have not been reported for many days. However, the epidemic situation in Hai Duong is still complicated. After Tet, people from those localities are returning to work, making the constant risk of new infection cases in the community.
In Binh Duong, no more cases of Covid-19 infection have been reported in the community in the last 13 days. As of February 19, Binh Duong had 35 cases of Covid-19 infection including 27 Vietnamese citizens returning from abroad as regulated by the Military Region 7, 2 foreign specialists and 6 cases of Covid-19 infection in community.
In the coming time, Ministry of Health recommends localities to continue reviewing medical declarations, samples for testing and quarantine measures of people coming back from localities of pandemic outbreaks. The role of the Covid-19 community groups is promoted to follow situation by knocking on every door calling for health status declaration and check for people coming back from the epidemic areas. Especially, medical facilities have closely monitored people with symptoms of respiratory tract infections and taken samples for SARS-CoV-2 testing along with rapid tracing and comprehensive zoning, sampling for testing on a large scale and strictly complied with medical isolation under the guidance of Ministry of Health. "4 on-site" should be ready to ensure adequate and timely tests of bio-products, medical supplies and equipment for epidemic prevention and control. Scenarios of epidemic spread response should be built so as not to be passive. Review and check of the quarantine process should be maintained so as not to leave cross-transmission at large. Offices, agencies, factories, and production establishments should be covered by plans for epidemic prevention and control before starting their production and operations. Suspension of festivals, religious activities, and gathering large numbers of people should be conducted. Inspection is strengthened to strictly handle violations of epidemic prevention and control regulations.
In order to promote pandemic prevention and control, starting from February 19, 5,000 samples have been taken for screening by rapid tests in Binh Duong.
Accordingly, the district, town and city health centers shall coordinate with relevant departments and agencies to make a list of risky groups and objects in the community for screening samples. Specifically, the target groups sampled this time include workers in industrial zones, random long-distance passengers, freight drivers, passengers, shoppers of marketers and supermarkets.
Nguyen Thanh Danh, Director of Binh Duong provincial Center for Disease Control said: "In order to continue assessing the risk of Covid-19 infection in the area, Ministry of Health asked for 5,000 quick tests in Binh Duong for Covid-19 screening. Positive cases for SARS-CoV-2 combined with the epidemiological investigation, on being applied by the rapid test method, will be transferred to isolation and take samples for confirmation by the PCR method. The quick tests to find antibodies in the population at risk helps Binh Duong assess the scale of the Covid-19 infection in the community to propose highly effective measures for prevention and control."
Information from the Steering Committee for Covid-19 epidemic prevention and control said that patient 1802 is a Chinese specialist who has been cured and discharged from the hospital. After being discharged, the patient continued to be isolated and monitored for another 14 days at Dai Nam Hotel.
Thus, at present, Binh Duong provincial General Hospital is isolating and treating 6 patients of Covid-19, who were the Covid-19 infection in the community in the outbreak of Ca Na hamlet of An Binh commune and outbreak of Ehome 4 apartment at Vinh Phu ward of Thuan An city. These patients include patients 1801, 1843, 1886, 1887, 1957 and 1980. Currently, the patients are in normal and stable health status.
Reported by Kim Ha – Translated by Vi Bao