With the ongoing recovery momentum of agro-forestry-aquatic product exports in recent months, the export turnover of the sector is expected to enjoy a rebound and achieve growth again from the fourth quarter, said Deputy Minister of Agriculture and Rural Development Phung Duc Tien.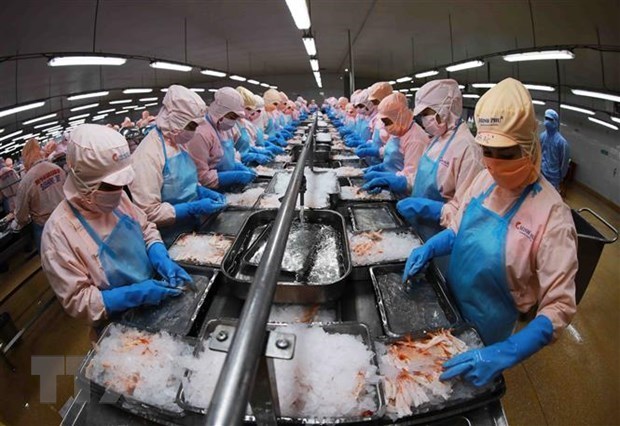 Illustrative image
According to the official, despite a decrease of over 11% in agro-forestry-aquatic product exports in the first five months of 2023 compared to the same period last year, the rate of decline is gradually narrowing. In May, exports stood at 4.85 billion USD, down 3.5% from the same period last year and much lower than the decrease of 68% in January. Agro-forestry-aquatic product exports reached 20.26 billion USD in the January-May period and are forecast to hit 55 billion USD in 2023.
The Ministry of Agriculture and Rural Development (MARD) said shipments to major markets such as China, Japan, and other Asian countries are gradually regaining growth. However, due to global economic uncertainties, high inflation in some developed countries, and tightened monetary policy in some big markets like the US and EU, businesses are seeing difficulties in seeking and fulfilling orders.
Of the five-month export revenue, farm produce brought home 10.3 billion USD, up 9.9%; animal products 190 million USD, up 34.5%; aquatic products 3.47 billion USD, down 25.9%; and forestry products 5.52 billion USD, down 26.8%.
By mid-May, Vietnam exported nearly 3.9 million tonnes of rice worth 2.02 billion USD, posting year-on-year increases of 40.8% in volume and 49% in value.
The fishery industry has also recorded a 1.4% growth, mainly contributed by shrimp and tra fish farming, Tien noted.
China, the US, and Japan remain the biggest markets of agro-forestry-aquatic products from Vietnam during the five months. Exports to China accounted for 20.4% of the total, rising 2.9% year on year; the US 19.8%, down 35.2%; and Japan 7.8%, down 1.2%, the MARD reported.
Tien said the agriculture sector is implementing various solutions to complete the targets set for the first half and the whole year.
The sector is working hard to ensure food security and safety, contributing to stabilising the macroeconomy and ensuring major balances of the national economy, he noted.
Vietnam is actively promoting the exports of key farm produce with rapid growth such as rice, coffee, fruits, and cashew nuts to high-demand markets such as China.
In the context of market fluctuations, the agriculture sector will focus on enhancing trade promotion with specific sectors and target markets, including traditional and potential markets such as the US, China, Japan, and the European Union, Tien said.
Attention will be paid to speeding up trade negotiations toward diversifying the export of agricultural products to markets through official channels, he went on.
Regarding challenges and difficulties in production and consumption, Tien said, for the livestock industry, in addition to scaling up biosafety breeding models, there are measures in place to closely monitor raw material markets and supplies, and the price of animal feed and livestock breeds, thus taking measures to prevent sudden price spikes.
Research and proposed plans are being developed to establish livestock feed production zones in the Central Highlands and Northern mountainous regions, he added.
To ensure the targets set for the fishery sector in 2023, there will be continued collaboration and coordination with local authorities to rigorously implement measures to combat illegal, unreported, and unregulated (IUU) fishing, the official said./.
VNA