In addition to the determination to repel the Covid-19 epidemic, Binh Duong is urgently directing departments, branches and localities to guide enterprises and production facilities on safe adaptation, flexibility to control Covid-19 epidemic effect together with building recovery scenarios and promoting long-term economic growth.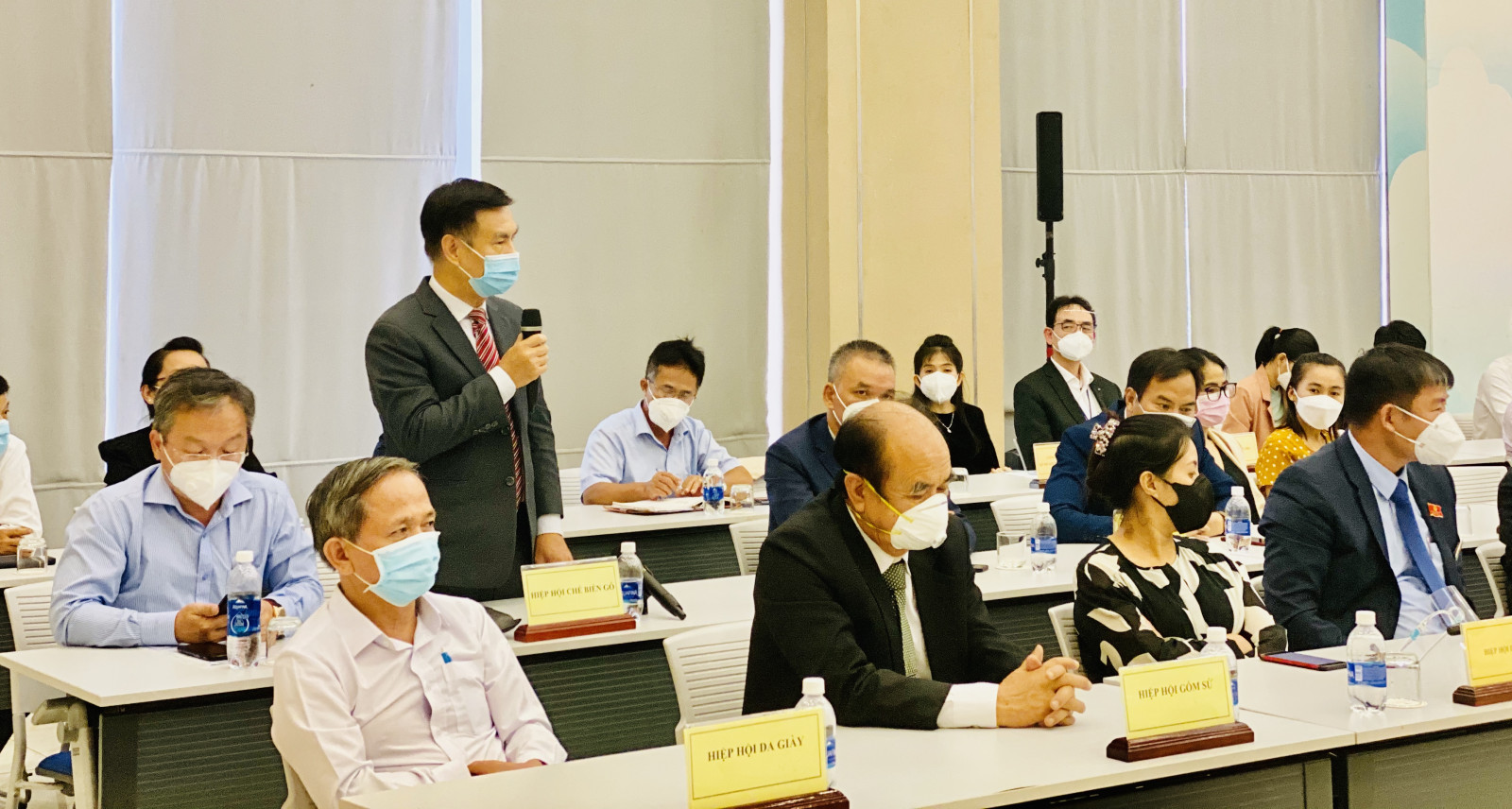 Binh Duong always listens to the opinions of the business community, focusing on solving difficulties for sustainable development. In the photo: A representative of Binh Duong Furniture Association speaks at the meeting with the provincial leaders
To assist enterprises
Speaking about the roadmap and specific directions, Mr. Vo Van Minh, Deputy Secretary of the provincial Party Committee and Chairman of the provincial People's Committee, affirmed that Binh Duong's implementation of economic opening must be synchronized with vaccine coverage. In addition, Binh Duong considers businesses as a subjects in the response to the Covid-19 epidemic by trusting in empowering, equipping and improving on-site medical capacity for businesses. In order to fight the epidemic in the long term, businesses actively conduct self-test and self-treatment of mild infection depending on their ability and conditions. The provincial People's Committee directs all levels and functional sectors to support, guide and issue regulations along with appropriate policies.
To facilitate people including workers affected by the epidemic, as of October 10, the province has provided support for 3.5 million people by nearly VND 2,241 billion. The province has also planned to welcome workers back to Binh Duong and propose businesses to coordinate with the functional sectors.
In order to facilitate businesses to resume production, Mr. Nguyen Thanh Toan, Director of Department of Industry and Trade, said that businesses will gradually reopen, depending on the type, size and structure of labor that businesses use. Enterprises are also very excited when they are empowered to take the initiatives in production models and methods. In case there is infection within a narrow range of a separate line, workshop or department, it is not necessary to block or close down the whole enterprise. Toan emphasized the view that in order to carry out epidemic prevention and control together with economic recovery and development in the "new normal" conditions, vaccines, the will and consciousness of the business community, labor action would be prerequisite for a successful return.
According to many business leaders, after responding to the epidemic, the financial resources of enterprises, especially small and medium enterprises, are gradually weakening. However, businesses are still hesitant to access the supporting packages because of short loan terms and difficulties to circulate capital resources to pay principal and interest in current conditions. In this regard, Mr. Vo Dinh Phong, Director of the State Bank of Vietnam - Binh Duong Branch, said that Circular 14 of the State Bank of Vietnam on restructuring the repayment term, exemption and reduction of interest, fees, and retention for the basic debt group has solved many difficult problems of enterprises. The State Bank of Vietnam - Binh Duong Branch has directed credit institutions in the area to continue strongly implementing solutions to support businesses and people affected by the Covid-19 epidemic.
Foundation set for long run
Despite facing immediate difficulties, in the coming time, Binh Duong has a fairly solid foundation for economic recovery and development with the efforts of the whole political system and business community. One of the grounds for optimism is that in the first 9 months of the year, the province's industrial index still increased by 2.93%; trade in services increased by 1.9%; exports increased by 26.7%; budget revenue reached VND 47,900 billion (82% of the estimation) and so on.
Agreeing with the direction of the province, Mr. Pham Ngoc Thuan, General Director of Becamex IDC, said that after the epidemic is under control, Becamex IDC would coordinate with industries to organize online investment promotion conferences with domestic and foreign investors to spread the message that Binh Duong is a safe and attractive destination. Becamex IDC has also proposed to the provincial People's Committee to speed up the progress of investment projects in industrial parks and key traffic routes to prepare for the next development stage.
Mai Hung Dung, Standing Member of the provincial Party Committee and Standing Deputy Chairman of the provincial People's Committee, said that along with efforts to control the epidemic, Binh Duong is also ready for a long-term economic development plans. The province will continue to invest in transport infrastructure, industries, and technologies applying the handling of administrative procedures and state management to create favorable conditions for businesses. The province will also regularly dialogue with businesses to listen to remove difficulties and obstacles and jointly develop in sustainable way.
Reported by Tieu My – Translated by Vi Bao