Thanks to the relatively favorable weather, and the control of diseases in livestock herds, livestock production facilities, the province are focusing on re-herding farm animals to supply the market during the Lunar New Year 2023.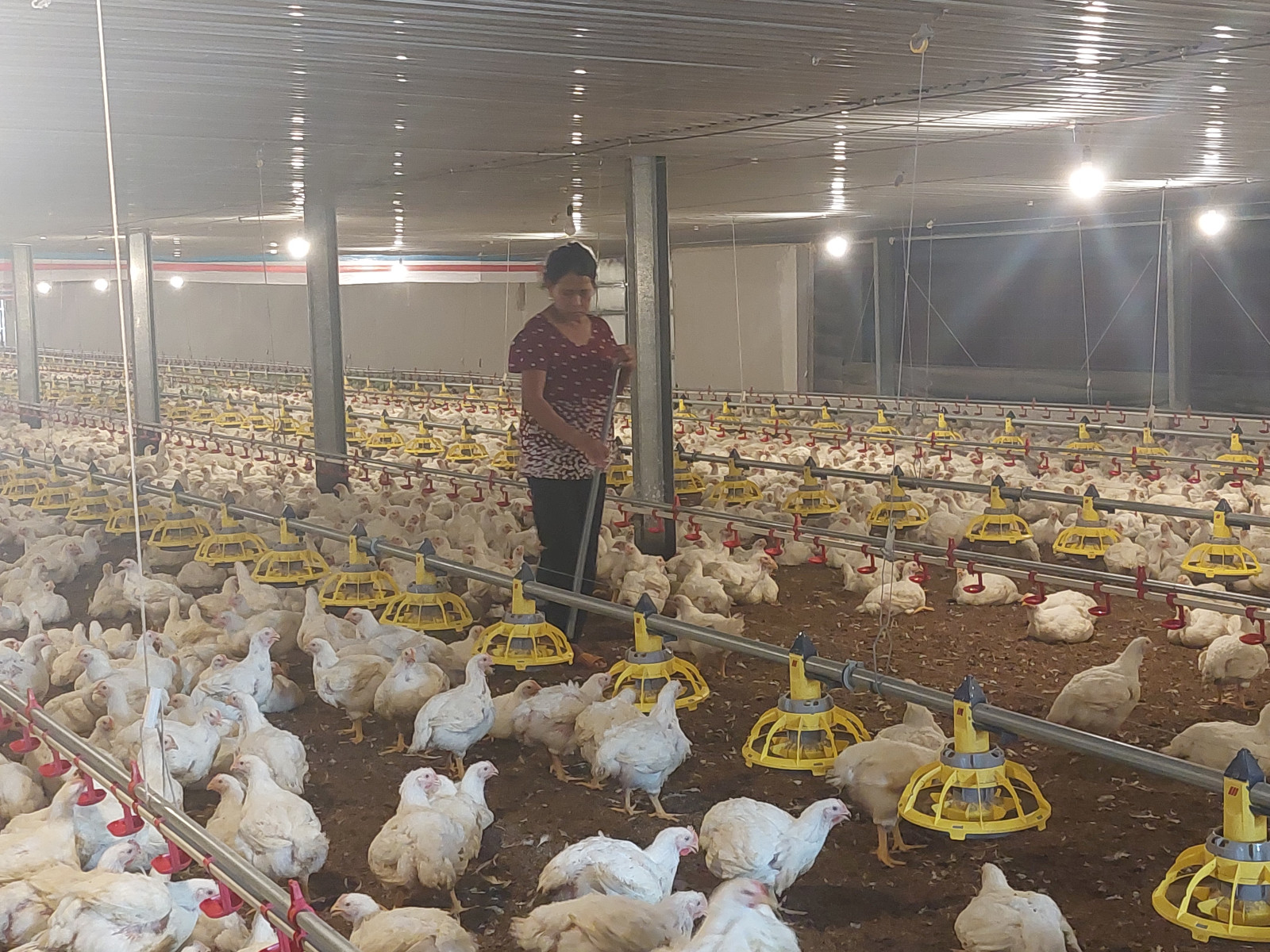 Animal husbandry based on modern, self-contained process and biosecurity helps to increase product value in a sustainable way. In photo: Cold chicken farm of Luu Thi My Hang (Muong Dao hamlet, Long Nguyen commune, Bau Bang district)
Stable growth
Since beginning of this year, despite the adverse effects of the Covid-19 pandemic, as well as other diseases occurring on livestock and poultry, Binh Duong's agricultural sector has maintained its growth pace in animal husbandry, ensuring a safe food supply for the market.
According to a representative of Luu Thi My Hang cold chicken farm (Muong Dao hamlet, Long Nguyen commune, Bau Bang district), due to the Covid-19, chicken consumption during the Lunar New Year 2021 and 2022 encountered difficulties, while the price of feed increased, making many farmers hesitant to re-herd.
However, since the beginning of this year, the disease has been well controlled, making the consumption of products more convenient. Therefore, farmer households have confidently re-herded and promised to provide more than 140,000 high-quality chickens during the Lunar New Year 2023.
What's new is that this year, many farmers have switched to biosecurity farming to serve the increasing demands of consumers on product quality, food hygiene and safety. According to provincial Office of Livestock, Veterinary and Fisheries, although the past 2 years was affected by the Covid-19 pandemic, the province's animal husbandry developed stably.
Currently, total pig reached 706,000 heads, an increase of more than 26,000 heads over the same period last year; total poultry reached nearly 13 million heads, an increase of 617,000 heads over the same period last year; the total buffalo has nearly 5,000 heads; total cow is 25,000, an increase of 1.71% over the same period last year; 100% products are from large, industrial-scale and high-tech farms.
Pig, chicken, and cattle farms have applied at least one high-tech measure into the production and preliminary processing of products.
Not only maintaining the growth rate, modern, closed, bio-secure pig farming models and the link chain expanded from production to consumption have helped farmers increase the value of their products in a sustainable way, mainly concentrated in four northern districts (Bau Bang, Phu Giao, Dau Tieng and North Tan Uyen).
Chicken raising currently has 149 farms, including companies investing in breeding, egg laying, and broiler chickens, with a total herd of 8.3 million heads. Duck farming currently has 44 farms with 517,000 heads. Pig raising has 253 farms with a total herd of nearly 700,000 heads.
In addition, urban agriculture model has also developed, mainly raising ornamental fish, turtles, porcupines, snakes, lizards, bears etc. with 2,870 households investing with 16,000 heads of all kinds.
According to Tran Minh Duc, Head of Animal Husbandry and Veterinary Medicine station of Phu Giao district, in recent years, the district has developed livestock and poultry production in the direction of biosecurity, food safety and hygiene in concentrated farms tied to waste treatment and environmental sanitation.
Currently, the disease situation has not arisen, prices are stable, creating peace of mind for farmers to develop herds. As a result, animal herds in the area develops stably. Total pig is 260,000 heads, total poultry is nearly 3 million heads; buffalo and cow herds are still maintained by farmers to generate additional income.
To have active supply source
Thanks to the proactiveness in preventing and controlling diseases, epidemics in livestock and poultry, the encouragement of sci-tech application into production, especially in the production of breeds, the product quality is increasingly improved, meets food safety and hygiene requirements.
At the same time, according to the authorities' assessment, pork price tends to increase in the last months of 2022, contributing to reducing cost pressure on animal husbandry production establishments, thus farmer households are self-assured as re-herding, prepare food supply sources to meet the increasing year-end demand.
To maintain stable livestock production in the province, the agricultural sector and localities have strengthened management; carried out the dissemination of Law on Livestock and related documents among farmers; forecasted the market, specified the market demand for livestock and poultry products to give warnings and adjust production plans.
Tran Phu Cuong, Director of Provincial Office of Livestock, Veterinary and Fisheries, said that it is expected that by the end of 2022, the total herd will basically meet the set target. The main supply sources will meet the consumption needs in the province and even supply to other provinces.
Also, according to Cuong, at present, the agricultural sector is guiding farmers through high-tech application into breeding and feed, implementation of biosafety breeding processes, and disease safety to limit risks. In addition, the agricultural industry recommends that farmers participate and expand the linkage in animal husbandry to stabilize price and consumption for products.
The agricultural industry has strengthened cooperation with localities to monitor the development of animal farming and epidemics; to increase and re-herd pigs in the province to ensure adequate supply.
While the disease situation is still complicated, the Provincial Office of Livestock, Veterinary and Fisheries is actively coordinating with localities to organize periodic vaccination for livestock and poultry; at the same time, coordinate to do cleaning, disinfection for disease prevention and control.
The province's agricultural sector focuses on animal herd restructuring by increasing the proportion of large-scale farming as well as encouraging the development of farming on an industrial scale, closed processes, organic husbandry and high-tech application.
A linking between stages in the value chain from breeding, feed to processing, to improve productivity, reduce production costs, increase efficiency and competitiveness with imported products also receives attention.
Reported by Thoai Phuong - Translated by Ngoc Huynh