Tan Phuoc Khanh is one of three cradles of ceramics formed very early in Binh Duong. In addition to the modern trendy ceramic production facilities with a wide variety of products, Tan Phuoc Khanh pottery village still has a number of pottery production establishments using traditionally manual methods that have come into existence and been developed through many generations.
To keep the tradition
Getting back through history, the pottery profession appeared in Tan Phuoc Khanh of Tan Uyen town around the middle of the seventeenth century. Along with the pottery village in Chanh Nghia of Thu Dau Mot city and Lai Thieu of Thuan An city, Tan Phuoc Khanh pottery village has also experienced many ups and downs. Initially, Tan Phuoc Khanh ceramic glaze was quite simply, with the characteristic of eel skin or green bean soup enamel colors. Later, in order to meet the tastes and needs of consumers, Tan Phuoc Khanh pottery has had more other colors. In addition to local and domestic consumption markets, Tan Phuoc Khanh ceramic products are also exported to other countries. Therefore, for a long time, the products of the craft village have blended Vietnamese, Eastern and Western traditions to suit the tastes of customers.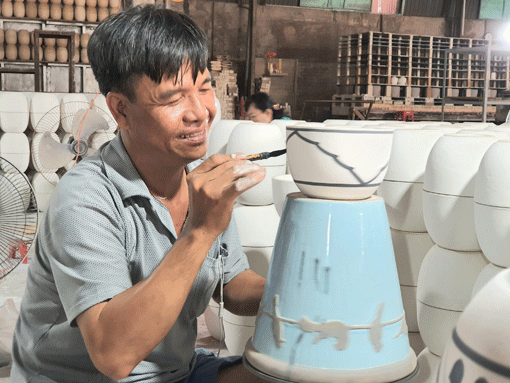 Pottery making by traditional method at Tan Phuoc Khanh
Traditional handmade pottery yields are often lower than modern production methods, so now many establishments in Tan Phuoc Khanh craft village have also changed. However, many people who have been attached for a long time are used to the traditional way of making pottery and do not want to quit the profession. And in fact, the old pottery line always has a certain place in the modern flow today.
In the early days of 2021, we had the opportunity to return to Tan Phuoc Khanh pottery village in Tan Phuoc Khanh ward of Tan Uyen town. Following in the footsteps of those who work in tourism, we visited the old Tuyen Phat ceramic production facility. The potters are still indulging in the ceramic production stages that they are in charge of. Nguyen Cong Thinh, a longtime potter at the facility, just talked to us, his hands were skillfully drawing decorative patterns on the pottery products. Seeing our admiration, he said: "When we first started this job, we needed the talent, but we became familiar with our hands so now it's very simple to draw. Once you get used to it, whether drawing 10 or 100 pieces, it is just the same."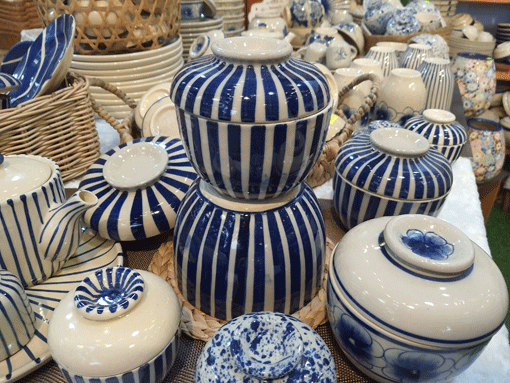 The simple and familiar ceramic products of Tuyen Phat are chosen by customers
Vuong Thi Nguyet, owner of the antique pottery establishment of Tuyen Phat, said she is the third generation to maintain this traditional profession of the family. Growing up in a family of pottery making, when she was in elementary school, she began to get acquainted with pottery. In the past, the brothers in her family also worked on pottery that her grandparents and parents had passed down but so far, only Nguyet has attached to and maintained the development of the family's pottery profession.
Tourism destination
To have a complete ceramic product, Nguyet said despite the simple look, many stages of pottery making are involved. Previously, her family's pottery factory mainly produced all kinds of pots according to purchase orders, but the orders were not available at all times; thus, all the workers quit. So later on, she turned to produce items for daily life such as bowls, cups, plates, etc. to get regular jobs; and, those products are also easier to reach domestic customers. To meet the needs of customers, the establishment's products are also improved in design and colored glaze to offer more beautiful and quality products than before.
Nguyen Thi Cam Tu, in charge of communication for the old Tuyen Phat pottery facility, said that she is a ceramic enthusiast who often does researches for information on websites and social networks for the products to follow more modern trends. The needs of consumers today also tend to be nostalgic by returning to simple patterns and rustic ancient pottery lines. She found that the products of bowls, cups, plates, and pots manufactured by handcrafted Tuyen Phat old pottery factory are in line with this trend, so they discussed with the owners about introducing and advertising the establishment's products to customers. Since then, the old ceramic products started to get closer and closer to the customers.
The old-type pottery products of Tuyen Phat have penetrated into restaurants, cafes, souvenir shops and decorations in many provinces and cities nationwide. Tu added that now she is also discussing with some overseas partners who want to buy products from the establishment to open restaurants and sell them to customers. Not only that, in recent years, the ceramic products of the establishment have also been invited by Binh Duong provincial Tourism Promotion Center to represent and promote the traditional craft village in Binh Duong province at many fairs inside and outside the province. The special feature is that they not only introduce and sell ceramic products of their own establishments and the traditional trade villages of Binh Duong at many fairs and tourist festivals, they also participate in introducing about the regulations, production process and guide visitors to the ceramic making experience.
By simple and familiar products, Tuyen Phat antique pottery has been more and more chosen and trusted by customers. Along with introductory activities associated with local tourism, Tuyen Phat pottery has contributed to bringing the image of Tan Phuoc Khanh pottery village to visitors far and wide.
Reported by Hong Thuan – Translated by Vi Bao