In the face of global development, Vietnam and India both have visions and ambitions for the field of information technology and the 4th industrial revolution, promising to bring about many opportunities for cooperation and development.
Huge potentials for cooperation
At the Horasis India Meeting 2022, experts from India all affirmed that, India's profound transformation in the context of being one of the six potential economies of the world, and India policies to develop the country's economy more and more strongly with new changes regarding development policies in aspects of governance, people's empowerment, technology application, transformation will create possibilities and needs that bring greater opportunities for the expansion of investment cooperation including in Vietnam.
Meanwhile, Mr. Fred Burke, Senior Advisor of Baker & McKenzie (Vietnam) highly appreciated Vietnam's economic development as Vietnam is still forecasted by experts to maintain a growth rate of more than 6% in 2023 in the context of many drawbacks and challenges. The question is what priorities and policies the government has in the future at the national and regional level, which is very important for investment partners, especially Indian ones. The group's investment potential in Vietnam is huge when the existing investment is only about USD 1 billion, still quite modest compared to its potentials.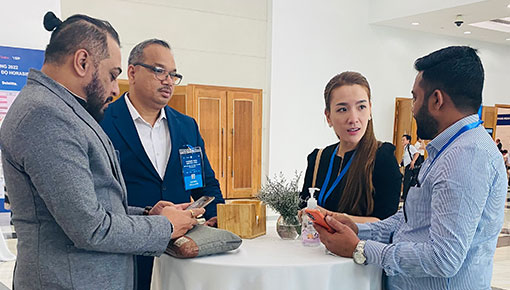 Speakers and business representatives exchange on the sidelines of dialogue sessions at the forum
Mr. Mai An, Director of IMT Solutions Vietnam, the speaker at this forum affirmed that currently, Vietnam and India have greater room to cooperate in technology including production technology and automation, biotechnology etc. India has taken the first step, but Vietnam also has strengths in human resources and culture to aggressively implement digital transformation from the state level to the business community. Indian businesses can bring proven, advanced models to Vietnam, on which basis, develop strongly in Vietnam to serve as a springboard to penetrate deeply into countries like China, Japan and neighboring countries.
Vietnam encourages foreign technology enterprises to cooperate with domestic ones in priority areas of smart manufacturing, IoT, AI, big data, blockchain, fintech, 3D printing, 5G ecosystem, smart cities among others. Another favorable factor is that financial institutions are pushing very hard in Vietnam which is a good market for Indian digital transformation. The future of Vietnam is the development of high-tech industries instead of textiles, footwear, etc – the very old concept that Indian businesses often encounter.
Mr. Fred Burke gave a specific example of Binh Duong as the industrial cradle that has now transformed into the high-tech field with modern factories, green production processes, and sustainable development. Besides, businesses are also making efforts to transform technology and engage in digital transformation to keep up with the trend, which is the space for Indian businesses to cooperate right in Binh Duong. At Becamex IDC's industrial parks, VSIP can see that there are many factories installing photovoltaic panels to use green energy in line with global trends.
Fine prognosis
The speakers also made predictions about cooperation between Vietnam and India. In particular, businesses pay much attention to policy issues, technology development platforms, and regulations on e-commerce. In particular, more transparency and predictability are needed in the government's economic policy. According to Mr. Ausang Shukla, Co-founder and CEO of Caphive from India, India is now emerging as a center of digital competence with high competitiveness that is recognized worldwide. In the provision of information technology services, India's IT industries have been developing expertise in 5G technology, cloud computing, e-governance support technology, sustainable technologies such as eco-friendly batteries, energy sources renewable energy and power system management.
In recent years, information and communication technology has emerged as a potential field of cooperation between Vietnam and India. Many Indian IT companies have their presence in Vietnam, contributing to improving Vietnam's information and communication technology capacity through training, providing solutions and services in the fields of finance and banking, telecommunications, tourism technology, etc.
The speakers also highly appreciated that Binh Duong is building smart cities in key economic areas of the province. Binh Duong has become a destination for regional and international ICT businesses. Binh Duong also especially encourages foreign technology enterprises to cooperate with domestic enterprises in priority areas of smart manufacturing, IoT, AI, big data, blockchain, virtual reality, etc. information security, fintech, 3D printing, 5G ecosystem, and smart city.
Reported by Tieu My – Translated by Vi Bao