ASEAN and New Zealand reaffirmed their commitment to strengthen cooperation through the implementation of the ASEAN-New Zealand Plan of Action (2021-2025) at the 11th ASEAN-New Zealand Joint Cooperation Committee (ANZJCC) Meeting held at the ASEAN Secretariat on March 25.
The meeting was co-chaired by Permanent Representative of Brunei to ASEAN Ambassador Latifah Zaini and Ambassador of New Zealand to ASEAN Stuart Calman.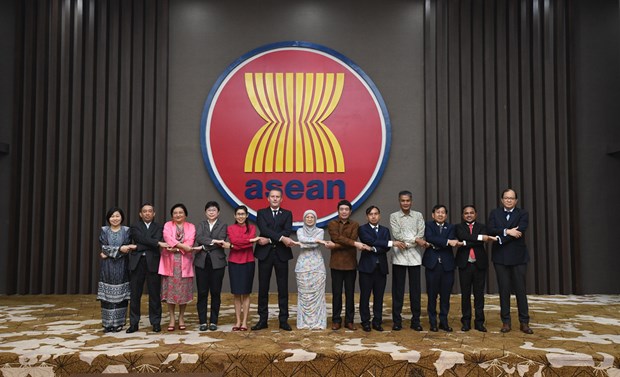 Delegates at the 11th ASEAN-New Zealand Joint Cooperation Committee (ANZJCC) Meeting
Both sides welcomed the progress made thus far in the implementation of the Plan of Action and recognised New Zealand's commitment to support ASEAN centrality through active participation in ASEAN-led mechanisms including cooperation activities under the four themes stipulated in the Plan of Action – Peace, Prosperity, People, and Planet.
Both sides looked forward to the conclusion of the negotiation to upgrade the agreement to establish the ASEAN-Australia-New Zealand Free Trade Area (AANZFTA) and called for the effective implementation of the Regional Comprehensive Economic Partnership (RCEP) Agreement to further enhance existing economic cooperation. The meeting also looked forward to the progress in the negotiation of the Regional Air Services Agreement between the ASEAN Member States (AMS) and New Zealand.
The two sides noted the importance of enhancing cooperation in the four key areas outlined in the ASEAN Outlook on the Indo-Pacific (AOIP) and in other areas such as counter-terrorism and combatting trafficking in person; maritime cooperation; human rights; trade, investment, and digital economy; micro, small, and medium enterprises (MSMEs); food security and safety; halal products; people-to-people initiatives; education; Technical and Vocational Education and Training (TVET); and public health and mental health.
Recognising New Zealand's role in addressing climate change, the meeting acknowledged the need to enhance cooperation in renewable energy; climate-smart agriculture; sustainable development, bio-circular, and green economy; transport, infrastructure, and connectivity; smart cities; along with the support for the Initiative for ASEAN Integration and sub-regional development.
Both sides also looked forward to further discussing initiatives and activities to commemorate the 50th anniversary of ASEAN-New Zealand Dialogue Relations in 2025.
With the reopening of international borders, the meeting looked forward to the resumption of people-to-people flagship initiatives such as the English Language Training for Officials, Short-term Training Scholarships for Officials, ASEAN Young Diplomats Study Tour of New Zealand and ASEAN Young Business Leaders Initiative.
In addition, the meeting welcomed the inaugural batch of the ASEAN Trade Academy initiated by New Zealand which is scheduled to commence on May 1./.
VNA