The ASEAN-New Zealand Joint Cooperation Committee virtually convened its 9th meeting on July 9, during which the sides reiterated their commitment to deepening their strategic partnership.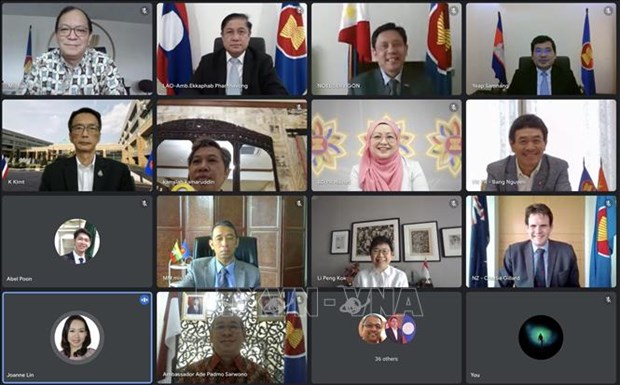 At the event
At the annual event, ASEAN member states and New Zealand praised results of their cooperation activities in the past time, particularly in realising outcomes of the ASEAN-New Zealand summit held last October.
The sides commended the progress of conducting the ASEAN-New Zealand action plan for 2021 – 2025, which has seen 61 out of 69 action lines implemented in the first year.
In the time to come, the bloc and New Zealand will further focus on the plan and their bilateral engagements in such fields as trade and investment, science-technology, digital economy, agriculture, education, health care, disaster management-climate change response, and disease prevention.
The implementation of the Initiative for ASEAN Integration (IAI) on narrowing the development gap, the Master Plan on ASEAN Connectivity (MPAC) 2025, the smart cities networks initiative, among others will also be prioritised.
ASEAN and New Zealand agreed to continue to fully implement the ASEAN-Australia-New Zealand Free Trade Agreement (AANZFTA).
The New Zealand side said it will continue to support ASEAN countries in implementing the UN Sustainable Development Goals (SGDs) and enhancing the alignment between the goals of the ASEAN Vision 2025 and the UN's 2030 Agenda on SGDs.
New Zealand said it values ties with the bloc and supports its centrality. It also affirmed to actively join ASEAN-led mechanisms and collaborate with the grouping in COVID-19 prevention and control, vaccine research and development, and sustainable recovery./.
VNA