2022 is a year of great changes in credit policies. However, banking activities in the province continued to be stable and maintained at a positive growth rate to meeting capital needs for production and business activities and economic growth.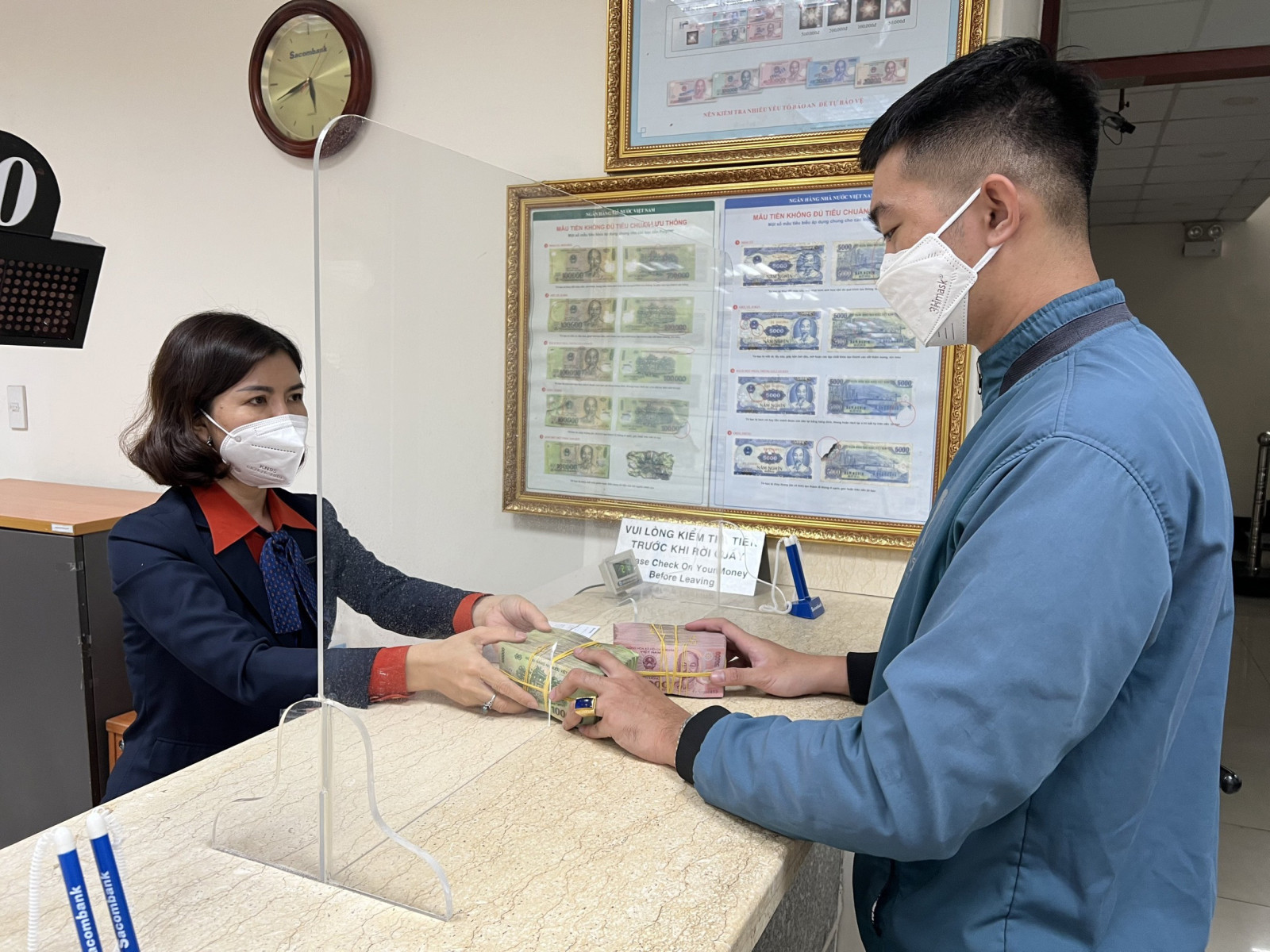 Credit growth in 2022 has contributed to supporting businesses and people in economic development. In the photo: Corporate customers borrow money for production and business at Sacombank Ben Cat Transaction Office
Great credit growth
Vo Dinh Phong, Director of Binh Duong branch of the State Bank of Vietnam, said that in 2022, the unit actively promoted its role of leadership and State management of currency and banking activities in the area. The unit has fully and promptly implemented the guidelines of the CPV, policies and laws of the State and the direction of the sector to banks and credit institutions.
Credit institutions have closely followed the guidelines, orientations and directions of the sector and the province's socio-economic development plan to implement monetary solutions in safe and effective banking activities. During the year, the total outstanding credit balance in the province reached VND 285,576 billion, increasing by 12.38% over the same period. In particular, credit institutions in the area have actively sought and shared difficulties with customers by reducing internal costs, implementing many solutions to support businesses, and paying attention to capital for local economic development. Customers' access to and loans have been favorable. The efficiency of credit capital flow has been improved as the credit capital structure has been adjusted to be more reasonable, safe and effective.
In particular, the program to connect banks and businesses has created a spillover effect on the business community, production and business households in the area, creating conditions to maintain and develop production and business operations. In addition to providing capital support to all economic sectors, credit institutions focus on lending to 5 priority sectors and fields such as agriculture and rural areas, export, small and medium enterprises, and high technology application enterprises, supporting industry manufacturing enterprises with a total credit balance of VND 166,410 billion, increasing by 8.09% compared to 2021. Besides, credit institutions also have various forms of support such as reduced interest rates on old loans and increased loan limits, thereby meeting capital needs of enterprises.
To promote production and business
The beginning of the year is the time when businesses start to increase production and implement plans for the whole year; and, most businesses have a great need for capital resources. However, at present, not all businesses can access loans when credit limit of banks is always a matter of concern.
According to the general opinion of some businesses, over the past time, the savings interest rates of banks have been adjusted to be up. When deposit interest rates increase, lending interest rates will inevitably increase. Meanwhile, as the domestic economy has just recovered after a long time being affected by the COVID-19 epidemic, the production and business efficiency of enterprises is not high, so paying high interest rates will be a very heavy financial burden on borrowing enterprises; at the same time, it has a great impact on the cost of production, business and services, putting pressure on the process of competition in the market.
In particular, access to loans is always a concern of many businesses. Nguyen Thoi Hoa Binh - Director of Dong Tay Co. Ltd., said that businesses are facing great pressure on interest rates on bank loans. The current desire of businesses is that the lending interest rate will continue to be maintained at 4-5% a year and the conditions, criteria, and loan appraisal need to be more facilitated by credit institutions.
In 2023, credit to economic programs is expected to increase by 14-15% compared to 2022 and will be adjusted according to the actual situations. Currently, banks that have been granted new loan growth targets are increasing the supply of capital for corporate loans. Nguyen Thai Minh Quang - Director of Vietcombank Binh Duong, said: "For borrowers in the manufacturing and export sectors, priority areas of the government, Vietcombank Binh Duong still applies the interest rate for corporate customers from 4.5-8% a year. With the loan amount expected to increase by 10-15% in 2023, Vietcombank will meet the capital needs for production and business enterprises."
Currently, some banks are implementing more lending products for businesses in priority areas. For example, HDbank is implementing a Swift Sme credit package of VND 20,000 billion, a business loan product for small and medium-sized enterprises to supplement capital for production and business from now until the end of March 31, 2023. The utility of the loan package is that HDbank conducts simple and standardized application review procedures and assigns special authority to branches to speed up the processing of documents and notify the results to businesses. Sacombank also offers a business installment loan program for small and medium enterprises. Enterprises will reduce the pressure of debt repayment as the loan period is up to 60 months instead of having to repay the loan within 1 year as usual. The Bank for Investment and Development (BIDV) also implemented a preferential loan program and competitive fee waiver policies for corporate customers in the import-export sector, which is a great incentive program that BIDV always gives to this group of customers.
Reported by Thanh Hong – Translated by Vi Bao