Debt restructure, interest rate exemptions and reductions for businesses and residents affected by the Covid-19 have been actively implemented by provincial banking system, in order to provide more sources of "vaccines", to help production business activities soon be restored.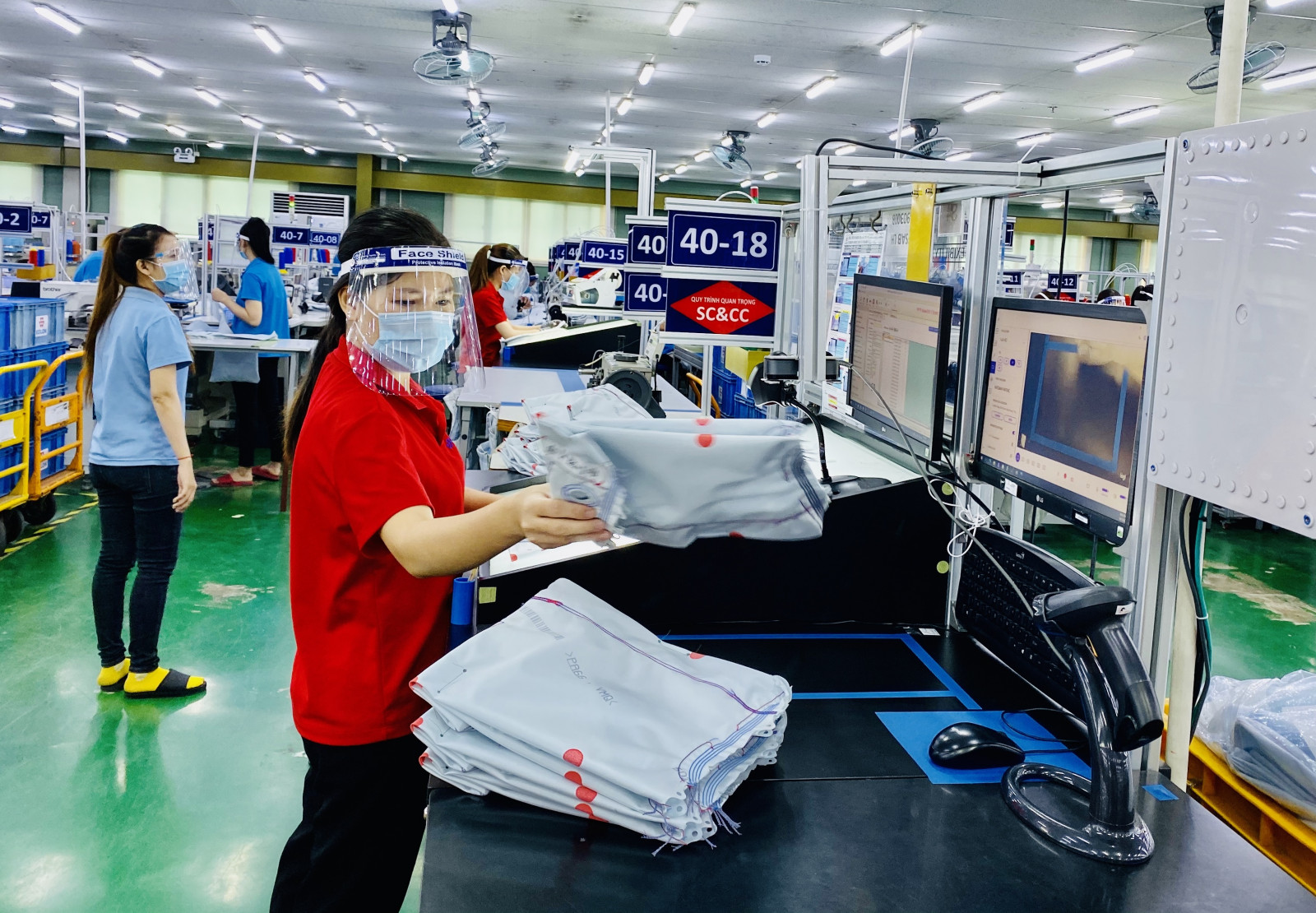 Businesses will receive better support to facilitate recovery and development after the pandemic. In photo: Production at KOLON Vietnam Company (Uyen Hung Industrial Cluster, Tan Uyen Town).
To solve an unprecedented problem
Tran Thanh Trong, Chairman of Binh Duong Electromechanical Association, said that the fourth Covid-19 wave took place with heavier impacts than previous waves and caused great difficulties for businesses. He proposed to the State Bank of Vietnam (SBV) need to direct commercial banks to immediately support businesses by extending term of debts and interest payments without lowering their credit rating. He also petitioned for banks in the province to apply Circular 14 of Vietnam State Bank to promptly support businesses in overcoming difficulties during this unprecedented pandemic.
According to Vo Dinh Phong, Director of SBV Binh Duong branch, Circular 14 amends and supplements Circular 01 (2020) and Circular 03 (early 2021) to be in line with new developments of the pandemic, be effective from Sep 7th 2021.
Accordingly, the main amendments include the scope of the debt to be rescheduled, interest and fee exemptions and reductions to debts arising from Jun 10th 2020 to before Aug 1st 2021, instead of only debts arising before Jun 10th 20200 as stipulated in Circular 01. The Circular also amends the scope of rescheduling of debt repayment, exemption and reduction of interests and fees for the obligation to repay principals or interests arising from Oct 23rd 2020 to Jun 30th 2022, instead of from Jan 23rd 2020 to Dec 31st 2021 as previously prescribed. In addition, credit institutions will restructure debt term, exemption and reduction of interest and fees until Jun 30th 2022, instead of Dec 31st 2021 according to Circular 01.
Thus, Circular 14 has much more open regulations than Circular 01 and Circular 03, provides more support for individual and corporate customers, customers have six more months to restore production and business. According to leaders of SBV Binh Duong branch, in 2020, the average interest rate of the whole system decreased 1.2 - 1.5%. Over the first 8 months of 2021, interest rates decreased more about 0.5%. Faced with the Covid-19 widespread in localities, especially in southern provinces, the SBV directed commercial banks to further reduce interest rates for businesses by minimizing operating costs and sharing profit.
Following the direction of State Bank of Vietnam, Banks Association and 16 commercial banks agreed and committed to further reducing interest rates for customer groups. Specifically, 16 commercial banks committed, from now to year end, to provide exemption and reduction worth totally VND 20,300 billion through the above sources. Commercial banks, depending on their size and conditions, will have different ways to fulfill this commitment. In addition to the above 16 commercial banks, 4 state-owned commercial banks also agreed to reduce another 4,000 billion VND (each bank will reduce another 1,000 billion VND) for localities such as Ho Chi Minh City, Binh Duong and some provinces that are implementing social distance according to Directive 16 of the Prime Minister. These are provinces, cities and businesses that are facing great difficulties. In addition to exempting and reducing interest rates, 4 state-owned commercial banks also pledged to reduce 100% of service fees in Ho Chi Minh City, Binh Duong and some provinces that are having particularly difficulties caused by the pandemic and are being quarantined according to Directive 16.
Surveillance to be stepped up
In order for the policy to be really effective, Ly Ngoc Minh, General Director of Minh Long 1 Ceramics Company, said that due to more severe damage, the Vietnam State Bank need to make specific decisions on how to make the support to be really effective, helping businesses overcome immediate difficulties, soon recover socio-economic activities, stabilize production, realize "dual goal" in the new situation.
Leaders of SBV Binh Duong branch said that they would strengthen the direction and supervision of commercial banking system in the area to speed up the implementation of customer support. "I think it is very practical to reduce interest rates and fees this time. However, to ensure a substantial reduction of fees and interest rates as well as access to low-interest loans for businesses, the SBV will continue to strengthen supervision over the implementation of the above commitments of commercial banks, ensuring that from now until year end these commitments would actively support businesses. We have issued many documents directing credit institutions to actively review, evaluate and classify customers to promptly learn about difficulties and problems of production and business activities and debt repayment ability to have timely support solutions for cases that meet the conditions as prescribed," said Vo Dinh Phong.
Reported by Tieu My - Translated by Ngoc Huynh