When Bau Bang district became a "green zone", many workers were eager to return to the company. In addition to strictly complying with the disease prevention and control rules at the company, as returning to lodging houses, everyone is very careful, change their living habits, raise awareness of disease prevention control to protect the health of themselves, family, and those around them.
To raise awareness of pandemic prevention control
Thanh Ngan lodging house (Bau Bang Industrial Park, Bau Bang quarter, Lai Uyen town) has many workers as renters. There is no more crows and gatherings of the pre-pandemic period, now every lodging room is closed or only slightly opened.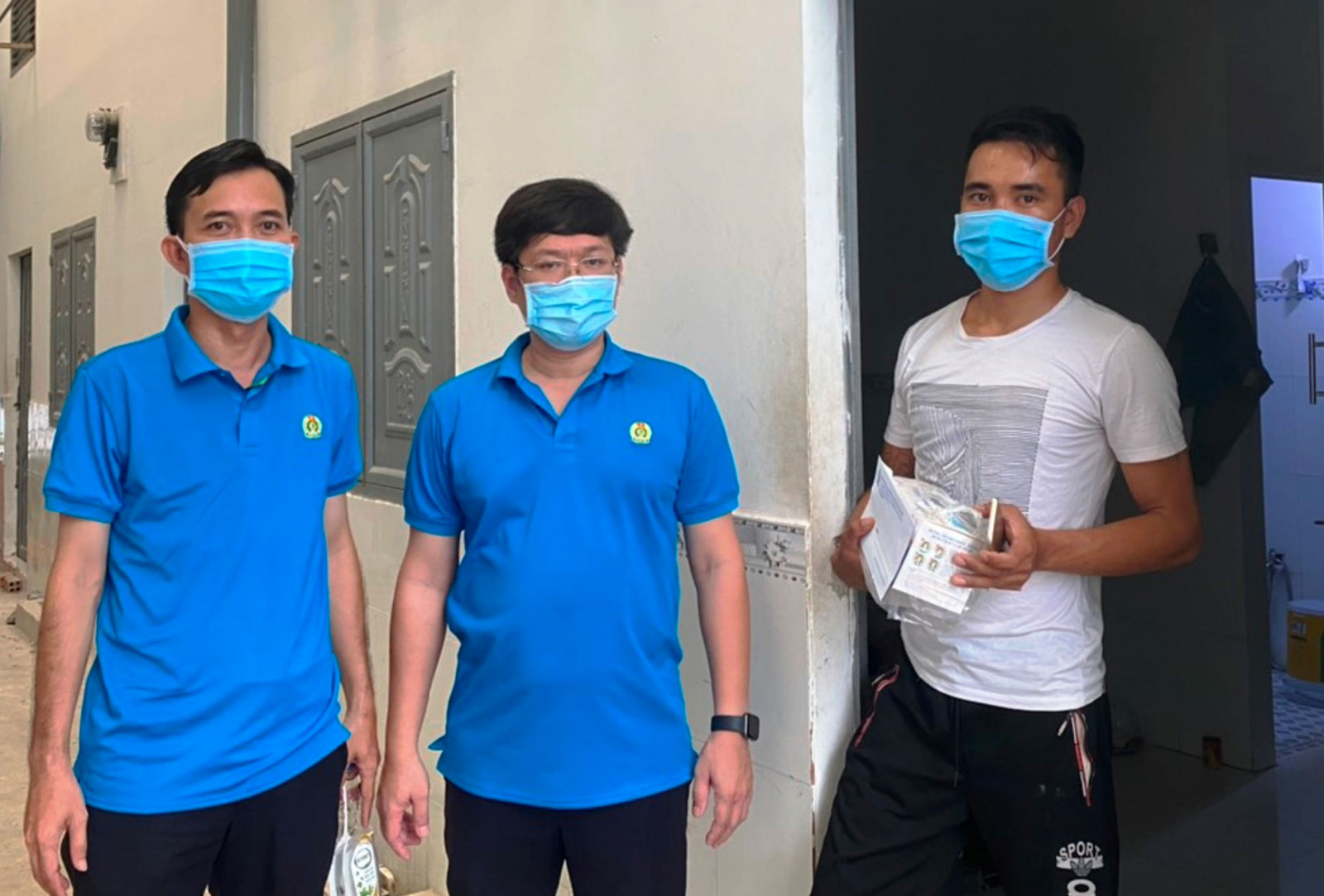 Representatives of Bau Bang District Labor Confederation visited lodging rooms, give gifts, and encourage workers to strictly follow anti-Covid measures.
Thach Quang (born in Soc Trang) is a lodger there and always carefully wears face mask as coming outside. Quang said that when the disease broke out, being aware of the danger, workers of the lodging house did not gather as before. Now every room is closed. Everyone stay in their room, so the whole house is peaceful, no one is infected, everyone is very happy and more aware of strictly following regulations on disease prevention and control. Now the outbreak has been controlled, but everyone in this lodging house is still very careful, is always wear face mask as stepping outside. They also sanitize hands as coming back to the house, no one gather to talk, just stand far away, say hi, ask each other a few questions, and then enter their room.
Recently, friends invited him to their hometown, but Quang decided to stay back. "Everyone is worried about the upcoming work and then flocks to their hometown, but I think differently. More than three months living in lodging room was difficult, but there is no job in the countryside, so I came here to work, now I do not know what to do as returning to my hometown. I still owe the rent, but I have my job back and was fully vaccinated. Thus I feel assured now as choosing to stay back in Binh Duong and go to work", Quang said.
Nguyen Thi Thanh Ngan, owner of Thanh Ngan lodging house said, to implement disease prevention control measures, each person who comes to rent room and moves out was immediately notified to the police. People who come to rent rooms and lodgers must have identification papers and strictly comply with anti-pandemic regulations. Lodgers are also regularly reminded about not gathering to stay safe and ensure disease prevention. "Although our daily activities are somewhat limited, our house always strictly follow the authorities' directions and requirements to join hands for the Covid-19 and protect the health of workers," said Ngan.
Not to be subjective and neglectful
Vo Thanh Giau, Chairman of Bau Bang District People's Committee, emphasized that the disease situation in the district had been controlled, economic activities have been gradually recovered according to the plan set out by provincial leaders to ensure safety in production and gradually adapt safely to the pandemic. Healthcare for the people in the area is maintained well by full vaccination against Covid-19. However, the district is still taking steps to be cautious, and not subjective, negligent in disease prevention control. In particular, it is very important to determine the safety and prevention of Covid-19 at lodging houses in this period, because this area has high risk level of disease transmission and it is difficult to manage if infection sources are not strictly controlled.
The district still maintains eight quick response teams. Each commune and town has a team to receive information from lodging houses to provide support when needed. In addition, members of the rapid response teams coordinate with community Covid teams and residential groups to propagate, print and distribute directive documents to each lodging house's owner and lodger. To regularly check and grasp the demographics at lodging households to ensure security and safety for everyone.
In addition to regularly checking and reminding lodging house's owners to strictly abide by disease prevention and control regulations, such as strictly following the "5K" message of the Ministry of Health, not gathering in large numbers, and sanitizing the surrounding environment, the district also develops plans for disease prevention control, including: safe lodging houses without disease, to mobilizes the house owners to participate in disease prevention control, and lodging houses do not cover people who are at risk of spreading the disease to maintain a safe green area.
Lieutenant Colonel Vo Hong Bao, Head of Bau Bang District Police, said that in order to proactively prevent and control the Covid-19 from entering lodging houses, the District People's Committee directed departments, branches, unions, and community Covid-19 groups to regularly check and remind lodging house's owners and lodgers to wear masks and not to receive strangers into houses.
It is very necessary to strengthen the inspection to ensure the disease prevention and control measures at lodging houses and worker's dormitories in the district at this period, and must be approved by units, enterprises, lodging house's owners, and thoroughly implements to achieve the goal of strict control, preventing disease from spreading and breaking out in any situation. Thereby, contributing to the realization of the "dual goal", both effective pandemic prevention control and socio-economic development according to the set plan.
To take care of workers in lodging houses
Thuong Van Tri, Vice Chairman of Bau Bang District Confederation of Labor, said that due to the developments of the Covid-19, the district Labor Confederation regularly visited and gave gifts to workers in the area. To actively coordinate with local authorities to enhance propagation among groups and neighborhoods in order to raise the workers' awareness and responsibility of disease prevention and control at lodging houses. The district Labor Confederation also printed many leaflets and posters and distributed to workers and lodging house's owners to instruct anti-Covid-19 measures.
In addition, the district Labor Confederation created a Facebook fan page and Zalo fan page to bring the fastest and most accurate information about the disease prevention control measures from the authorities to workers, listen to their feedbacks to promptly ascertain the situation and solve problems as quickly as possible. According to Tri, at present, most workers staying at lodging houses have well complied with disease prevention and control measures and adjusted their living habits and daily lifestyle to adapt to the new situation. After working hours, workers no longer go to coffee shops as before, but buy take-away food and eat at home for the safety of themselves and those around them.
Up to now, Bau Bang District Labor Confederation has supported 1,829 cases of F0, F1 and F2; cases of raising children under 6 years old, freelance workers affected by the Covid-19, with total amount of more than 4.7 billion. To support and give thousands of gifts, including rice, vegetables, instant noodles to lodging workers having difficult circumstances.
Reported by Q.Anh, B.Bang - Translated by Ngoc Huynh