With a favorable location plus preferential policies, Bau Bang district-based industrial parks (IPs) have created a strong attraction for investors. The district's economy has got more and more thriving, rapidly changing towards industrial manufacturing and services.
Economic prosperity
Since early this year, Bau Bang district has made efforts in controlling the pandemic while focusing all resources on economic recovery and development. The district has continued reforming administrative procedures, removing difficulties and creating the best conditions for the local enterprises to reach sustainable development. The district has also focused on solving planning and land procedures, completing infrastructure facilities, attracting investors to the local IPs... In the first half of 2022, the district's economy achieved many positive results with all targets increasing over the same period, especially in investment attraction.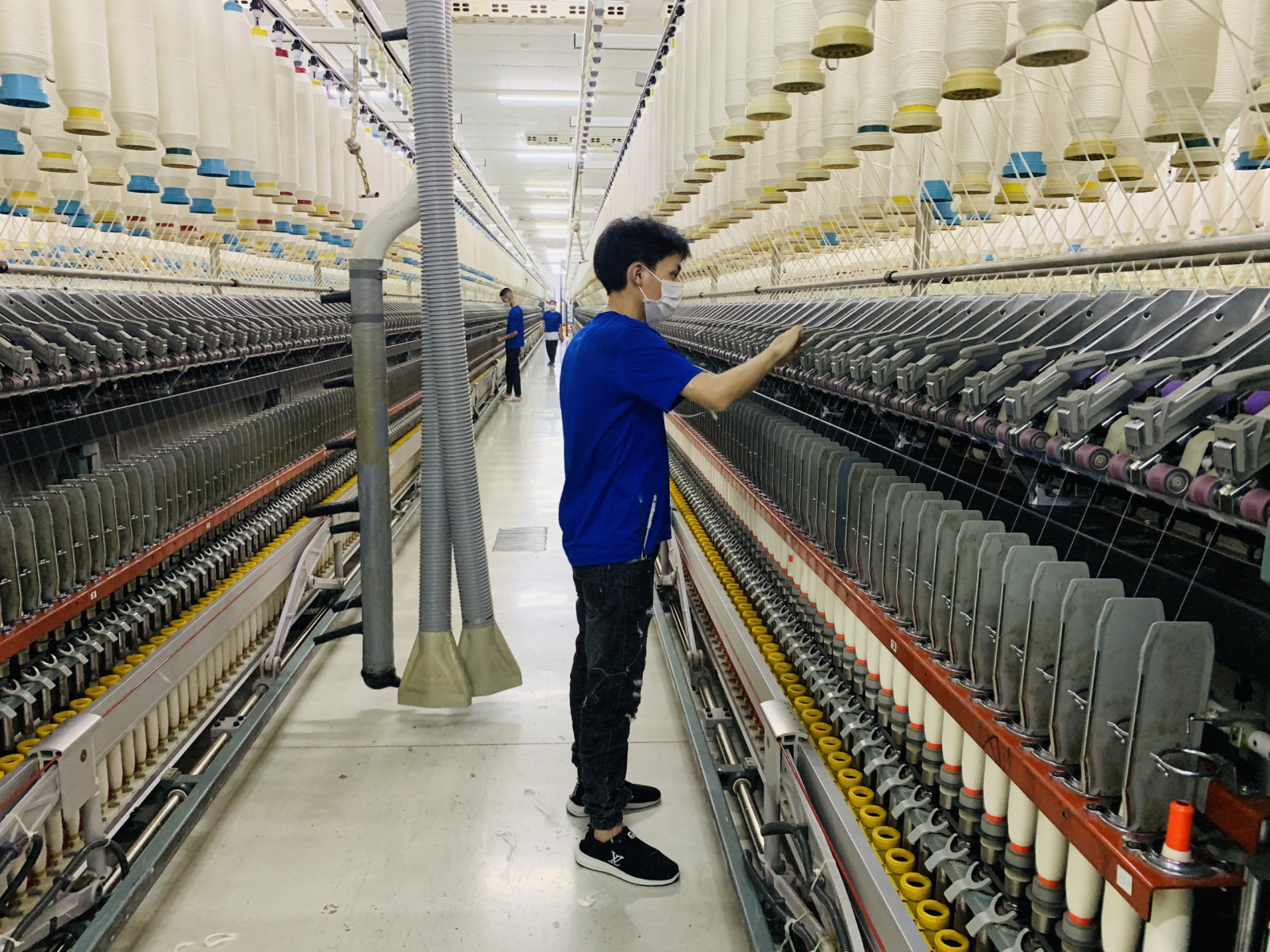 Bau Bang district has reached strong industrial – urban development. In picture: Production activities at KyungBang Vietnam Co., Ltd. in the Bau Bang Industrial Park
Specifically, in the first half months of 2022, the district's industrial production value was estimated at VND 8.9trillion, an increase of 16.93% compared to the same period last year. The district's total retail sales revenue of goods and service revenue was more than VND 3.78 trillion, up 17.1% over the same period. The district's total State budget revenue was VND 582.4 billion, or 58.5% of the plan assigned by the province and 57.87% of the resolution of the district's People's Council. Also during the period, the district attracted 14 newly registered projects, including 7 domestic investment projects with total registered capital of more than VND8.33 trillion; 7 FDI projects with total registered capital of over US$ 318 million; 2 projects increasing capital by US$ 13 million. Up to now, the district has attracted 1,257 projects, comprising of 1,042 domestic investment projects with total registered capital of over VND 40.45 trillion and 215 FDI projects with total registered capital of nearly US$4.65 billion.
Vo Thanh Giau, Chairman of Bau Bang district's People's Committee said that with the local drastic, flexible and creative direction and administration, in the first 6 months of 2022, Bau Bang district continued maintaining its economic growth with quick recovery while ensuring social welcome and improving people's living standards. This is an important premise for the locality to complete the whole year's tasks under the set goals.
Increasing IPs' attractiveness
With the province's orientation to shift industrial development to the northern region, Bau Bang is one of localities with strong industrial-urban development. In addition to Bau Bang IP and the expanded Bau Bang IP, the district is also home to Tan Binh, Lai Hung and Cay Truong Ips which are also being invested in infrastructure, ready to welcome enterprises to build factories. Along with that, the province's sci-tech IP project is opening up great development opportunities for the district. In order to further build and develop infrastructure facilities, creating a driving force for industrial development and investment attraction, the district will continue mobilizing all resources to a synchronous and modern infrastructure system in association with industrial - service - urban development in the coming time.
Bau Bang district is implementing many solutions to mobilize all investment resources in order to quickly improve the local infrastructure system, especially traffic infrastructure connecting to IPs. The district is focusing on building a connected and synchronous traffic network; upgrading, expanding and building new arterial roads; attracting and calling for investment in developing high-tech and logistics industries, giving priority to the development of the inland container depot (ICD) traffic infrastructure as a spearhead to create a driving force for development. The district also recommends that the province should focus on investing in upgrading main streets such as: DT741B, DT749A, DT749C, DT750 and quickly deploying streets, including North Tan Uyen - Phu Giao - Bau Bang street, West Bau Bang street...
According to Mr.Giau, district-based IPs are invested, completed and put into operation, which is a favorable condition, creating a highlight for developing, expanding relations, calling for investment to promote industrial manufacturing along with the local development of trade and services. In addition, the district has many land funds on the important traffic routes of the province and the region (National Highway 13), My Phuoc - Bau Bang expressway together with a lot of arterial traffic routes that are expected to be built will uphold their effectiveness, greatly contributing to attracting investment, serving socio-economic development in the next period.
Starting from the existing Bau Bang industrial - urban park of ​​1,000 hectares, Bau Bang district has developed another expanded Bau Bang IP with 1,000 ha (including 892.2 hectares in the district), Tan Binh IP of 352,5 hectares (including 95.18 hectares in the district), Cay Truong IP (including 700 hectares in the district), Lai Hung IP (including 600 hectares in the district). The district's traffic system has been invested, upgraded and expanded with gradual completion in the direction of east-west, north-south, connecting regions and regions, forming up a synchronous and smooth connection traffic network, creating favorable conditions in attracting development investment.
Reported by Ngoc Thanh-Translated by Kim Tin