The BDRC Half Marathon Binh Duong 2023 has ended successfully and left a strong impression on the Vietnamese running community, and is also a place for families to be closer together after hard working hours.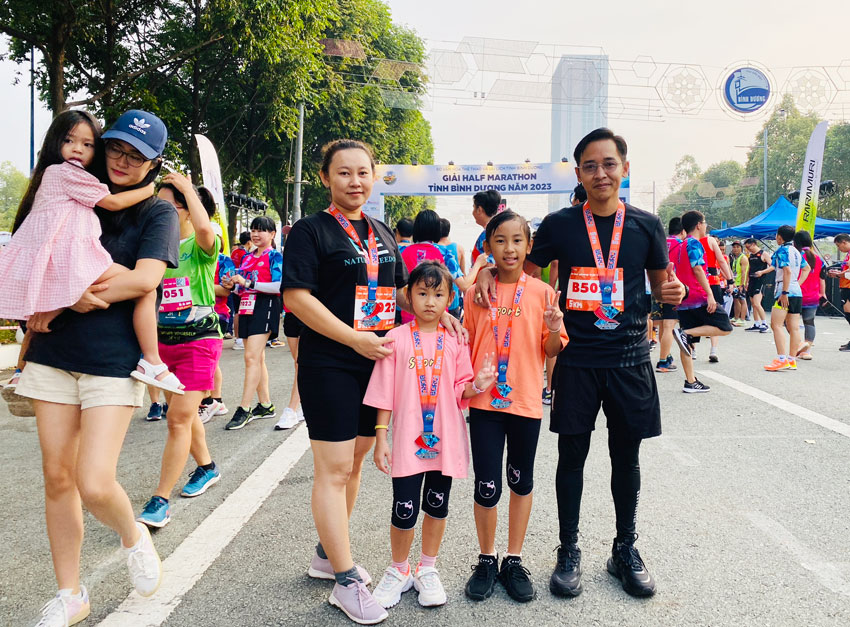 Vo Huu Khiem's family (Dau Tieng district) together completed the 5km distance.
This is the second year of this running event, the BDRC Half Marathon Binh Duong has left a strong impression with friends across the country who came to this race. In addition to the careful preparation of the organizers, a good thing of the tournament was to help athletes not feel strange when coming to Binh Duong to compete.
While in other tournaments, players often have to pay very high room rates to rest, athletes from all over the country came to Binh Duong did not have to do this. Hotels arranged for this event only charged a room rate of 50% of their listed price. In addition, many volunteers also helped athletes easily find affordable restaurants. "Coming to Binh Duong, I and many pther athletes from all over the country feel very happy, feel like being at home. Hopefully, athletes will be able to compete on beautiful roads in the new city of Binh Duong in the future," said Le Huu Loc (Bien Hoa Runner) who won second place in the 21km distance.
Not only making an impression with friends across the country, this playground was also a place for emotional bonding between families. Also at this event, there was a story of Vo Huu Khiem and his family coming from Dau Tieng district. Vo Duong Ngoc Y (9 years old) and Vo Duong Ngoc Diep (6 years old) - Khiem's children, and the parents ran a distance of 5km. Quite surprising when the two girls finished the race before their parents. Because the two daughters were not official athletes in this race, they did not receive a certificate for those who completed the distance. They sadly said to their father: "Dad, why don't we get medals?" Standing right next to them and hearing their story, Huynh Thai Loc, Chairman of Binh Duong Running Club (BDRC), decided to give two medals to the two sisters and encouraged: "I hope that you two will run more."
Not only connecting the running community across the country, BDRC Half Marathon Binh Duong 2023 also connected family feelings together after a stressful working week. Those are the human values that the Binh Duong running community is aiming for as organizing this playground.
Reported by Thai Hai - Translated by Ngoc Huynh