With the goal of industrialization and urbanization in association with stabilizing social welfare, ensuring employees' material and spiritual lives, over the past time, Binh Duong paid special attention to building social housing projects for low-income people. With the results of construction implementation, Binh Duong has become a bright spot of the whole country in social housing development.
High demand
The development of industrial parks and compounds has led to an increasing concentration of residents from all over the country moving to live and work, so the demand for housing in Binh Duong is huge. The province's population as of 2021 was estimated at 2.7 million people. The total number of people in the working age was about 1.7 million with about 1.5 million people living in rented houses invested by households and individuals.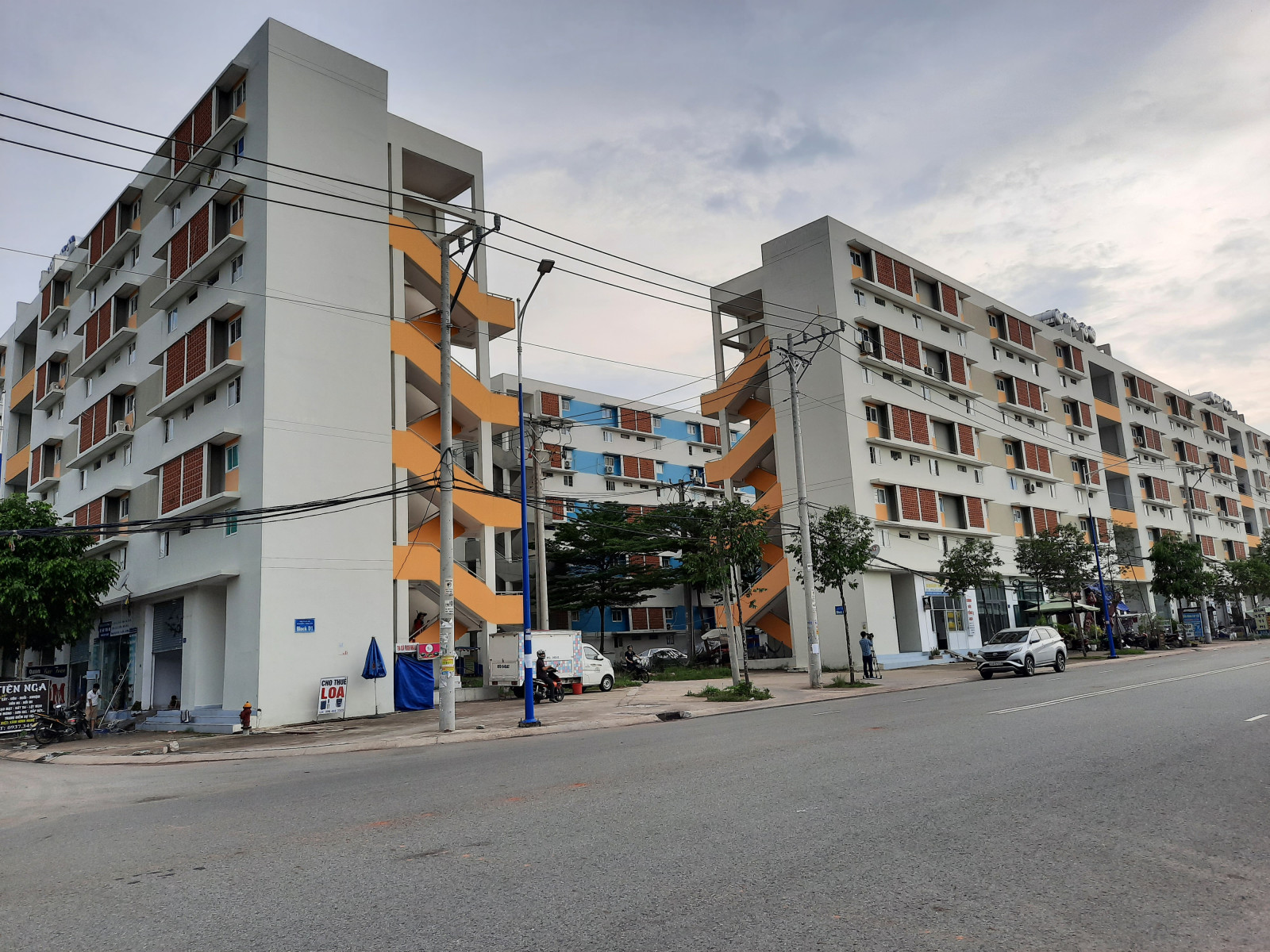 Dinh Hoa social housing area built by Becamex IDC Corporation meet the local workers and people's needs for housing
After living and working in Binh Duong, numerous employees have the need to rent and buy social houses to stabilize their lives. Estimatedly, there are 490,000 people in need of housing. The land fund for the demand is about 1,700 hectares. Particularly, the land fund for housing development by households and individuals is expected to account for about 70% (1,200 hectares). The land fund in low-price-oriented commercial housing projects is about 5% (75 hectares). And the land fund for social housing projects is about 25% (425 hectares).
Vo Van Minh, Vice-Secretary of provincial Party Committee, Chairman of provincial People's Committee, said: "With the regular goal of industrialization and urbanization in association with stabilizing social welfare and ensuring employees' material-spiritual lives. Along with attracting investment to build commercial housing estates, provincial leaders have issued many programs and plans to develop social housing projects in order to implement a policy of socializing in housing construction for low-income people. Provincial People's Committee has continuously directed all-level authorities and sectors to urgently plan social housing projects into urban development plans, especially integrate them into provincial planning for the period of 2021-2030, with a vision to 2050 to ensure a stable life for employees, thereby making long-term contributions to the overall development of Binh Duong.
Effective implementation
With the goal of developing social housing projects at the pressing needs of the majority of working classes in urban areas during the process of industrialization and modernization, gradually improving the quality of people's lives, provincial People's Committee has promulgated provincial Social Housing Development Program to 2020, with a vision to 2030 and provincial Social Housing Development Plan for the 2016-2020 period as a basis for the local housing development. In addition, the arrangement of land fund for social housing is one of the housing development strategies in order to meet the target of industry - urban services, which is one of the contents that the province is very interested in.
During his recent working visit to Binh Duong, Nguyen Thanh Nghi, Minister of Construction said: "Over the past years, Binh Duong continued being a bright spot of the country in socio-economic development, ensuring national defense - security, social welfare and was also a leading locality in social housing development. In the period of 2011-2020, Binh Duong developed 40 social housing projects with about 60,000 apartments, providing accommodations for 200,000 people. This positive result has greatly contributed to the social welfare work of the whole country in general and Binh Duong in particular."
In the 2016-2020 period, the province set a target of calling for investment to reach 2 million square meters of social housing floor (for sale, for rent) at the needs of Binh Duong province's employees. By 2020, the province called and attracted investors to build and put 1.8 million square meters of housing floor into operation. Particularly, as a main unit, Becamex IDC developed a social housing model on the basis of the planned land fund since the formation of industrial parks. The social housing model of Becamex IDC has been put into use with a preferential price suitable to the income of employees (from VND 100 to 160 million VND/apartment), combined with a loan support policy with low interest rates so that subjects can approach the model. Many social housing areas invested by Becamex IDC, namely Dinh Hoa, Hoa Loi, Bau Bang, Viet Sing…, have been put into use.
In addition, the province currently has 600,000 rooms for rent, contributing to solving the housing needs for 1,500,000 people. Provincial People's Committee has issued a directive encouraging households and individuals to participate in the development of the rental housing segment under social housing standards, gradually improving the quality of housing for employees.
Vo Hoang Ngan, Director of provincial Department of Construction said: "So far, thousands of workers, low-income people...have bought, rented houses and lived stably in the local social housing areas, houses. With a moderate housing price, from VND100million to VND 160 million per apartment, suitable to low-income workers, along with a preferential loan policy with low interest rates, the province's social housing projects have created consensus and attachment among employees. Besides, the province's planning and development orientation on social housing has also been planned to arrange construction with methodical investment in technical infrastructure.
Minister of Construction Nguyen Thanh Nghi said: "The Ministry of Construction hopes that the business community will pay more attention to investment and development of social housing projects for low-income people. Binh Duong should try to build at least one million apartments for low-income people. The Ministry of Construction will also work with the province and businesses to continue discussing and removing obstacles to successfully realize the goals of the local social housing project from now to 2030".
Reported by Phuong Le-Ha Khanh-Translated by Kim Tin