The Southeast region, with geographical advantage and favorable natural conditions, has long become a dynamic and creative economic region, and leads in innovation and development of the whole country. Binh Duong has actively invested in transport connection infrastructure projects to create breakthroughs in the economic growth of the province in particular and the Southeast region in general.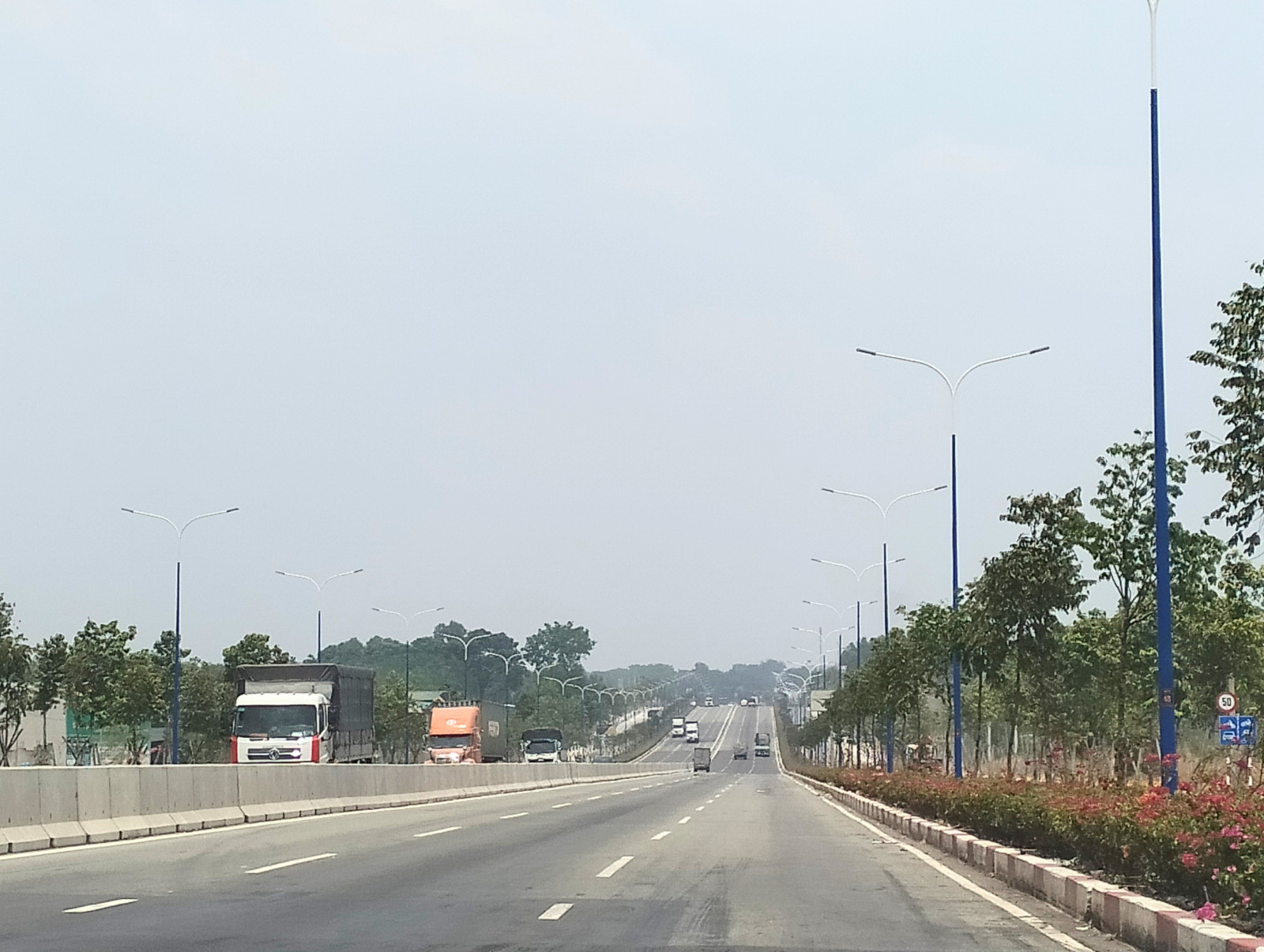 Through the investment and development process, Binh Duong has a synchronous and convenient transportation system to connect the region. In photo: My Phuoc - Tan Van road put into operation has well met economic needs of the province and localities in the region.
Important growth driver
At a meeting with provincial leaders in February, Prime Minister Pham Minh Chinh assessed Binh Duong with many advantages and potential, outstanding opportunities, and competitive advantages. Binh Duong owns all the factors to thrive, become an important growth engine for the Southeast region and the whole country. Recently, Binh Duong has been in the group leading the country in terms of FDI attraction.
Through the development process, Binh Duong initially accumulated a synchronous urban and traffic technical infrastructure. Binh Duong will soon complete main segments of Ring Road 3 and Ring Road 4 passing through the province, integrating directly into the main intra-provincial trunk roads, such as My Phuoc - Tan Van connecting with seaports, international airports. A special thing is that these roads were completed by mobilizing resources, attracting investment in developing industrial infrastructure from the province's leading enterprises, effectively contributing to sharing the budget burden.
Vo Van Minh, Deputy Secretary of Provincial Party Committee, Chairman of Provincial People's Committee, said: "Binh Duong is determined to improve urban areas in the South, move industrial production zones to the new core region in the North, and restructure to become green industrial zones, clusters, circular industries, and scientific and technological industrial parks, leaving the southern area for urban - service and commercial development".
This means that Binh Duong will make good use of advantages of ring roads and waterway traffic, which are being urgently implemented by localities in the region to form a new industrial belt system associated with modern logistics system. Binh Duong will form a vital piece in the overall picture of economic development in the Southeast region.
Actively coordinate
According to Vo Van Minh, the leading and smooth transportation development will create a driving force to promote the development of other socio-economic fields. Therefore, in order to implement Resolution No. 24 of the Politburo and transport projects connecting Binh Duong province with localities in the Southeast region, Binh Duong province's leaders have actively worked and coordinated with leaders of other provinces in the region.
Specifically, recently at the Provincial Administration Center, Vo Van Minh had a meeting with leaders of Ho Chi Minh City, Dong Nai province, Ba Ria - Vung Tau. At the meeting, local leaders agreed to work closely together to deploy inter-regional transport routes and roads of each locality but with regional impacts.
Nguyen Van Tho, People's Committee Chairman of Ba Ria - Vung Tau province, appreciated Binh Duong for actively discussing connection issues. According to Nguyen Van Tho, the investment in the construction of transport routes connecting areas in the region needs to be successfully implemented by localities together, and needs to agree on methods, time and roadmap. Nguyen Van Tho assessed that Ring Road 4 is an important route serving urban development, services and local economies in the region, thus localities need to pay attention to and focus on implementation. Cao Tien Dung, Chairman of Dong Nai Provincial People's Committee, also agreed with Binh Duong's high spirit in investment in regional connectivity. According to Cao Tien Dung, it is necessary to coordinate to accelerate the construction of transport routes connecting the region so that the local economy is increasingly developed.
Especially, most recently at a conference to summarize the socio-economic development cooperation program between Ho Chi Minh City and the Southeast provinces that took place in Binh Phuoc province, local leaders all said that there should be coordination and cooperation for development in the coming time, especially in cooperation in developing connected transport infrastructure. At the conference, according to Phan Van Mai, Chairman of Ho Chi Minh City People's Committee, to develop the Southeast region, the role of linking provinces and cities in the region is very important.
Sharing the same opinion with leaders of Ho Chi Minh City, Tran Tue Hien, Chairwoman of Binh Phuoc Provincial People's Committee, said that Binh Phuoc needs the coordination and support of localities, especially in transport infrastructure. "Binh Phuoc is trying to overcome the disadvantage of geographical location through projects connecting with the Southeast region, in which the focus is on the Ho Chi Minh City - Chon Thanh expressway, the North - South expressway to Gia Nghia (Dak Nong) - Chon Thanh (Binh Phuoc)", said Tran Tue Hien.
Previously, in order to strengthen inter-provincial and inter-regional connections, as a driving force to stimulate economic development of localities in the Southeast region, leaders of Binh Duong province worked with a delegation of leaders of Binh Phuoc province on regional connection planning and main traffic connection points between Binh Duong and Binh Phuoc provinces. At the meeting, Tran Tue Hien highly appreciated Binh Duong province's proactive and cooperative spirit in investment and construction of connecting projects between the two provinces.
Despite being a bordering area, up to now, the regional transport connection between Dong Nai and Binh Duong faces difficulties and limitations. Therefore, in order to remove difficulties and obstacles in regional linkage between the two provinces, in 2022 the leaders of the two localities had working sessions on the implementation progress of transport connection projects. Also, through surveys, leaders of the two provinces of Binh Duong and Dong Nai agreed to add 4 bridge positions across the Dong Nai and Be rivers.
Binh Duong is currently a major industrial center of the country, with 27 active industrial parks and 12 industrial clusters over an area of more than 13,000 hectares. Binh Duong is the "destination" of domestic and foreign investors, the number of FDI firms ranks third in the country, the VSIP model is being replicated in many localities. With the policy of "transportation one step ahead", Binh Duong has invested in "backbone" routes, such as National Highway 13, My Phuoc - Tan Van, North Tan Uyen - Phu Giao - Bau Bang, Thu Bien - Dat Cuoc, roads and bridges connected with Tay Ninh… Especially, in the coming time, the province will executes the construction of Ring Road 3, Ring Road 4, and the Ho Chi Minh City - Thu Dau Mot - Chon Thanh expressway for regional connectivity and economic breakthroughs.
* At a recent meeting with provinces in the region, Phan Van Mai, Chairman of Ho Chi Minh City People's Committee, agreed to strengthen regional cooperation. He suggested that every quarter local leaders work together once, each locality to host. Localities need to focus on railway development and riverside planning. According to Phan Van Mai, projects of each locality assigned in Resolution No. 24 of the Politburo have an impact on regional development. He suggested that provinces need to discuss and seek opinions on setting up a regional transport development fund.
* Dr. Tran Du Lich, a member of the Prime Minister's Economic Advisory Group, said: "Along with Dong Nai, Ho Chi Minh City, and Ba Ria - Vung Tau, Binh Duong with favorable natural conditions, geographical location, and development advantages, has formed a "development quadrangle" of the Southern key economic zone. Binh Duong's push to invest in traffic connection infrastructure with a network of industrial parks and urban organizations is an example of local economic development".
Reported by Phuong Le - Translated by Ngoc Huynh