On the afternoon of January 18, Vo Van Minh, Deputy Secretary of the Provincial Party Committee, Chairman of the Provincial People's Committee, received and worked with a delegation of American Chamber of Commerce in Vietnam (Amcham Vietnam), led by Chad Ovel, Chairman of Amcham Vietnam.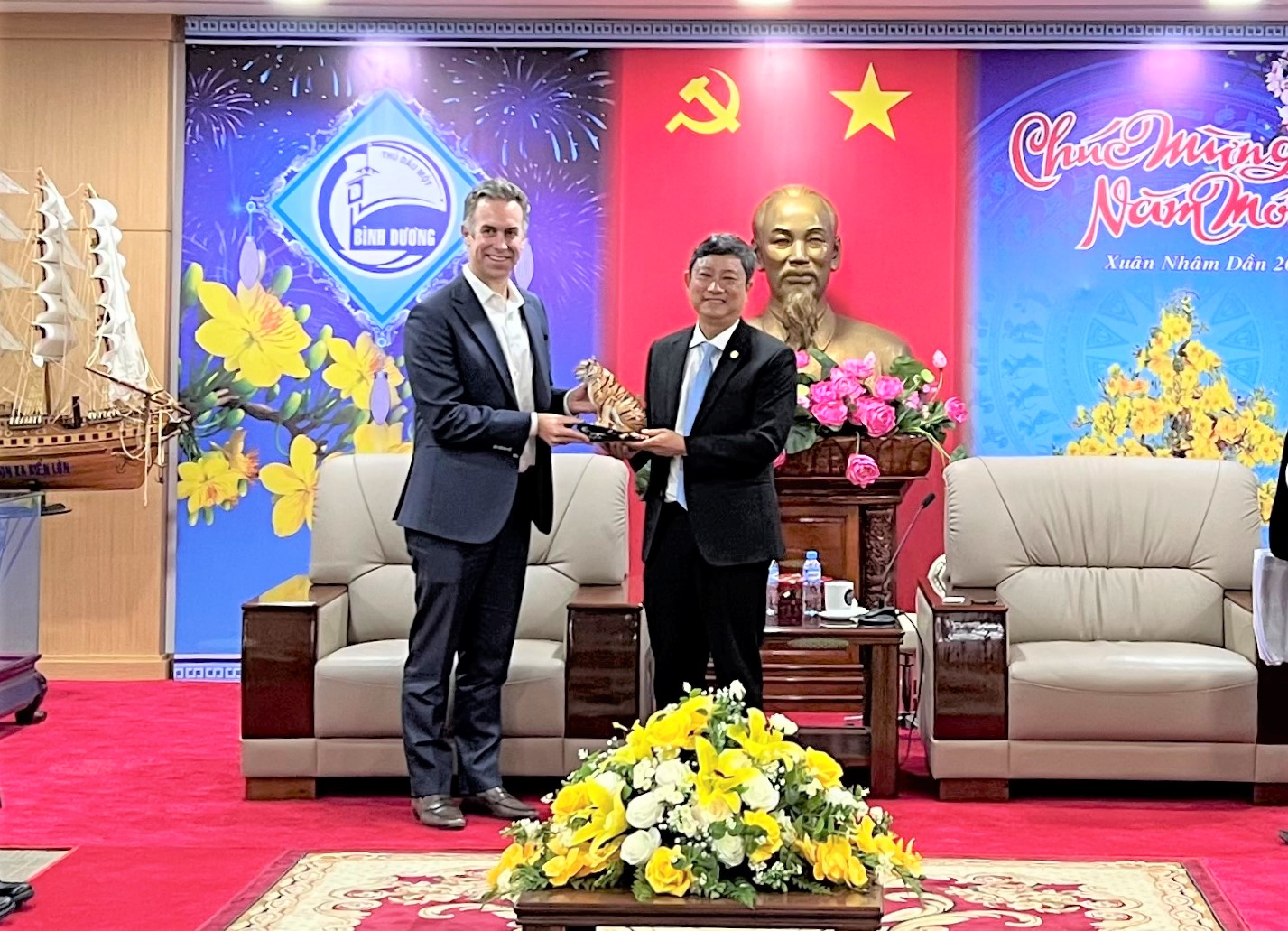 Vo Van Minh presents a souvenir to Chad Ovel.
Vo Van Minh thanked the delegation and quickly informed about the province's socio-economic results in 2021; the situation of the Covid-19, the potential and orientation of the province's economic recovery and development in the new situation. The province is making efforts to accompany and create the most favorable conditions for businesses to resume production and maintain supply chain through dialogue sessions and meetings with associations and businesses, including the US Businesses Association, to listen to and promptly resolve difficulties and problems, create favorable conditions for investors and businesses.
Binh Duong always creates the best conditions for businesses, including US businesses, to feel assured and develop long-term production and business in the province. The province continues to maintain regular dialogue channels with the business community both at home and abroad, promptly adjusts policies in line with local development orientations and legitimate interests of the local business community.
At present, the United States ranks 11th out of 141 countries and territories making foreign investment capital (FDI) in Vietnam, with 1,135 projects and a total registered capital of more than 10 billion USD. Particularly in Binh Duong province, the United States has invested in 128 projects with a total investment capital of more than 911 million USD.
Chad Ovel said that AmCham representatives and US businesses appreciated Binh Duong's efforts in disease prevention and control; and thanked Binh Duong provincial leadership for always creating the best conditions for US businesses to develop long-term production and business in the province. Chad Ovel expressed his belief in the economic development of Binh Duong province in the coming time; discusses some issues related to vaccination, Covid-19 prevention and control activities; recommends issues to support the process of economic recovery, sustainable economic development, and wished to establish an Amcham center in Binh Duong in the near future.
Reported by Ngoc Thanh – Translated by Ngoc Huynh