Yesterday afternoon (September 25), within the framework of the Horasis India Meeting 2022, Nguyen Van Loi, member of the Party Central Committee, Secretary of provincial Party Committee, Head of provincial National Assembly Deputy Delegation; Vo Van Minh, Vice-Secretary of provincial Party Committee, Chairman of provincial People's Committee, Nguyen Van Hung, CEO of Becamex received and worked with Rajkumar Ranjan Singh, Secretary of State for the Ministry of Foreign Affairs of India and the India Business Confederation.
Dynamic, full of potential
Speaking at the working session, Mr. Loi hailed Mr. Rajkumar Ranjan Singh for his attendance at the event while saying that the forum was held when both Vietnam and India overcame the Covid-19 pandemic, especially are towards the 50th anniversary of the establishment of diplomatic relations between the two countries. Currently, Binh Duong province is ready and prepared necessary conditions to ensure the best environment and space for Indian enterprises to learn and develop cooperation in the near future. With the local exisiting conditions, Mr. Loi believes that Indian enterprises investing in Binh Duong will achieve much success in the coming time.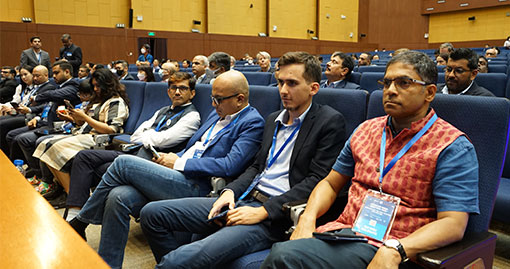 Indian entrepreneurs attend the Horasis India Meeting 2022
Sharing with provincial leaders, Indian enterprises and Becamex IDC, Mr. Rajkumar Ranjan Singh emphasized the cooperative relationship between India and Vietnam over the past 50 years and said that India is very open in investment and cooperation with Vietnam in general and Binh Duong province in particular. He assessed that Binh Duong province is a locality with dynamic and strong development while believing that with its advantages and available conditions, Binh Duong province will develop even more in the future. Therefore, he thought that Binh Duong is a very good place to invest with great potential for Indian enterprises while hoping that Indian enterprises will learn, invest and cooperate in various fields that Binh Duong is calling for.
Creating the most favorable conditions
At the working session, Mr. Minh said that in 2021, Binh Duong province continued leading the Southeastern region and the Southern key economic region, ranking sixth nationwide in the Provincial Competitiveness Index (PCI), second in the Provincial Governance and Public Administration Performance Index (PAPI). With an open and attractive investment climate, in recent years, Binh Duong has always been one of the country's top localities in FDI attraction. In the first 8 months of 2022, Binh Duong attracted more than US$2.6 billion in FDI capital. As of now, the whole province has had 4,069 investment projects from 65 countries and territories with total registered capital of nearly US$ 39.6 billion. Binh Duong is currently ranked second nationwide in terms of FDI attraction after Ho Chi Minh city. Binh Duong is now home to more than 4,100 FDI projects, including 10 from Indian enterprises with total capital of more than US$116 million.
Mr. Minh said that some industrial fields of the province urgently need auxiliary industrial products for development. The province has always applauded Indian enterprises to learn and invest in fields of auxiliary industries, IT, biotechnology, education, healthcare... The above fields are not only cared by Binh Dinh, but also promise that the markets of the two countries are also open to cooperate and enhance the advantages between Vietnam - India in general and India-Binh Duong province in particular. He also said that Binh Duong will create the most favorable conditions for Indian enterprises to learn and invest in the local priority fields.
Sharing about the cooperation and investment opportunities of Indian enterprises in Binh Duong, Mr. Hung said that Binh Duong province has always created many conditions to exchange information about investment cooperation opportunities between Becamex IDC and Indian enterprises, especially for industries that are suitable to the requirements of building a new-style ecosystem so that the province can develop the Industry 4.0 in the future. It is hoped that after the bilateral dialogue, Becamex IDC and the Confederation of Indian Enterprises will soon sign a memorandum of understanding so that the two sides can lay a foundation for cooperating, tapping their advantages. It is expected that the two sides will have specific cooperation to jointly take advantage of opportunities from the global business shift that is taking place strongly. To welcome these opportunities, Becamex IDC is trying to improve conditions in order to meet the requirements of investors, including Indian ones.
Reported by Minh Duy-Translated by Kim Tin