In addition to employment connection centers supporting workers at year-end, such as the Provincial Employment Service Center, the Provincial Labor Confederation, authorities of districts, towns, cities in the province is review, connecting, transferring labor from places of excess to places of shortage.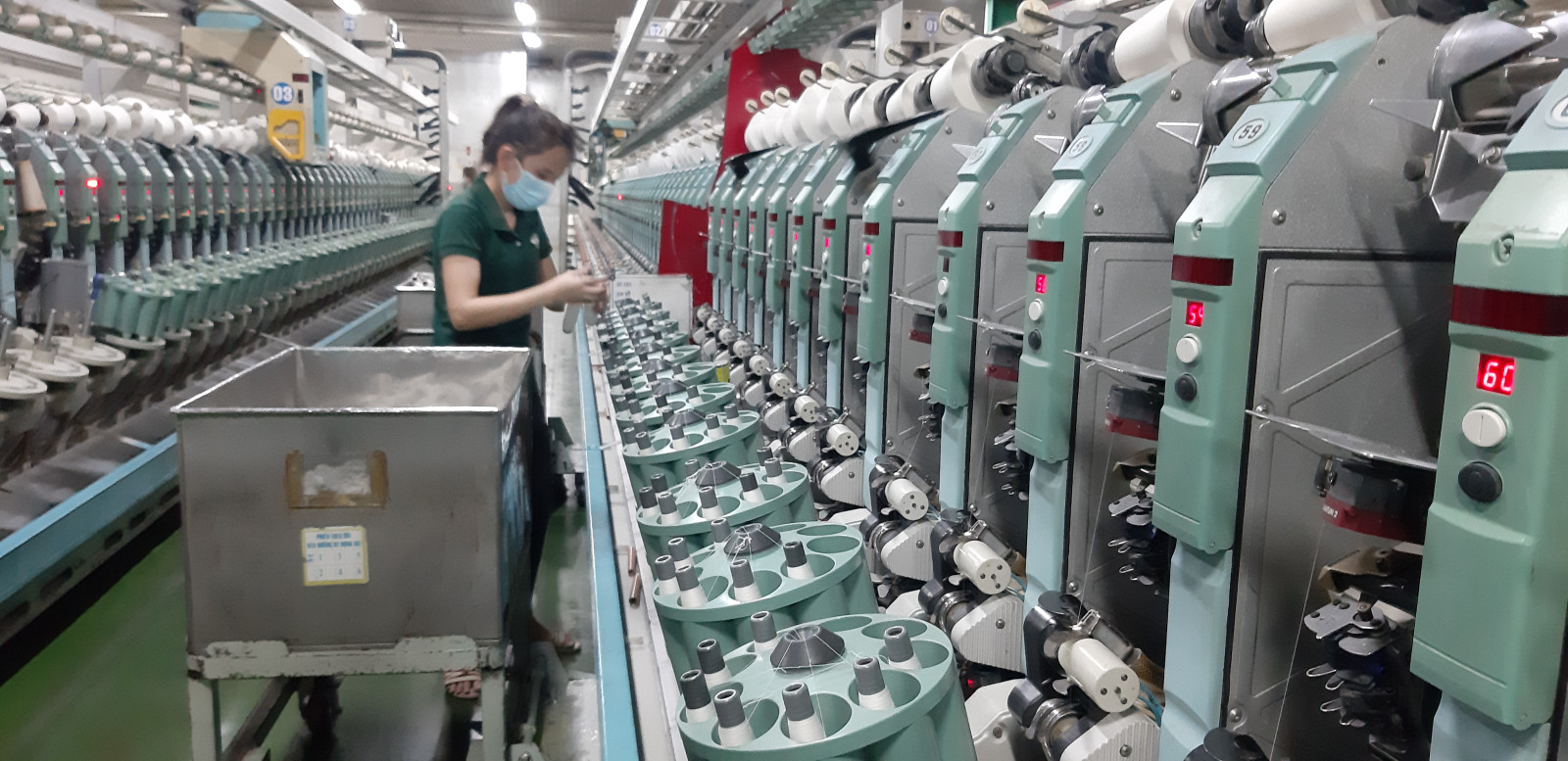 Good news for employees is that currently some enterprises in the textile garment industry are recruiting workers again.
Bringing labor from places of excess to places of shortage
To utilize the strength of Trade Union at all levels, especially grassroots Trade Unions, in the last month, Provincial Labor Confederation continuously updated and shared information about enterprises that have increasing recruitment demand. The Provincial Labor Confederation posted recruitment information, salary, and workers number of each enterprise.
Currently, there are about 38 enterprises in industrial parks of Ben Cat town, Tan Uyen town and Thuan An city that need to recruit a large number of workers, up to tens of thousands of workers. In which, there are some businesses that need to recruit from 500 to more than 1,000 workers, such as Panko ViNa Company (My Phuoc Industrial Park 1) needs 1,200 workers, Chun Xiang Rubber Plastic Co., Ltd (Viet Huong II Industrial Park) needs 700 workers, KVB Production and Export Co., Ltd (My Phuoc 3 Industrial Park) needs 500 workers...
Some companies in the leather footwear, wood processing, and garment industries are also recruiting worker, from a few dozen to a few hundred. Typically, Dai Hoa Co., Ltd (shoes manufacturing, Tan Uyen Town) is recruiting 200 employees, Kisoo ViNa Co., Ltd (specializing in export garment products, in An Phu ward, Thuan An city) is recruiting 248 employees...
Luu The Thuan, Head of Propagation Education Board of the Provincial Labor Confederation, said: "The Provincial Labor Confederation has been continuing to connect and bring workers from places of excess to places of shortage. In addition to posting jobs for businesses that need workers, the Provincial Labor Confederation will connect and support businesses, who are facing difficulties due to a lack of production orders, need to share labor resources.
In localities, the work of connecting labor resources in the area is being promoted, bringing high efficiency. Nguyen Van Nam, Head of Thuan An city Office of Labor - Invalids and Social Affairs, said: "Besides reviewing the labor force to do Tet-caring activities for workers, the office cooperates with the city's Labor Confederation to capture and regulate labor resources for enterprises, so that there is no excess of labor resource. Recently, Win Ning Company located in Thuan Giao ward had about 5,000 redundant workers (waiting for work), the city has connected and brought all these workers to work stably at Pungkook Saigon 2 Company. This connection work is focused by the city in the last days of the year."
Ensure employees have salary and Tet bonus
In addition to connecting labor sources, localities, especially where have businesses that are heavily affected, are boosting solutions to take care of workers at the end of the year, ensuring employees have Tet bonuses.
Tan Uyen Town currently has about 33 businesses severely affected by the lack of orders. Among these, 19 enterprises ceased operations and 14 enterprises suspended operations, affecting the employment of more than 10,000 workers.
In addition, many businesses cut working hours, operate sluggishly, wait for orders, give employees annual leave, and negotiate with employees to work 5 days a week. It is expected that some enterprises will give their employees an earlier and longer Tet holiday than last year.
Nguyen Hong Nguyen, Vice Chairman of People's Committee of Tan Uyen Town, said that the fact that many enterprises are facing difficulties in production, partly affects the salary and bonus regime at year end time as well as the income of employees.
Thereby, the town's People's Committee has actively, synchronously and timely implemented policies to support businesses and employees facing difficulties. The town also completed early policy packages to support rent money.
Thuan An city is one of the localities with the largest number of affected workers in the province, with about 28,000 workers having their labor contracts suspended or taking unpaid leave.
Accordingly, the city's administration regularly inspects, urges and reminds enterprises to strictly comply with regulations related to labor policies. In case of enterprises having difficulties, the city will support enterprises to settle employee benefits in accordance with the law.
Nguyen Thi Hien, Vice Chairwoman of Thuan An City People's Committee said: "The City People's Committee always care for employees. Thereby, the City People's Committee directs departments, agencies and mass organizations to propose plans to support employees.
Especially, in the period before Tet, employers must take measures to take care of and support employees by salary and bonus, help employees return home to celebrate Tet by bus, train, or give welfare gifts to employees.
By the solutions from the provincial to local levels, the labor and employment situation in the area is gradually being stabilized. Employees receive some good news when Tet care activities of trade unions and localities are being thoughtfully implemented and job connection is promoting effectively.
Reported by Quang Tam - Translated by Ngoc Huynh