On September 19, Nguyen Van Danh, Vice Chairman of Provincial People's Committee, received and Samsung Engineering Vietnam Company (SEVN)'s leadership team led by Hansu Kang, Chief Representative of the company's branch in Ho Chi Minh City, exploring Binh Duong for cooperation and investment opportunities.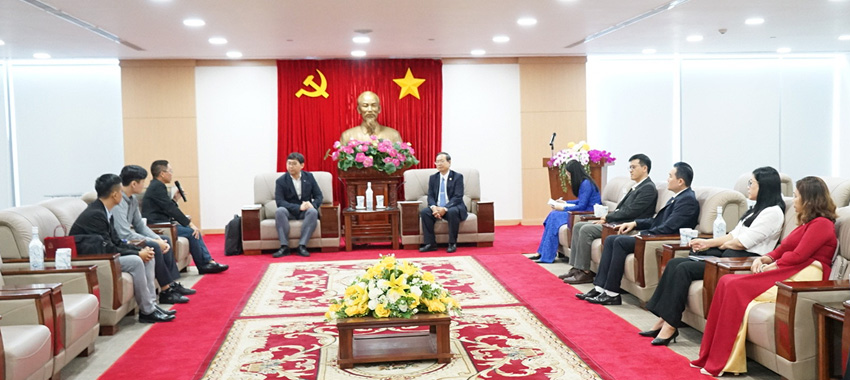 Nguyen Van Danh (right, top row) receives and works with the leadership team of Samsung Engineering Vietnam Co., Ltd.
At the meeting, Danh said that Republic of Korea (RoK) is currently ranked fifth among countries and territories investing in Binh Duong. Binh Duong is an industrially developing province, thus the issue of environmental protection is of great concern to provincial leaders, especially the goal of green growth and sustainable development. The province prioritizes investment in technology and environmental protection to implement the national Zero Carbon target program by 2050. Danh hopes that through the visit to Binh Duong, SEVN will invest in environmental treatment to accompany the province in achieving the goal of green growth and sustainable development.
Sharing at the meeting, leaders of Binh Duong Water - Environment Corporation (Biwase) and Provincial Wastewater Management Board hope that SEVN would invest in solid waste treatment in Binh Duong, including burning waste to generate electricity that Biwase is inviting investment in; and invest in wastewater collection and treatment projects in urban areas of the province.
Hansu Kang said that SEVN is a subsidiary of Samsung Engineering Company Limited (SECL) of Samsung Group. SECL has extensive experience and cooperation with many customers and partners operating in fields, like: engineering, construction, oil and gas, oil refining, petrochemicals, industry, biology, environment and wastewater treatment. SEVN wishes to bring its experience and technology to Vietnam to share solutions, advanced technology, investment potential and cooperation opportunities with localities through construction and operation investment projects, operate wastewater treatment plants under the public-private partnership (PPP) method.
Reported by Minh Duy - Translated by Ngoc Huynh