The end of the year is a time when employees' concern about salary payment and Tet bonuses is growing. To for employees not to worry anymore in the last months of the year, many businesses in the province together with Trade Unions at all levels have made plans to ensure salary, bonus and support policies to encourage employees.
To protect interests of employees
Since the beginning of this year, businesses in the province have made efforts to secure jobs and income for employees after the effects of the Covid-19 pandemic. However, in the last months of 2022, some enterprises faced difficulties in production business due to lack of orders.
This common difficulty has caused many employment contracts suspended or employees must take unpaid leave; others have reduced working hours, affecting the living standards of employees, especially when Tet is approaching.
In order to stabilize the labour situation before, during and after the Lunar New Year 2023, Labour Confederation at all levels in the province directed grassroots trade unions to actively grasp thoughts and expectations of employees, employment situation, and production of enterprises.
Grassroots trade unions must actively coordinate with competent agencies and business owners to grasp the situation of enterprises, who owe salaries, have social insurance and health insurance debts, to propose solutions to local authorities. Besides, trade unions also have to know the number of union members and employees facing difficulties due to the employer's salary debt, dissolution, bankruptcy, shutdown, etc. to report to the authorities for timely settlement.
The provincial Department of Labour - Invalids and Social Affairs has also coordinated with related branches to closely monitor labour relations at enterprises; provide timely support and guidance for businesses facing difficulties.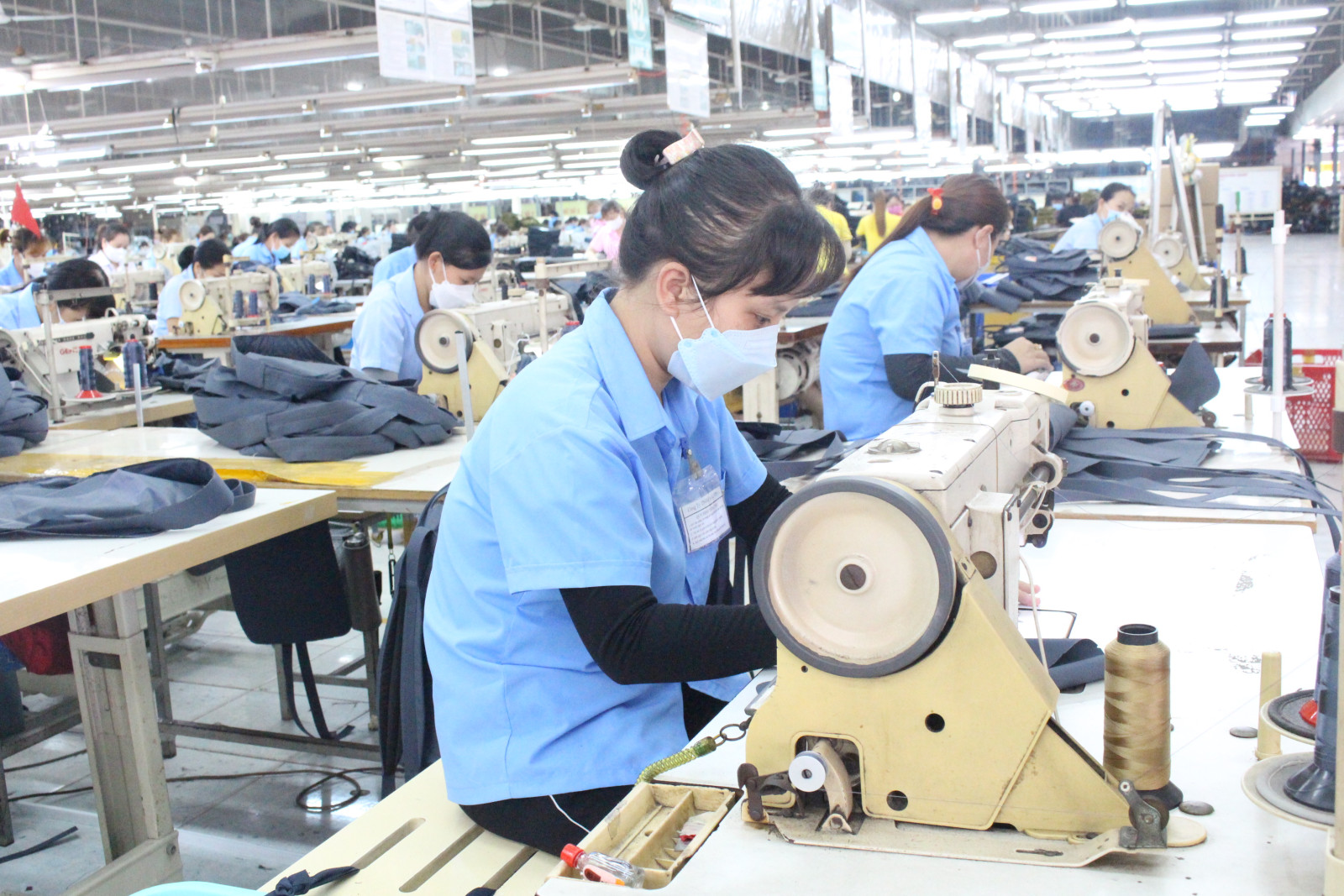 Employees at companies do not have to worry anymore as local authorities and trade union levels pay much attention to regimes and policies.
Meanwhile, grassroots trade unions together with employers develop plans to pay salaries, Tet bonuses and benefits; closely coordinate with functional agencies in inspecting and supervising the implementation of salaries and bonuses at enterprises, ensuring no strikes at the end of the year.
If problems arise, Trade Unions at all levels will hold dialogue meetings with business owners to resolve them satisfactorily. On the other hand, trade unions at all levels are preparing all conditions for union members and employees to celebrate Tet joyfully, healthily, safely and economically.
Tran Tuan Anh, Chairman of Bau Bang district Labour Confederation, said that currently labour relations in the district are relatively stable. Enterprises well maintain production and secure jobs for workers. Some wood enterprises in the district face difficulties in production business activities because there are no orders.
In the last months of the year, the district Labour Confederation has directed trade unions to coordinate with enterprises to pay attention to welfare and strictly implement policies as committed in the collective labour agreements.
More motivation for employees
Understanding the thoughts and aspirations of union members and employees during this time, trade unions at all levels in the province have implemented many new solutions to improve the quality and efficiency of operations, contributing to the care and protection of legitimate rights and interests of employees.
There are still about 2 months left until the 2023 Lunar New Year, but at this time, many businesses in the province together with Trade Unions at all levels have made timely plans to accompany, share difficulties, and motivate employees.
These days, thousands of employees of Common Shoes Co., Ltd (Thuan An City) are happy as the company announced the Tet bonus scheme. Accordingly, for the Lunar New Year 2023, this company will reward one-month basic salary plus position allowance for all employees in the company.
In addition to the 13th-month salary bonus for employees, the company and trade union also organize Tet care activities for employees like in previous years, such as: cultural art program, lucky draw receive gifts, visit and give gifts to workers having difficult circumstances...
Nguyen Minh Tien, Trade Union Chairman of Thong Dung Footwear Co., Ltd., said that the company secured orders to stabilize jobs for employees, especially in the last months of the year.
In addition to salary and Tet bonus, the company's trade union has also done a good job of visiting and supporting workers as company policies; mobilized employees in the company to donate and help many cases of serious diseases, particularly difficult circumstances.
Also at Remington International Co., Ltd. (Ben Cat Town) these days, the company's trade unions are also actively planning and advising Directors Board on Tet-caring activities for workers.
Nguyen Ngoc Hoan, Trade Union Chairman of the company, said: "Understanding the difficulties of employees in this period, the company's Trade Union advised Directors Board on two plans to take care of employees during Tet. Option 1, to offer 13th-month salary plus annual bonus and lucky money of 500,000 VND to each employee. Option 2, in addition to 13th-month salary and annual bonus, the Trade Union supports 200,000 VND/person, the company gives 300,000 VND/person to encourage employees".
Le Nguyen Thanh Binh, Chairman of Ben Cat Town Labour Confederation, said: "In the current conditions, Labour Confederation of Ben Cat Town has also proactively launched many practical activities to maximize all resources to take care of employees during the 2023 Lunar New Year.
In which, the town's Labour Confederation directs grassroots trade unions to organize buses bringing workers home to welcome the New Year thoughtfully and safely; carry out joyful, warm and affectionate activities to celebrate the spring and welcome Lunar New Year".
The activities to support and practically take care of workers' lives by the local government as well as Trade Unions have given more motivation to employees so that they do not have to worry anymore and work effectively. This will be a great motivation for employees to be confident, ready to accompany and share with businesses and localities in any situation.
According to the provincial Labour Confederation, the province currently has nearly 30,000 employees whose labour contracts are suspended and or must take unpaid leave. In order to share workers' difficulties, the provincial Labour Confederation directed all-level Trade unions to proactively coordinate with local authorities and mass organizations to propagate and mobilize lodging house owners to exempt, reduce and extend room rent for employees.
Reported by Hong Phuong - Translated by Ngoc Huynh