As of 2021, Binh Duong Fine Arts and Culture Junior College, formerly known as Thu Dau Mot Art School, is 120 years old. This is one of the three art schools established in the early twentieth century of the Southeast region. That long history has consolidated its reputation for professional training of traditional handicrafts of the province: lacquer, wood carving, sculpture...
Reputation of a school
Thu Dau Mot Art School was founded by the French in 1901. After many name changes, now it is Binh Duong Junior College for Fine Arts and Culture. Looking back on its 120-year-long history, the school went through five stages of development.
From its establishment to 1945, the school was managed by the French with the name Thu Dau Mot Native Fine Arts School. First, the school offered practice trainings of a variety of traditional crafts in wood art. The curriculum at that time was at elementary level, included trainings for craftsmen of carpentry, wood carving, conch carving, bronze casting, decoration... Most students of the school were adults, and the cultural level required was finish of 3rd grade of French - Vietnamese. The French selected students who were gifted with traditional handicrafts.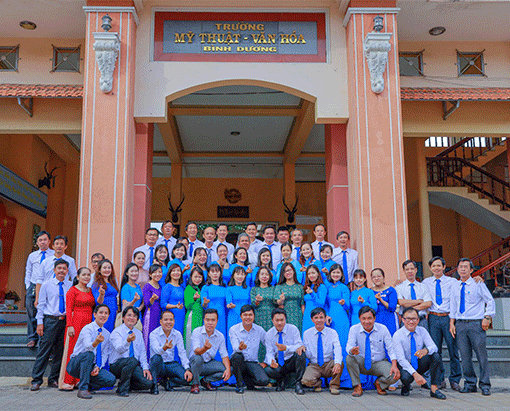 Officials and teachers of Binh Duong Fine Arts and Culture Junior College keep promoting the school's 120-year tradition.
From 1914-1932, training programs were upgraded to secondary level. The content, objectives of programs, and student enrollment were entirely undertaken by the French. Students of Thu Dau Mot Art School were mainly poor, gifted students who were selected through an entrance exam held in Thu Dau Mot and neighboring provinces. Teachers and managers were mainly French and a few were artists and painters graduated from Indochina Fine Arts School.
In the 1945-1975 period, the school no longer trained professions of woodworking, conch and bronze casting. Due to national historical characteristics, during this period, some students of the school participated in the revolution, some died, some became members of the Party. Some other students became talented artists and painters, achieved high degrees in foreign countries or became art dealers.
After the South was completely liberated and the nation was reunified in 1975, the school was renamed Song Be Industrial Fine Arts High School. Since 2000, the school was renamed Binh Duong Technical High School; 2007 was Binh Duong Fine Arts High School. The school provided intermediate trainings of wood design, decorative lacquer, decorative sculpture, industrial and commercial graphics, and industrial techniques. In 2004, the school opened a fashion design faculty to meet the demand at that time.
In 2012, the school was renamed Binh Duong Fine Arts and Culture Junior College. During this time, the school added two more majors: cultural and vocal management.
The cradle of art
At Southeast Fine Arts conference held recently, Associate Professor - Doctor Nguyễn Văn Hiệp, Council Chairman of Thu Dau Mot University, said that Thu Dau Mot was chosen to open an art school because this place is not only rich in raw materials, has a long-standing handicraft industry, but also is a place, where a large number of skilled and best artisans gathered in the South. "Thu Dau Mot Native Fine Art School was born as a predestined relationship to activate handicrafts in Thu Dau Mot; human resources involved in learning and production increased over time; traditional craft villages had opportunities to meet elite crafts at home and abroad, fine art products reached out all over the world, were selected by the French for displaying in exhibitions of Indochine handicrafts in Paris, Marsseille," said Dr. Nguyễn.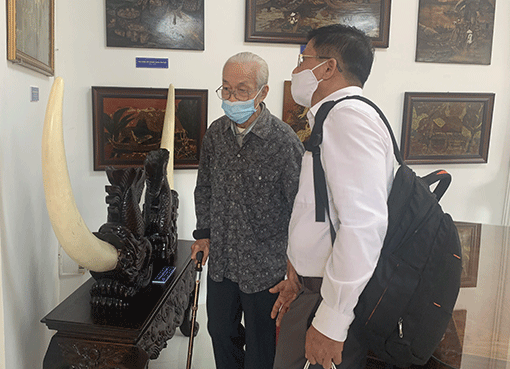 People who are active in fine arts industry visit Binh Duong Fine Arts and Culture Junior College.
Since its establishment, the school has had influences on artistic life of Thu Dau Mot people in particular and the Southeast region in general. From this school, many village teachers in Thu Dau Mot, although are not specialized in fine arts, were well-versed in basic knowledge to pass on to their students. Many students, despite their short study time, knew how to flexibly apply fine arts into life.
Doctor - Painter Trang Phượng, former director of Vietnam Academy of Fine Arts, who also graduated from this school, acknowledged that the establishment of Thu Dau Mot Fine Art School as a fine art intermediate school but at that time was a major turning point of the country's fine arts. Vietnam inherently has folk art tradition containing cultural identities of each locality. Particularly, in Binh Duong, Thu Dau Mot Practical Fine Arts School has been the first school to introduce training methods of Western scholarly art. This implies the stature of this school and worth respect and praise.
Reported by Hong Thai - Translated by Ngoc Huynh