On October 21, provincial delegation, led by Nguyen Van Loi, member of the Party Central Committee, Secretary of provincial Party Committee, Head of provincial National Assembly Deputy Delegation, Head of provincial Steering Committee for Covid-19 Prevention and Control, had a survey and heard a number of localities reporting on preparing facilities, equipment, human resources ... for their Covid-19 treatment areas. Joining the delegation was Assoc. Prof. - Dr. Nguyen Lan Hieu, Director of Hanoi Medical University Hospital, Director of provincial Emergency Resuscitation Field Hospital.
Be proactive in material facilities
At Thu Dau Mot park, leaders of Thu Dau Mot city said that in order to be proactive in Covid-19 prevention and control, the city has set up a plan to use the park as a Covid-19 isolation and treatment area in line with the local real situation while forecasting the local pandemic situation.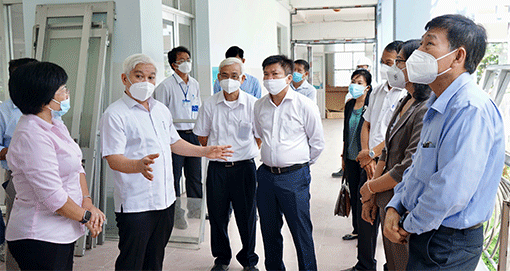 Nguyen Van Loi (second left), member of the Party Central Committee, Secretary of provincial Party Committee, Head of provincial National Assembly Deputy Delegation, Head of provincial Steering Committee for Covid-19 Prevention and Control visits An Phu General Clinic's Covid-19 treatment area in Thuan An city
According to the plan, the city has requisitioned existing facilities at the park as a Covid-19 treatment area on the first floor with 700 beds and the second floor with 200 beds. In the next phase, the Covid-19 treatment area at Thu Dau Mot Park will have a scale of 900 beds, operating in the "3-storey tower" model under the guidance of the Ministry of Health in the next phase after provincial No. 5 field hospital is dissolved.
In Thuan An city, the delegation was informed by local leaders over the past few days that the city is urgently renovating An Phu General Clinic into a Covid-19 treatment area with 300 beds. In addition, this area is also capable of supporting neighboring localities such as Di An city and Tan Uyen town. Meanwhile, leader of Di An city also said that the locality is implementing a plan to improve An Binh General Clinic with 150 beds. It is expected that after about 3 weeks of improvement, the treatment area will meet requirements of treatment for patients on the 1st and 2nd floors with a central oxygen system connected to hospital beds.
At the meeting with localities, the delegation agreed with their preparations and said that in the near future the province will establish a specialty to treat patients with Covid-19 which is considered as an infectious disease. The local medical centers will no longer receive and treat Covid-19 patients. This task will be assigned to Covid-19 treatment areas that are currently being formed. They will be also flexible to coordinate with mobile medical stations in localities to handle pandemic outbreaks.
Developing regional healthcare center
Working with Eastern International University on training medical personnel at the school, the delegation was reported by Nguyen Tan Loi, CEO of the school that since 2019, the school has implemented its medical training project. However, the school's expansion for this training has faced many difficulties, due to the impact of the pandemic. The school is promoting cooperation with hospitals and universities in the country, combining with hospitals in countries such as Thailand, Singapore, Korea... Currently, the school's training work is facing difficulties, due to the lack of lecturers in according with the regulations of the Ministry of Education and Training. Up to now, the school only has a nursing faculty, but has not yet reached enough conditions to establish a medical faculty…
Assoc. Prof. - Dr. Nguyen Lan Hieu said that Binh Duong's choice of medical training with the goal of turning the province into a regional healthcare center is a right direction. With available conditions, the province can completely do this. In terms of medical training, according to him, the province needs to divide into two short and medium-term milestones; in which, the short term is to organize a course on improving the quality of medical staff and doctors and the quality of hospitals, including provincial General Hospital, Becamex International Hospital, aiming to not let serious patients have to transfer to hospitals in HCM city.
Speaking at the meeting, Mr. Loi said that this is an important moment for Binh Duong in transition in order to further perform treatment for Covid-19 patients under the "4 on-site" model. It is necessary for the province to train medical staff for treatment of Covid-19 patients. The establishment of a medical faculty under the Eastern International University is necessary. It will join hands with the local medical college to supplement medical staff and doctors for mobile medical stations to serve treatment for Covid-19 patients in particular and improve the quality of public healthcare in general.
Provincial Party Committee Secretary said that provincial Party Standing Committee had agreed on the roadmap for recruitment and training of personnel to serve public healthcare. In the coming time, along with to its policy of developing infrastructure facilities, industrial manufacture, urban services and smart city, the province will develop into a healthcare center of the whole region together with regional-level specialized research projects. Certainly, the province's policy of calling for investment in this field will be responded by enterprises.
Mr.Loi said the province has focused on upgrading medical facilities to convert their functions into treatment areas for Covid-19 patients, combined with mobile medical stations to form up medical teams with full medical staff and specialized medical equipment in order to treat and take good care of Covid-19 patients. With experience in treatment and care for Covid-19 patients over the past time, along with treatment regimens with positive results, the province's treatment areas will ensure full capacity for good treatment for patients on the 1st + floor and even those on the 2nd and 2nd+ floors in the coming time.
Reported by Minh Duy-Translated by Kim Tin