In the socio-economic development process of Binh Duong, the improvement of infrastructure, especially transport and urban infrastructure, has made important contributions, creating a breakthrough of strategic importance, creating a prosperous future for the province.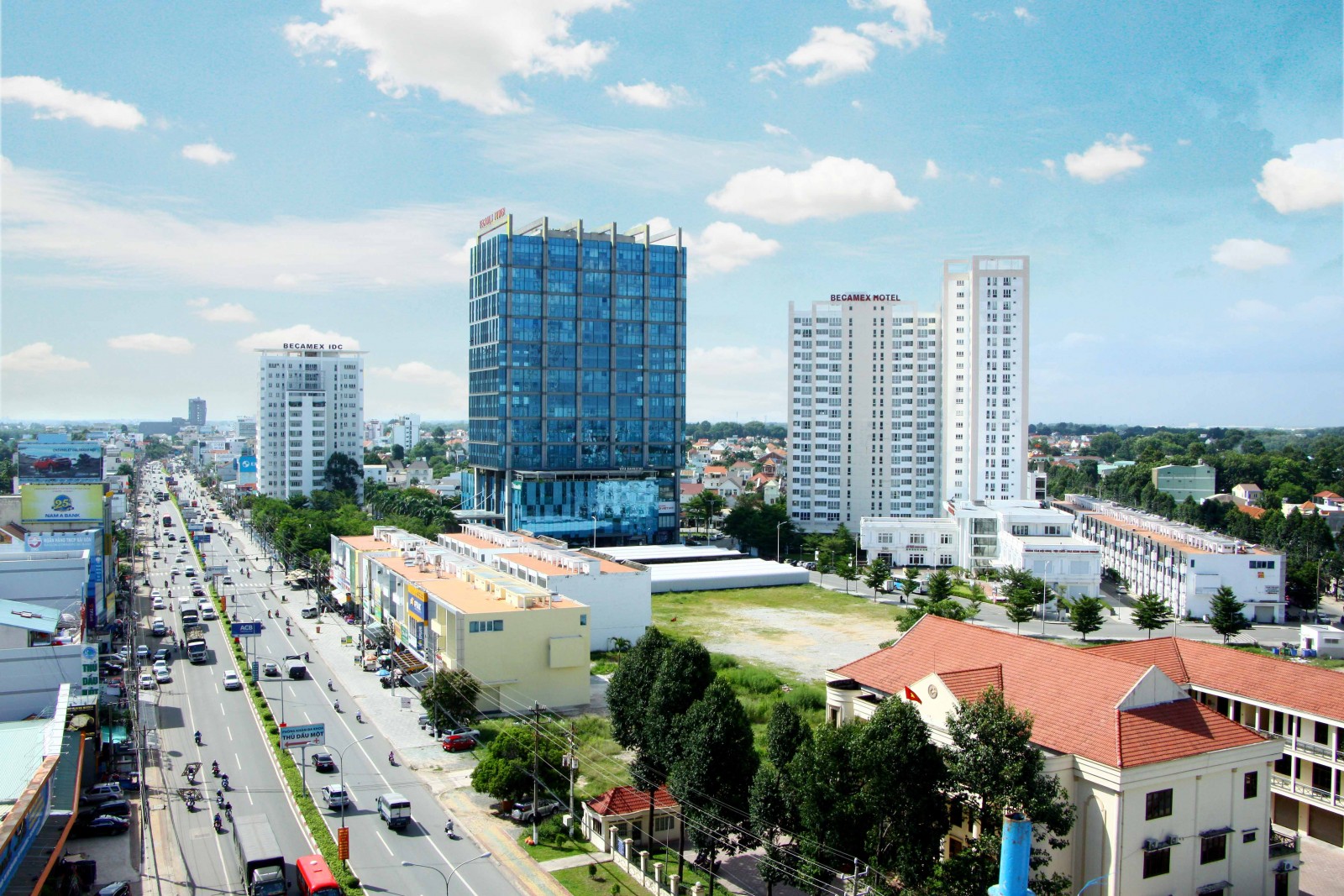 Traffic and urban infrastructure of Binh Duong has developed strongly in recent years. In photo: Highway 13, the section passing through Thu Dau Mot City.
Breakthrough in infrastructure
With the vision "Infrastructure development must go first and take the lead", over the past 20 years, Binh Duong has carried out many construction projects to create breakthroughs and improve socio-economic efficiency, while contributing to convenient regional connectivity. Provincial leaders over the years have applied flexibility and creativity, pioneering spirit in transport system investment to connect with neighboring localities, mobilizing and effectively using BOT and BT capital. Binh Duong advocates investing and upgrading transport infrastructure to create an attractive investment environment; has created breakthrough roads as leverage, such as My Phuoc - Tan Van, North Tan Uyen - Phu Giao - Bau Bang; main roads of East - West, North and South 3; upgrading and renovating National Highway 13, DT743…
Up to now, transport infrastructure has become a driving force, plays a very important role in stimulating the industrial development of the province. The development of transportation, the formation of industrial parks contribute to attracting investment and a strong economic transition in the province. Apart from National Highway 13, My Phuoc - Tan Van Highway also helps to the formation and effective implementation of provincial policy to bringing industrial production to northern districts of the province.
This route is considered as a lifeline traffic axis, both a breakthrough and a strategic first step in the development of transport infrastructure and socio-economic development in the province, especially to attract investment in the direction of industrialization, modernization and urbanization. In 2015, this highway was opened to public traffic within phase 1 (with 6 lanes, 26km long), has proved its efficiency in accordance with its investment objectives, contributing to reducing traffic pressure of National Highway 13, reducing the cost and time of transporting goods from industrial zones to warehouses, ports in Ho Chi Minh City, Dong Nai...
In the coming time, when this route is opened completely to traffic, the transportation of goods from industrial zones of Bau Bang district, Ben Cat town, Thu Dau Mot city, Thuan An city, Di An city to warehouses, ports, Long Thanh airport will be much more convenient. According to assessment, My Phuoc - Tan Van highway is able to helps businesses reduce transportation costs by 30% compared to National Highway 13. In the development strategy 2020-2025 period, infrastructure is the top priority, helps the province maintain and exploit its internal resources, create a basis for the province's economic development.
To build up smart city
Along with the Industry 4.0, modern infrastructure and dynamic development is the foundation for the smart city project born in 2016, creating a breakthrough in comprehensive development, both technological and non-technological areas. The project has contributed to the realization of 4 breakthrough programs of Provincial Party Committee 2016-2020 term. From innovation programs, Binh Duong achieved some very impressive , such as the number of enterprises in the province from the beginning of 2016 to 2020 significantly increased not only in quantity but also in quality; international cooperation increased dramatically; infrastructures were improved, especially transport infrastructure. The province now has 3 cities: Thu Dau Mot City meets criteria of class-1 city; Thuan An City and Di An City basically meet criteria of class-2 city; urbanization rate reaches 82%.
Regarding social security, Binh Duong is also one of the first localities in the country to build social housing for low-income people, and is the only locality that has eradicated all poor households so far. The province also built many green parks, contributing to creating a green and clean living environment to meet the new demand of people and businesses. The clear and correct orientation of the smart city strategy has facilitated a breakthrough in socio-economic growth, improved the province's competitiveness in attracting foreign investment, brand positioning in the international arena.
Namely, Binh Duong hosted consecutive global events on economic cooperation, science and technology, innovation and smart cities, such as ICF Smart21 Conference, World Technopolis Association WTA Summit, Asia Horasis Meeting… For two consecutive years 2018 and 2019, Binh Duong smart region was honored by ICF as one of 21 areas with model smart city development strategies of the world, the only locality in Vietnam was honored by ICF for the third consecutive time. This proved the development direction of Binh Duong smart city is and in line with the world trend. In particular, the province has a plan to build the World Trade Center Binh Duong New City - a complex in the heart of the new city, creating a highlight for the provincial commercial service economy.
With the current potential and capacity, especially important results achieved in the implementation of the Smart City Construction Project, the province has taken a step forward, which is to build Binh Duong Innovation Region. Scientific technological industrial park in Bau Bang district is evaluated by experts as a breakthrough in industrial production, a fundamental infrastructure for the formation of a creative innovation ecosystem, investment attraction with high added values, creating a basis for the province's hi-tech manufacture.
Dr. Nguyễn Việt Long, Acting Director of provincia Department of Science and Technology, Director of Binh Duong Smart City Office, said: "With the Triple Helix model, in which people and knowledge are the center, cooperation and connectivity are the motto to promote innovation and creativity, the Binh Duong Smart City project has strongly contributed to the outstanding development of Binh Duong, built up the first foundation, heightened the province to a new position in the international arena, prepared for the next phase 2021-2025, with a vision towards 2045".
It is believed that these accomplishments would be the foundation, create breakthroughs for Binh Duong to successfully realize the aspiration to become a smart city, elevate Binh Duong brand name in the international arena; increase the value of high-quality services to meet demands and improve the people's living standards.
Nguyễn Hoàng Thao, Deputy Secretary of Provincial Party Committee, Chairman of Provincial People's Committee: The systematization of major projects in the province, such as smart city, innovation region, World Trade Center in Binh Duong New City, shows the transformation and robust development of the province in the new period.
Mai Hùng Dũng, Permanent Vice Chairman of Provincial People's Committee: For the innovation of growth model and economic restructuring, Binh Duong continues to develop the construction of infrastructure, especially traffic infrastructure, multimodal transport infrastructure combining various modes of transport. In the transport infrastructure system, the province is very interested in connecting many regions in order to help economy continue to develop stronger. In addition, research on logistics options, transportation options under advanced management is also a goal of Binh Duong in order to transport goods at the lowest cost. That is also the driving force for Binh Duong to develop further in the future.
Assoc. Prof. Dr. Trần Đình Thiên, former Director of Vietnam Institute of Economics: Binh Duong has good technical infrastructure that is well-invested and modern, showing the vision of provincial leaders. Over the years, Binh Duong has attracted many resources from different sectors to invest in the development of transport infrastructure, creating regional connectivity.
Reported by Phuong Le - Translated by Ngoc Huynh