Vietnamese music in general and Binh Duong music in particular have many composers with songs that bear the imprint of the times. Currently, all nine districts, towns and cities in the province have used songs of Binh Duong musicians to serve local political tasks and partly meet the need for culture and art enjoyment of officials and people in the province.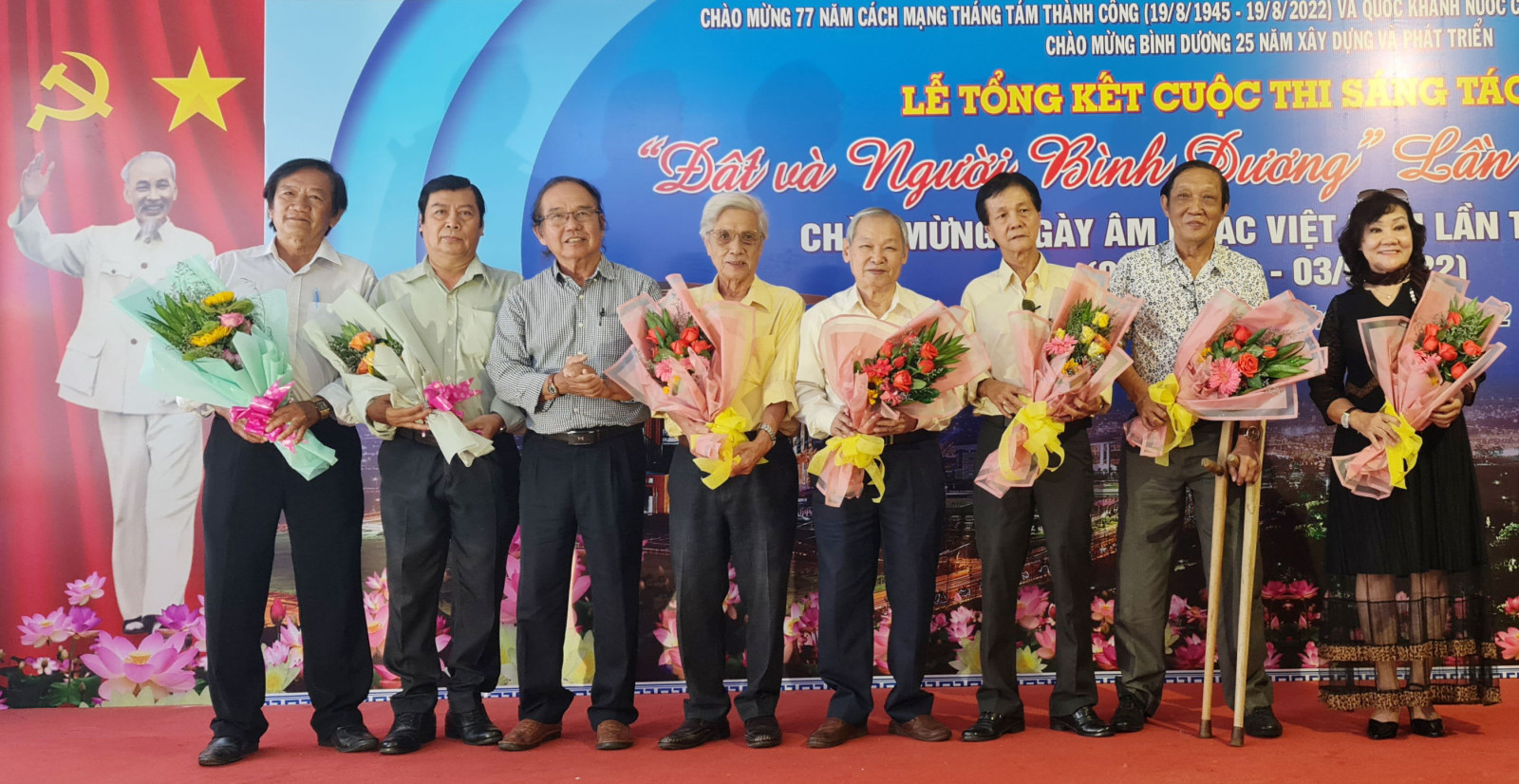 Members of Binh Duong Musicians' Club receive flowers on occasion of Vietnam Music Day celebration.
Proud of Binh Duong music
During the anti-French period, Binh Duong had songwriter Le Tran, then in the anti-American time, Binh Duong boasted about Lu Nhat Vu and Thanh Son musicians. After 30th April 1975, music activities were widely developed throughout the country in general and Binh Duong in particular (at that time it was still Song Be).
After Song Be Radio was established, literary and artistic activities in the province, especially music activities, rapidly developed. At that time, not only musician Nguyen Be Sau, Giap Van Thach had famous songs, but also a series of young musicians began to appear, such as: Nguyen Van Trang, Phan Huu Ly, Do Thanh Huan, Vo Dong Dien, Le Trung Hieu, Dang Quang Vinh, Do Huu Xuan...
In 2000, Binh Duong Musicians' Club was established, including musicians who are dedicated themselves to music activities in Binh Duong. This was a place for Binh Duong songwriters to exchange, learn experience in writing, composing music, and develop a young musician team. Through visits and training classes, the club released many songs written about the land and people of Binh Duong, bringing to the public and Binh Duong music lovers many valuable and meaningful songs about Binh Duong.
On Vietnam Music Day 2022, Binh Duong musicians looked back at music achievements of the province, assessed and recognized limitations and weaknesses, thereby, encouraging each other to promote the traditional and revolutionary values of Vietnamese music, striving to have many excellent and meaningful musical activities, contributing to a rich and healthy spiritual life for the people.
Focus on aesthetics and orientation
Although many outstanding results have been achieved, the music picture of Vietnam in general and Binh Duong in particular is currently quite messy and contains some problems need to be solved. With its own characteristics, music is a field where anyone, from professional to amateur, can always make a try. However, one thing worries many people is that although numerous new compositions have been born, very few works stay in the hearts of the public and are recorded in the history of Vietnamese music. Teenager and children's songs also rarely have good works. Many years have passed, but today children's music stages still belong to songs that are up to half a century old. The absence of good songs for children is an unease of all people who work in this musical profession.
Musician Pham Dac Hien, Chairman of Binh Duong Provincial Association of Culture and Arts, said that during the renovation period, Vietnamese culture and music were strongly influenced by the market economy. Recognizing the current state of music life so that we can come up with more good plans and solutions, thereby creating good conditions for music industry of the province to develop in accordance with the guidelines and orientations of the Party and the State, fulfill its role, and uphold the traditional and revolutionary values of Vietnamese music, perform well its aesthetic, creative, orientating functions.
Sharing the results of Binh Duong's music, musician Pham Dac Hien said that in 2022, the Provincial Association of Literature and Arts hosted a music writing camp in Phu Quoc (Kien Giang); took part in a music composition camp organized by the Vietnam Musicians' Association in Ba Ria - Vung Tau province; held a program to introduce musician Nguyen Hong. In addition, the Provincial Association of Culture and Arts collaborated with Binh Duong Radio and Television Station to produce two television programs and four radio programs to celebrate local holidays and events, and release a song collection named "Going to Binh Duong" to celebrate 25 years of Binh Duong's construction and development...
Reported by Minh Hieu - Translated by Ngoc Huynh