As visiting provincial infrastructure and projects that have been implemented in Binh Duong new city recently, Wong Kan Seng, Chairman of CapitaLand Group, former Deputy Prime Minister of Singapore, shared that the new city will become "beautiful house" of Binh Duong. He also affirmed that the shift in the global supply chain is moving to countries with stable political situation like Vietnam, which is creating advantages for localities, including Binh Duong, in attracting investment projects that bring high value in the future.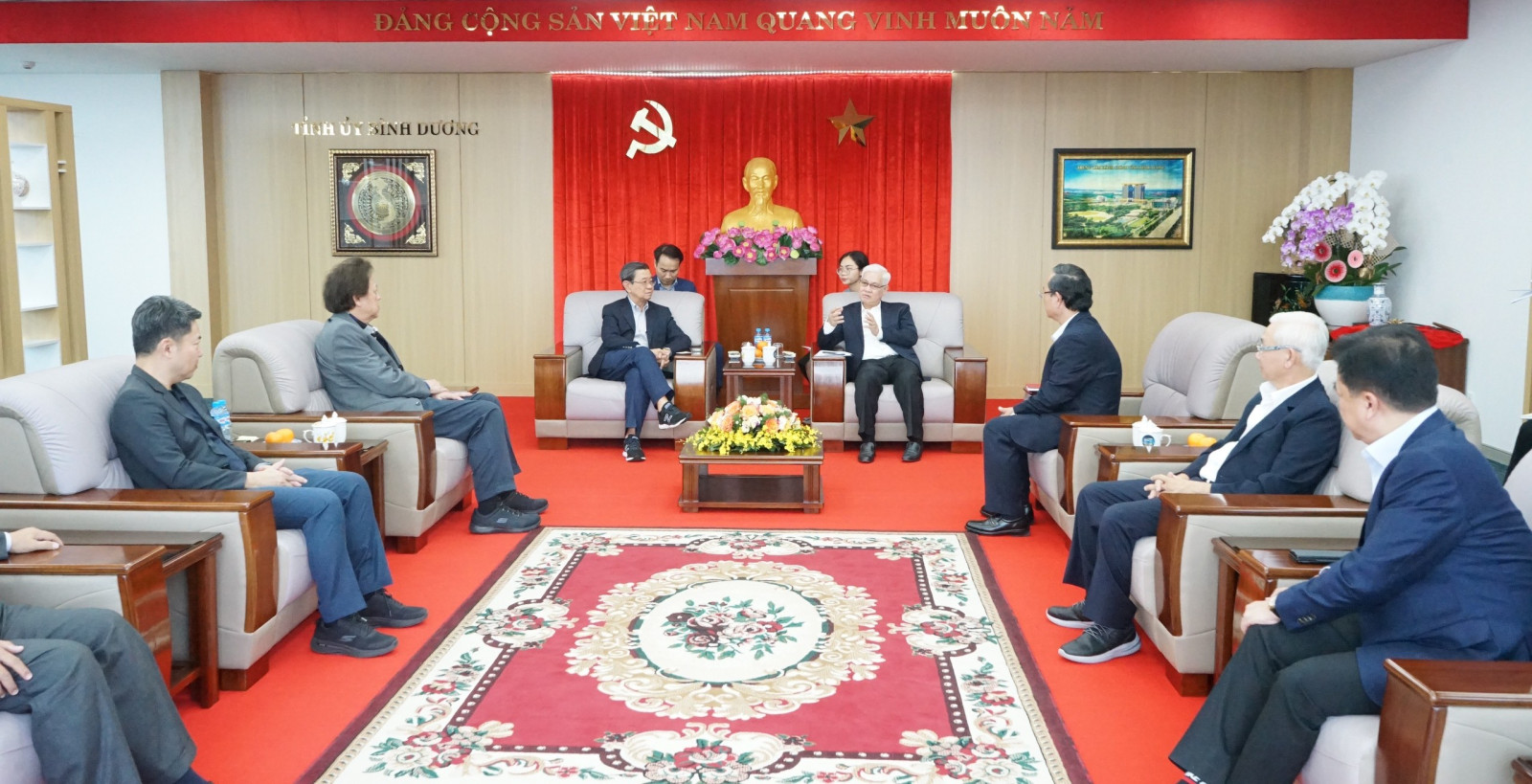 Secretary of Binh Duong Provincial Party Committee Nguyen Van Loi (right) receives Wong Kang Seng, Chairman of CapitaLand Group, former Deputy Prime Minister of the Republic of Singapore, to visit and learn about the investment environment in Binh Duong.
Attractive to investors
Nguyen Van Loi, Member of the Party Central Committee, Secretary of Provincial Party Committee, Head of Provincial Delegation of the National Assembly, has had a meeting with the delegation of CapitaLand Development Group (Singapore) led by Wong Kan Seng, Chairman of CapitaLand Group. This visit was right after CapitaLand Development Group (Singapore) signed a cooperation agreement with Becamex IDC on the Binh Duong smart city development project with an investment capital of more than 500 million USD by the end of 2022.
At the meeting, Wong Kan Seng, said that through visiting and surveying Binh Duong new city, transport infrastructure is synchronously invested, along with projects that have been and is being implemented; these show that in the future, this would become a "beautiful house" of Binh Duong. "We invest in projects here with a desire to join hands together. Currently, the shift in the global supply chain has been taking place very clearly, the trend of businesses and investors is to find countries with stable economic and political economy, thus this is creating great opportunities for Vietnam in general and for Binh Duong province in particular," emphasized Wong Kan Seng.
Previously, on March 10, the province welcomed a delegation of 30 Singaporean enterprises to explore investment and trade cooperation opportunities in Binh Duong. This is a positive signal, which shows that the province continues to become a trustworthy address of businesses and investors and have high expectations for in a strategic cooperation relationship for mutual development.
It is known that in the field of investment, Singapore is the second largest investor among 141 countries and territories investing in Vietnam, with more than 3,000 projects and a total investment capital of 70 billion USD. Particularly in Binh Duong province, Singapore is currently ranked 3rd among 65 countries and territories with 277 projects with a total investment capital of more than 5.4 billion USD. CapitaLand's project invested in Binh Duong with more than half a billion USD, is considered one of the projects with high FDI capital in the province. The project contributes to tightening the investment cooperation relationship between Binh Duong and Singaporean partners.
To create all favorable conditions
Sharing about orientations in the socio-economic development planning of the province, Nguyen Van Loi said that in the next 10 years, in order to serve the development needs, the province needs to increase from 7,000 to 10,000 hectares of real estate. Similarly, urban development space of the province also needs the above-mentioned area for the development orientation of public transport system (TOD) as the basis for urban development planning, taking the traffic hub as a population gathering point to form a distributed transport system. "Many road traffic and key projects are being accelerated by the Vietnamese Government and localities to create a stronger driving force for the Southern Key Economic Region, such as Ring Road 3 and Ring Road 4, the Ho Chi Minh City - Chon Thanh expressway passing through Binh Duong…", said Nguyen Van Loi.
According to Nguyen Van Loi, the policy of restoring railway routes, especially the Trans-Asian railway, the urban railway connecting Binh Duong - Ho Chi Minh City, will create a driving force for development connection between the two localities. In addition to developing a smart city, becoming an "Innovation and Entrepreneurship Zone", the province's ambition is to become an important education and medical center. The province is developing a plan to submit to the Government, e.i. after 2030, about 5 million people will live, study and work in Binh Duong. The Provincial Party Secretary believes that the cooperation between CapitaLand and Becamex IDC in the near future will contribute to the development and planning of the province; he said that the province will create conditions for CapitaLand Group to start the project in Binh Duong as soon as possible.
In recent years, Binh Duong has actively cooperated with foreign partners to develop and implement the project of smart city and Binh Duong Innovation Zone, including Binh Duong scientific and technological industrial park with the vision to become the Innovation Center of the Southern Key Economic Region. Binh Duong was the first locality in Vietnam to officially become a member of the World Intelligence Community Forum (ICF). Continuously in five years 2019-2023, Binh Duong was honored by ICF as one of 21 cities with typical smart city development strategies of the world - SMART 21. In particular, Binh Duong province was honored by the ICF Forum to be in the Top 7, as one of the 7 communities with typical smart development strategies in the world for two consecutive years in 2021 and 2022.
Reported by Minh Duy - Translated by Ngoc Huynh