According to Provincial Department of Health, the infection case number of dengue fever, hand-foot-mouth disease is forecasted to continue increasing in the coming time, which can develop into widespread outbreaks. Meanwhile, the subvariants of Omicron have entered our country, are potentially spreading rapidly; if there are no preventive measures, the epidemic will flare up again.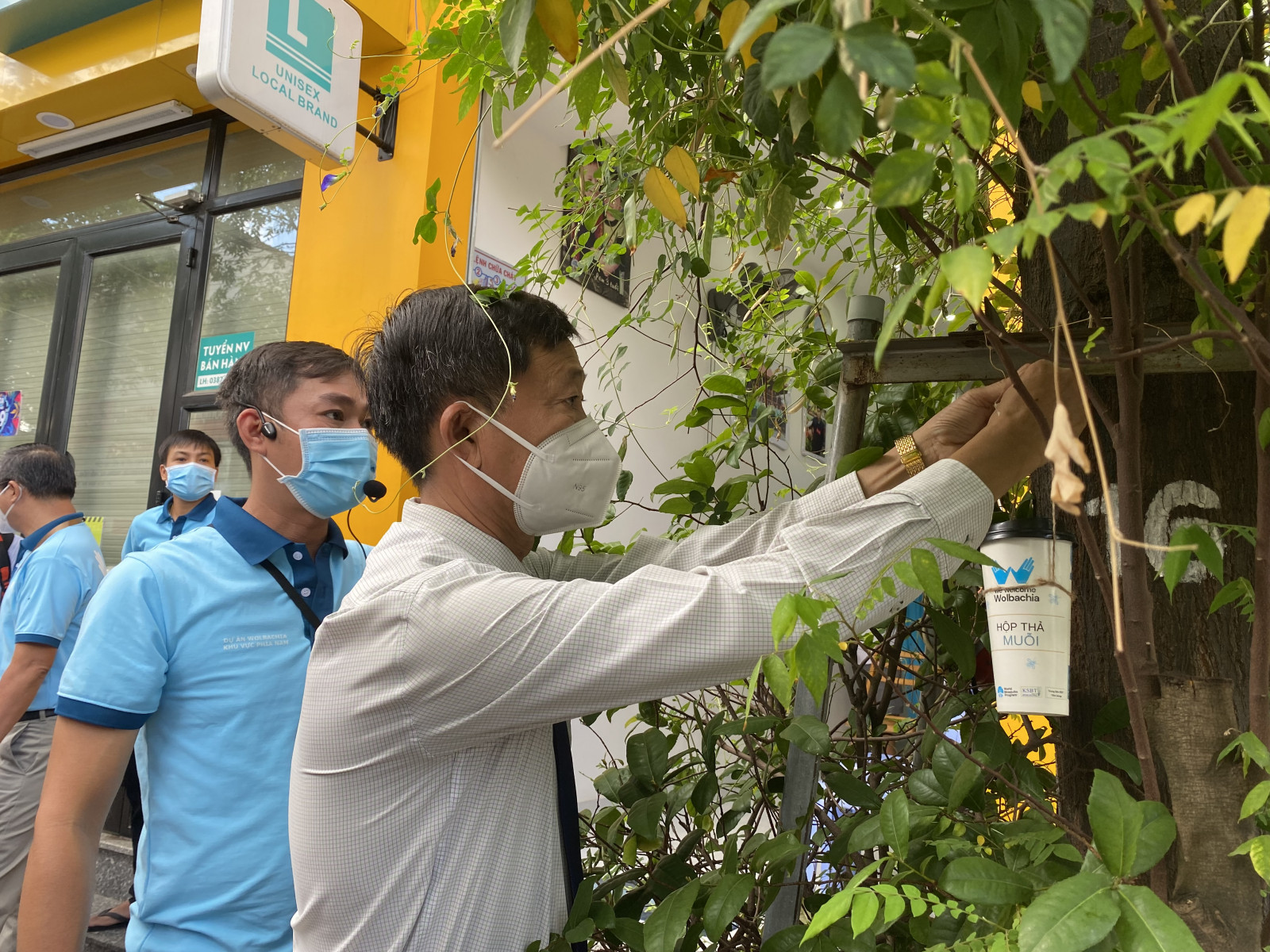 The provincial medical branch releases mosquitoes carrying Wolbachia bacteria to prevent and combat dengue fever.
Seasonal epidemics and covid-19 continue to rise
Currently, it is the peak of dengue fever, hand-foot-mouth disease, as the number of infection cases keeps increasing. Statistics show that over the first 7 months of 2022, the province had more than 7,200 cases of dengue fever, an increase of more than 44% compared to the same period in 2021, including 10 deaths. Two recent deaths were found in Thu Dau Mot city and North Tan Uyen district. The dengue fever cases concentrated mainly in some districts, towns and cities (more than 1,000 cases), such as: Tan Uyen town, Di An city, Thuan An city. In addition, other localities also recorded from more than 100 cases to 900 cases.
In particular, the number of infected children under 15 increased with over 2,600 cases, an increase of more than 33% over the same period in 2021, and 7 deaths of children under 15 years old. Out of a total of more than 7,200 cases of dengue fever, there were 252 severe cases, of which 155 were children under 15. As of July 14, the province had detected 1,289 outbreak locations, an increase of 398 over the same period in 2021, of which 744 locations had mosquito larvae disposal and 545 locations were disinfected with chemicals. It is worth mentioning that the pathogen in the province is circulating extensively with the dominant strain of D-2 virus, which is believed to be a more virulent strain, causing the number of severe cases and deaths to increase. Due to this growth, medical authority forecasts that in the coming time, the new case number of dengue fever would continue to increase and could break out on a large scale, if there are no measures drastically implemented to prevent and combat the epidemic.
Dr. Nguyen Hong Chuong, Director of Provincial Department of Health, said: "The provincial medical branch has conducted a campaign of total environmental hygiene, focused on hot spots; intensified information and communication, closely monitor hamlets and neighborhoods to assess the situation and developments of the epidemic in order to make timely interventions. A great difficulty of Binh Duong when implementing dengue fever prevention control measures is the lack of medical staff at grassroots level. After the Covid-19 pandemic, a large number of grassroots medical workers quitted their jobs, causing many difficulties to dengue fever prevention and control activities in the community."
While the dengue fever epidemic has been growing in the province, sub-variants of Omicron has entered our country, potentially spreading rapidly and causing the disease to increase again. Associate Professor, Dr. Nguyen Lan Hieu, Director of Hanoi Medical University Hospital, Director of Provincial General Hospital, warned that the risk of overlapping epidemics, Covid-19 and dengue fever, is increasing.
Some people are now neglecting disease prevention combat measures, especially dengue fever, do not destroy mosquito larvae, clean their house. In addition, some people subjectively believe that the pandemic is over so they do not get vaccinated against Covid-19.
To enhance disease prevention and control
Due to seasonal epidemics and the increasing number of Covid-19 cases, the Provincial Party Committee has issued Document No. 842-CV/TU on strengthening disease prevention and control in the province; emphasizing measures to prevent combat diseases, prevent overlapping epidemics. The Provincial Party Standing Committee demanded Party committees and organizations to strengthen leadership and direct the implementation of four key contents of epidemic prevention and control. People need to maintain environmental hygiene, personal hygiene, wash their hands regularly with soap... These actions must be integrated with emulation movements of building cultural families, building new rural areas, urban civilization.
The Department of Health, the Department of Information and Communications need to coordinate with People's Committees of districts, towns and cities to propagating tasks of the population. Medical branch needs to drastically perform professional activities to prevent and combat epidemics of dengue fever, hand-foot-mouth, measles, whooping cough, such as: to launch campaigns to eradicate larvae, dispose of waste items containing water; medical treatment establishments need to carry out the sample collection, classification of treatment, prevention of cross-infection in hospitals, strengthen the capacity of diagnosis and treatment, minimize deaths. Along with seasonal diseases, units and localities have to implement synchronously and effectively the Covid-19 prevention and control programs; speed up the progress of the fourth-shot vaccination against Covid-19; continue to review, update and adjust preventive control measures.
The issued Document also states that heads of agencies and units are responsible for shortages of drugs, shortages of chemicals and medical supplies for medical examination, treatment and disease prevention control. Heads of localities and units must improve sense of responsibility, not underestimate and neglect the risk of epidemics; always be vigilant, ready for specific plans and scenarios. Units and localities must regularly conduct inspections, supervisions, timely encourage and commend individuals and units that perform well their tasks, and handle individuals and units that have not or have not yet implemented epidemic prevention control in the area.
Reported by Kim Ha – Translated by Ngoc Huynh