In the current context, the rapid and strong development of the 4.0 revolution is having many impacts on the development of many countries and regions. Building up a smart city, Binh Duong is promoting digital transformation, building e-government towards digital government. This is the goal for Binh Duong to raise the level of development to a higher value ladder: green, smart and sustainable.
Driving force for growth
Digital transformation, digital government and digital economy are important driving forces for growth in the new development trend. This is Binh Duong's goal to elevate development to a higher value ladder. Provincial Party Committee has just issued the Resolution No. 05-NQ/TU dated May 19, 2022 on digital transformation in Binh Duong province to 2025, with a vision to 2030. The resolution identifies the task of promoting digital transformation with the following pillars: digital government, digital economy, digital citizen and digital society to make overall and comprehensive changes in the management of the effective, efficient and transparent government; change enterprises' production and business activities, promote innovation, increase labor productivity, create growth motivation; change people's lifestyle and working manner, narrow the development gap.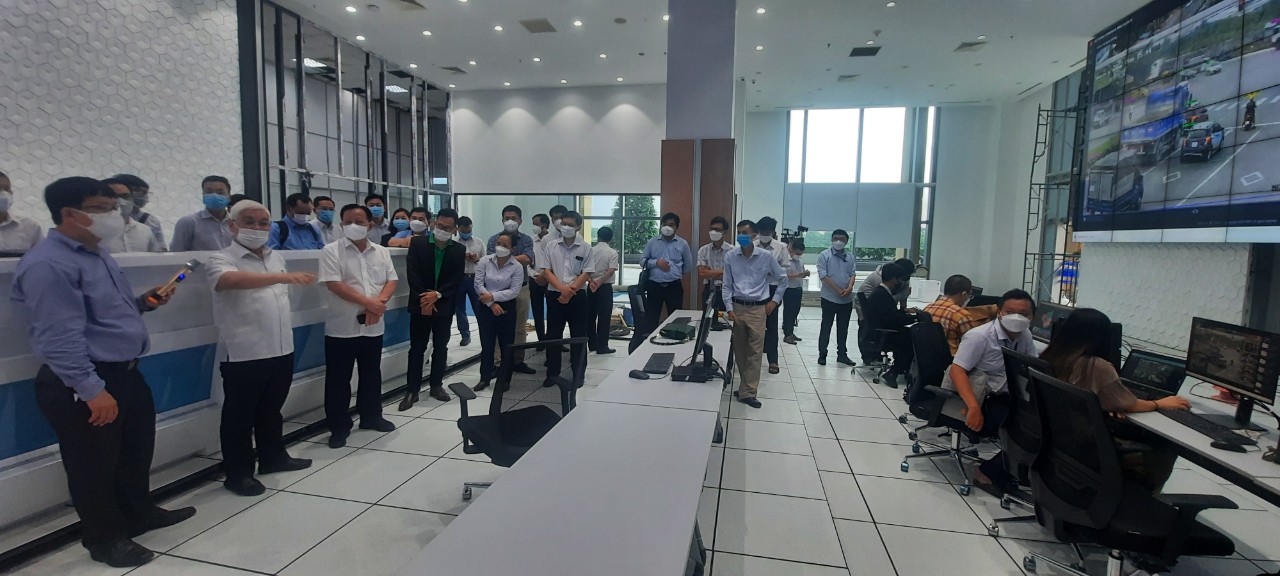 Nguyen Van Loi (second left), member of the Party Central Committee, Secretary of provincial Party Committee, Head of provincial National Assembly Deputy Delegation visits the Intelligent Operation Center (IOC)
Since 2016, along with the process of building Binh Duong smart city, Becamex IDC has made efforts to make digital transformation, develop industry 4.0 based on business model, promote urban and industrial development, attach special importance to fostering services in order to promote balanced economic development. Up to now, all operations at the corporation and some member companies have been digitized. Currently, Becamex IDC's strategic projects on corporate governance and operation; VNTT-a center for data, network security and information technology services; World Trade Center (WTC) - connecting partners, developing services and spreading digital transformation; the source storing and providing work information with activities such as modeling, coordination, information exchange, information modification...are being implemented.
Pham Tuan Anh, Information Technology Director of Becamex IDC said that in the context of the Covid-19 pandemic, Becamex IDC's digital transmission strategy has accelerated the application of digital technology in management. Over the past time, Becamex IDC applied an electronic office system that can speed up the processing of a task by 5-7 times and reduce operating costs in some areas by 50%-70%. The process of the Covid-19 pandemic poses a huge risk to businesses. The risk of encountering a middle-income trap for Vietnam in general and Binh Duong in particular is also high.
"We need strong strides and strong investment to create new means of production to support investors in the future. That's the reason why we established a smart manufacturing center and it is expected to be a center for public-private cooperation, research and development for technology transfer", said Mr. Tuan Anh.
Digital transformation has really created a positive change for the entire supply chain, improving product quality and quality of experience for consumers; supported production operation and sustainable farming, bringing employees a safer, more productive working environment.
Tran Hung Dao, Director of Foster Electronics Co., Ltd. in VSIP II said: "Forster Electronics Co., Ltd. is specialized in manufacturing electronic components on automatic lines. Currently, the company has implemented digital transformation. Specifically, the company is using several smart factory systems. This application has helped the company reduce human resources, the risk of goods loss and quickly track down when there is a problem with products…
Building e-government
The spread of digital transformation has promoted Binh Duong to develop digital government in order to serve people and businesses. Shared systems and specialized information systems have gradually realized components in the e-government architecture of Binh Duong province with the Local Government Service Platform (LGSP) playing the role of synchronous connection for data between internal components of the e-government in Binh Duong province and connection to e-Government systems of ministries, central sectors. In addition, there are the one-stop system, the provincial public service portal and the 1022 hotline system.
The province has also invested in two data centers, providing infrastructure services to promptly deploy shared platforms and applications for building digital government and smart cities. In addition, internal information technology applications of State agencies are implemented under Binh Duong province's e-government architecture with version 2.0, thereby helping receive and process 99% of administrative documents in the electronic environment.
Vo Van Minh, Deputy Secretary of provincial Party Committee, Chairman of provincial People's Committee said: "The pilot formation and operation of the Intelligent Operation Center (IOC) and provincial Party Committee's web portal is a step to inherit the results achieved in e-government building and information technology application of the Party and State agencies in recent periods, marking a new development step in the process of digital transformation, sustainable smart city construction in the province".
The initial success of the province in the implementation of digital transformation has been promoting great social efficiency, affirming the inevitable process of digital transformation, contributing to improving State management and promoting more sustainable and effective socio-economic development. This result has contributed to the realization of the province's goal of becoming an innovative start-up center of the country by 2030, becoming one of Asia's smart production and service centers, innovative start-up centers by 2045.
*Vo Van Minh, Vice-Secretary of provincial Party Committee, Chairman of provincial People's Committee: "The IOC will serve effectively in leadership, direction and administration, helping provincial leaders get an overview and comprehensive view in all aspects with real time, thereby making quick, timely and accurate decisions, saving lots of time and efforts in the process of monitoring and operating the work".
*Louis Zacharilla, co-founder of the Intelligent Community Forum (ICF): "We are ensuring the benefits of people and businesses when building digital infrastructure. Technology is a tool and people's will and intelligence will lead to success, bringing development while contributing to narrowing the gap between rural and urban areas".
In 2021, Binh Duong ranked 31 out of 63 provinces and cities in terms of the results of the digital transformation index. In particular, in April 2022, Binh Duong held a ceremony to launch the IOC. The IOC will connect the smart city platform through the support and display control block to get data for direction, administration, support making decisions with "24 hours a day and 7 days a week" operation.
Reported by Phuong Le-Translated by Kim Tin